Updated: Why Don't the Justices Ever Visit Military Hospitals?
This is the second of a two-part series on the Supreme Court and the military. Part I focused on the military history of the Court's future justices. Part II deals with the disconnect between the current Court and our military personnel.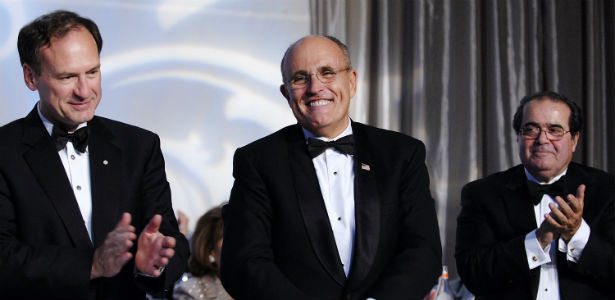 In an age of where the justices of the United States Supreme Court routinely peddle books on television, speak abroad at lavish events, and lecture at ideological venues, it feels odd that there is such a gulf -- both physical and metaphysical -- between the justices and the American service member. And yet there it is. It's not just that the Court is bereft of war veterans for the first time since 1936, a clear disconnect in this age of our so-called "endless war," it's that the justices, for as long as anyone can remember, don't ever seem to ever publicly honor the sacrifice of military service. (See Update Below)

When was the last time you saw video or still photographs of a justice visiting a military hospital to cheer or chat with wounded soldiers? The answer is: You haven't. Evidently, it's something that just isn't done. Why not? No one seems to know. Ever since the Court was first convened, future justices have served in active military duty. One of the greatest, Oliver Wendell Holmes, was wounded three times in the Civil War. One of the least famous, Harold Burton, was awarded a Purple Heart in World War I. Yet the current Court never seems to publicly acknowledge those sacrifices by honoring today's service members.
To say so is not to suggest that the current justices are unpatriotic or that they aren't profoundly proud of our troops. Not at all. The justices' service to their country -- at a salary far less than they would command in private practice -- is just some of the proof of their national duty. And there is nothing to suggest that they don't privately support wounded troops (e.g., see comment below about Justice Thomas). When I asked why these past few days, when I reached out to military officials and court observers, the tone of incredulity in the answers was profound. Not only has it not been done, but no one seems to have thought about it.
Purists suggest it's perhaps because the justices are ever-sensitive about interjecting themselves into politics. And I can practically hear Justice Antonin Scalia himself asking, "Why would a young soldier want to hear from an old fogey like me?" But the truth is that there no law or policy which precludes the justices from making such visits -- and they would almost certainly be wildly popular with the troops. My question comes down to this: If Justice Scalia can go to Capitol Hill to talk to lawmakers, as he did last year, why in the world can't he go to the VA Medical Center to talk with our wounded troops?
A NEW GILDED AGE
By coincidence, the day after I began researching this series, I came across an instant classic of a piece of reporting about Chief Justice John Roberts and his wife, Jane, who is also an accomplished attorney. The piece focused on Jane Roberts, her causes, and her strong connections to Washington's social community. I'll leave it to others to contemplate how the tone of such reporting about government elites plays these days in the rest of America. But there were two paragraphs in the piece that I found particularly compelling and relevant here:
Black-tie evenings in Washington have long been standard fare for Supreme Court justices. Scalia, Alito, and Stephen Breyer in particular are known as men about town. "In the old days, they would have been known as the 'dining-out justices,'" said Kevin Chaffee, a veteran journalist and expert on Washington's political and social power structures.

As for their spouses, "Martha-Ann Alito goes out quite a bit, and she's charming," said Chaffee. Indeed, Justice Alito and his wife have been photographed recently at galas for the Washington National Opera, the Shakespeare Theatre Company at Sidney Harman Hall, the National Italian American Foundation, and the Holy See.
I don't begrudge Justice Alito his opera. I know that Justices Scalia and Ruth Bader Ginsburg enjoy it, too. I don't care how much time Justice Anthony Kennedy spends in Salzburg or how chatty Justice Stephen Breyer was with Larry King. We tolerate the fact that our justices speak and write and appear on cable television in part because they almost always reveal to us in those rare public moments that they are not as cloistered as their fiercest critics believe them to be. In these moments, whether you like them or not, whether you can stand their rulings or not, they are humanized. Made real.
What I wanted to know, when I started asking around about the Supreme Court and the military, was whether the justices ever spend any of their other time, official or otherwise, visiting wounded troops. In 2011, for example, Justice Alito blew off President Obama's State of the Union speech to go to Hawaii. No big deal. But while he was there would it have killed the former Army Reservist to visit the USO? And is it reasonable today to propose a new social compact with our justices? For each book tour they do, for each foreign teaching gig they take, they have to visit a military hospital on their way?
CALL AND RESPONSE
For answers, I turned first to Kathy Arberg, the long-time, well-respected spokesman for the United States Supreme Court. Arberg may not know how the decisions are going to come out. But she knows where her justices are. I asked whether "any of the current justices, or their immediate predecessors, have gone to any military bases or military hospitals (either here in the States or overseas) to visit our troops. I would also like to include in my piece any information about whether any of the current justices, or their spouses, currently are engaged in any charity work relating to the military." She replied:
For your guidance, nothing immediately comes to mind, at least not in recent memory. We will do a little more digging and let you know if we find anything. Mrs. Alito has been active in the Wounded Warriors program with Walter Reed Hospital. I don't know if any of the other spouses have participated in similar programs involving the military.
Even if we leave open the possibility that such visits have happened in the past, it's clear from Arberg's response that they haven't happened recently -- even as approach the 11th anniversary of the war on terror. Why, though? Is it because veterans' groups don't ask the justices to visit? Is it because the justices don't believe that soldiers would ever want to get a visit from some doddering judge? The Pentagon didn't immediately know, either, so an efficient Defense Department spokeswoman quickly referred me to service surgeon generals' offices. I immediately heard back.
Jonathan Stock, chief of public affairs for the Air Force Medical Service, told me via email:
The Congressional and Public Affairs offices of the Air Force Surgeon General have no records or recollection of Supreme Court justices visiting an Air Force hospital.
Maria L. Tolleson, in the public affairs office of the Army Surgeon General, also quickly wrote to tell me that there are "no records of any Supreme Court justices visiting any of our Army hospitals." Christopher Lopez, director of Legislative and Public Affairs for the Joint Task Force National Capital Region Medical, also responded via email:
Made some quick calls to our folks at Walter Reed National Military Medical Center (WRNMMC) and Fort Belvoir Community Hospital (FBCH), the two large Military Treatment Facilities in the National Capital Region.

While we certainly welcome a visit from the Justices, the folks that have been managing the official visits over the past 5 years or so (before and after the transition of Walter Reed to Bethesda and Fort Belvoir) report that the Justices have not come out to either facility (WRNMMC or FBCH). A deeper dive into our records would be required to say for certain, but we would not be able to complete that by your deadline.
Meanwhile, a USO spokeswoman told me they have no evidence in their current records that a Supreme Court justice ever visited one of their facilities or was invited to do so (many of the organization's older records were destroyed in a fire). Richard Rudnick, director of operations at the National Veterans Foundation, told me: "No, no Supreme Court justices has ever attended one of our events. Invitations -- we're not sure -- we've been holding events for over 26 years but don't remember any." I have calls out to other military charities and will update this if I hear back from them.
CONFLICTS? WHAT CONFLICTS?
If you are thinking of a reason why the justices don't do military hospitals, please don't say it would be an ethical breach or conflict of interest for a justice to do so. The justices make up their own conflict rules, remember, and they typically refused to acknowledge recusable conflicts unless the situation involves direct financial or personal interests. (Justice Stephen Breyer, for example, recuses himself when he's asked to sit on cases involving his brother, Charles, who is a federal trial judge in California. Justice Elena Kagan recuses herself in cases in which she was involved as Solicitor General.)
The Code of Conduct, which regulates the ethical rules for all federal judges except for the justices, expressly permit a visit by a judge to a military hospital or to a military charity event. For example, Canon 4 of the Code states that "a judge may engage in extrajudicial activities, including law-related pursuits and civic, charitable, educational, religious, social, financial, fiduciary, and governmental activities, and may speak, write, lecture, and teach on both law-related and nonlegal subjects." Section 4B even contemplates the idea of a judge serving as an officer or director of a charitable organization.
The idea behind all of these ethical guidelines is that even the mere appearance of impropriety is something a federal judge must scrupulously avoid. But how would a visit to a wounded soldier create such a conflict for a justice? It's preposterous to think that a person suing the Pentagon would challenge a justice's participation in a case because the justice visited a military hospital. Such a challenge wouldn't be worth the paper upon which it was printed. Would someone say that such a visit was a tacit endorsement of America's military policies? Please. It doesn't pass the straight-face test.
Put another way, if it is a conflict of interest for a justice to visit the Walter Reed National Military Medical Center to cheer a soldier wounded in Afghanistan, it is a conflict of interest for a justice to go on television to try to pitch a book. The last word here goes to Ronald Rotunda, the noted scholar who has written extensively about legal ethics. I asked him if he were aware of anything unethical or illegal about the idea of a sitting justice visiting some the nation's wounded troops. "For the life of me," Rotunda said, "I can't imagine what's wrong with that. It would be a nice thing to do." Indeed, it would.
Important Update:

On Wednesday afternoon, I received another note from Maria Tolleson, cited above. She wrote me this:
My apologies.  I got a late report today from my query to the field the other day ref your question.  We did have a justice visit in 2011.  As was reported to me: "Chief Justice John Roberts visited the Center for the Intrepid at Fort Sam Houston, Texas May 3, 2011. He spent some time with our patients and toured the facility. It was a quiet visit with no media." I wanted to make sure to tell you in the interest of fairness and accuracy.
Noted. If anyone else has any sightings to offer, please let me know.