The Irony of a Black President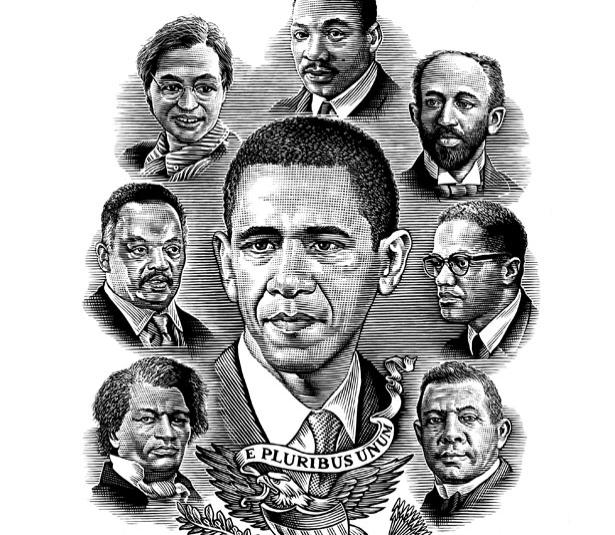 My new piece in this month's Atlantic is up. In analyzing the president of the United States, it tries (hopefully with some success) to cover a lot of ground--the roots of American citizenship, the Henry Louis Gates arrest, right wing reaction to a black president, Shirley Sherrod, the black mythology of a black president and a lot more.
Coming off the Trayvon Martin episode, here is an excerpt:
The irony of Barack Obama is this: he has become the most successful black politician in American history by avoiding the radioactive racial issues of yesteryear, by being "clean" (as Joe Biden once labeled him)--and yet his indelible blackness irradiates everything he touches. This irony is rooted in the greater ironies of the country he leads. For most of American history, our political system was premised on two conflicting facts--one, an oft-stated love of democracy; the other, an undemocratic white supremacy inscribed at every level of government. In warring against that paradox, African Americans have historically been restricted to the realm of protest and agitation. But when President Barack Obama pledged to "get to the bottom of exactly what happened," he was not protesting or agitating. He was not appealing to federal power--he was employing it. The power was black--and, in certain quarters, was received as such. 




No amount of rhetorical moderation could change this. It did not matter that the president addressed himself to "every parent in America." His insistence that "everybody [pull] together" was irrelevant. It meant nothing that he declined to cast aspersions on the investigating authorities, or to speculate on events. Even the fact that Obama expressed his own connection to Martin in the quietest way imaginable--"If I had a son, he'd look like Trayvon"--would not mollify his opposition. It is, after all, one thing to hear "I am Trayvon Martin" from the usual placard-waving rabble-rousers. Hearing it from the commander of the greatest military machine in human history is another. 
By virtue of his background--the son of a black man and a white woman, someone who grew up in multiethnic communities around the world--Obama has enjoyed a distinctive vantage point on race relations in America. Beyond that, he has displayed enviable dexterity at navigating between black and white America, and at finding a language that speaks to a critical mass in both communities. He emerged into national view at the Democratic National Convention in 2004, with a speech heralding a nation uncolored by old prejudices and shameful history. There was no talk of the effects of racism. Instead Obama stressed the power of parenting, and condemned those who would say that a black child carrying a book was "acting white." He cast himself as the child of a father from Kenya and a mother from Kansas and asserted, "In no other country on Earth is my story even possible." When, as a senator, he was asked if the response to Hurricane Katrina evidenced racism, Obama responded by calling the "ineptitude" of the response "color-blind." 




Racism is not merely a simplistic hatred. It is, more often, broad sympathy toward some and broader skepticism toward others. Black America ever lives under that skeptical eye. Hence the old admonishments to be "twice as good." Hence the need for a special "talk" administered to black boys about how to be extra careful when relating to the police. And hence Barack Obama's insisting that there was no racial component to Katrina's effects; that name-calling among children somehow has the same import as one of the oldest guiding principles of American policy--white supremacy. 




The election of an African American to our highest political office was alleged to demonstrate a triumph of integration. But when President Obama addressed the tragedy of Trayvon Martin, he demonstrated integration's great limitation--that acceptance depends not just on being twice as good but on being half as black. And even then, full acceptance is still withheld. The larger effects of this withholding constrict Obama's presidential potential in areas affected tangentially--or seemingly not at all--by race. Meanwhile, across the country, the community in which Obama is rooted sees this fraudulent equality, and quietly seethes.
I worked on this story for nine months. I find myself with very little to say that isn't already in the piece. I am sorry that blogging slowed down some. I do want to thank Yoni Applebaum (our Cynic) who gave this piece a thorough read and advised on the historical aspect.
Also,
please subscribe to the Atlantic
. I can think of maybe one other magazine that would have published something like this, at this rather sprawling length. If this sort of journalism is important to you, please lend us your support.
I hope you enjoy. C'est tout.