The Enduring Villainy of Little Napoleon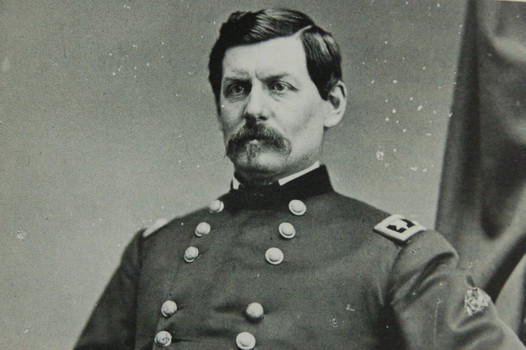 John Swansburg reviews Richard Slotkin's new book, The Long Road to Antietam: How the Civil War Became a Revolution. The book focuses rather singularly on George B. McClellan, chronicling his many misdeeds. Flirting with treason, for instance:
To show us McClellan at his self-serving worst, Slotkin takes us back to the Second Battle of Bull Run, in August 1862, in which Robert E. Lee badly outmaneuvered a Union force commanded by John Pope. The North had forces that could have come to Pope's rescue, but unfortunately for the soldiers being cut down by the Confederates, those forces were commanded by McClellan, who saw Pope as a threat to his ambitions.
Despite repeated orders to reinforce Pope, McClellan dragged his feet, asking for clarification on who would be in command when he arrived on the scene. By the time he got his troops to the field, it was too late. Slotkin quotes Attorney General Edward Bates' assessment of McClellan's performance: "a criminal tardiness, a fatuous apathy, a captious, bickering rivalry, among our commanders who seem so taken up with their quick-made dignity that they overlook the lives of their people & the necessities of their country."
I first heard about McClellan while watching Ken Burns' The Civil War. I actually couldn't believe the presentation to be true. But among the things that stood up the strongest in my later study, McClellan's mix of incompetence and insecurity rank high. McClellan is also the object of one of my favorite quotes from the War--"McClellan brought superior forces to Sharpsburg, but he also brought himself."
The irony, of course, is that it was McClellan's ineptitude which ultimately guaranteed emancipation. Had he won the War earlier, as was possible, the country would look very different.