Should Hip-Hop Artists Be Allowed to Release Albums From Jail?
For a musician with a tough, street-smart image, a prison sentence can actually boost popularity. But should a convicted felon like Carlos Coy -- aka, rapper South Park Mexican -- be able to generate new hits from behind bars?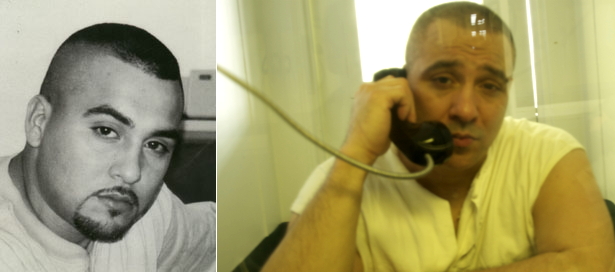 Condensation trickles down the window that separates me from a ghost. On his side of the glass, Carlos Coy wipes away the moisture that has fogged up his view in the cramped, white-walled, 6-by-4 visitation room. He apologizes, acknowledging that he just got done playing basketball in weather that's approaching 110 degrees in the maximum-security confines of the Iowa Park, Texas, facility, which fluctuates between being the first- and second-largest prison in the state. His white prisoner uniform is starting to become faded, and white hairs are beginning to bristle from his shaved head. His face is skinnier than it was during his prime, but his thick frame is similar to the way I remember it.
Staring back at me is a former figure of my adolescence; someone whose singles were fixtures at middle school dances in suburban Houston all those Friday nights ago. On this sweltering August day in North Texas, however, the man across from me is 10 years into a 45-year sentence for sexually assaulting a child. He's also ready to talk about his upcoming album. It won't be the first time Coy has released new material from prison as South Park Mexican, or SPM -- the stage name that made him both famous and infamous.
"Part of the real punishment is to be taken away from your livelihood," Coy says, acknowledging that his own livelihood hasn't been entirely taken away during his incarceration. Through his appeals process, he was granted permission to record music under a privacy law in the county jail system. But he's quick to point out that he's far from a free man. "I'm still the most watched inmate in Texas," he insists. "I don't think any inmate in TDCJ is as watched as I am."
Coy's rise and ugly fall remains a subject of fascination for both his fans and detractors. After dropping out of high school as a 17-year-old freshman, earning his GED, and failing classes at junior college, Coy turned to an array of odd jobs before settling into rap. His first recordings were Christian rap, which didn't excite Houston crowds the way he had hoped. In 1995, Coy founded Dope House Records with his brother, Arthur, and chose to rap about life on the streets rather than his faith.
In the 90s and early 2000s, the Houston hip-hop scene was coming into its own, and hip-hop radio station 97.9 KBXX was willing to play local, independent talent. "[Coy] was the Mexican, for real," says Matt Sonzala, a Houston hip-hop historian and former DJ for 90.1 KPFT, a Houston underground radio station at the time. "He became an anomaly. When he came out, it was crazy."
Gaining the support of DJ Screw, the preeminent figure in Houston's hip-hop scene, Coy began to rise. Newsweek and Texas Monthly lauded him as one of the next great Hispanic musicians, and his singles started getting constant airplay in Houston and around Texas. His first handful of albums sold more than 1.5 million units, a tremendous number for an independent artist. In 2000, he signed a deal with Universal. It seemed that nothing could stop him.
But in April 2000, Jill Odom, then 20, sued Coy over child support for a child he'd fathered when Odom was 14. Coy admitted to the Chronicle that he was the father of the boy, and according to public records, he paid $28,000 he owed in child support, an additional $3,500 for Odom's birth expenses and the boy's college fund, and $900 a month in child support going forward.
"I made the mistake of having a child with an underage girl. That much of I'm guilty of," he says. "I was 22 and smoking formaldehyde at the time."
The backbreaker, however, was yet to come. On Labor Day Weekend of 2001, a 9-year-old family friend spent the night with Coy's 6-year-old daughter. As the Houston Press detailed in 2002, Coy and the two girls watched Texas Chainsaw Massacre -- a movie Coy had picked out. During the movie, Coy allegedly began to touch the 9-year-old in inappropriate ways. Later, when Coy's daughter was asleep, her friend remained awake, suffering from insomnia. She would later testify that Coy came into the room and molested her. When it was over, she asked Coy to drive her home. He allegedly told her not to tell anyone what had happened.
Almost four weeks after the sleepover incident, Coy was arrested. In the weeks that followed, about seven other sexual assault cases came out against Coy, including an accusation from a 14-year-old girl that Coy had picked her up from her home at 3:30 a.m. one night and taken her to a motel for unprotected, consensual sex. His image took a beating, but he thought avoid prison time based on the lack of physical evidence, since the prosecution relied mostly on a 9-year-old's testimony.
He was wrong. In closing remarks after he was sentenced to 45 years in prison, Judge Mark Ellis said, "In my 17 years on this bench I have seen a lot of sex offenders, and there is one thing they all have in common: They are all liars, and you are no exception," Ellis told Coy at the conclusion of the 2002 trial. "You've lied to this court. You've lied to your family. You've lied to your fans with your so-called positive raps when your own life wasn't right."
"He's guilty, he's more guilty than any suspect I've ever worked before," Houston Police Department investigator Heidi Ruiz told the Houston Chronicle at the conclusion of Coy's trial in May 2002. "He got everything he deserves."
Sitting behind the window, Coy lowers his head. Yet, he defiantly maintains his innocence with the 9-year-old girl, calling the charges "bullshit." He's familiar with the case against Jerry Sandusky and the renewed national outrage against child molesters. "It disgusts me and would disgust anybody," says Coy. "Sandusky is a sick man." Coy insists that Houston police wanted to bring him down and squelch the increased influence he had earned in the community. "Nobody knows what happened and no one tried to prove [the allegations], as the system knew it was BS," he says. "I was the deer with the most antlers. It didn't matter if it wasn't hunting season."
But 10 years after the damning allegations filed against him, Coy and the SPM brand remain alive in the Houston scene. During Coy's time in prison, Dope House has produced two albums, three best-of albums, and a couple of advertised never-before-released tracks, with another four albums on the way.
"I think SPM is still as relevant now as he was 10 years ago," says Dat Boi T, a fledgling Latino hip-hop artist in the Houston scene, who cites Coy's work as a blueprint for success for today's aspiring Latino artists. "He's pretty much a Latin version of Tupac for us."
The music isn't stopping, because no one can stop it. In 2006, Coy and Dope House released an album of previously recorded songs. Titled When Devils Strike, the album peaked at number 2 on Billboard's Top American Independent Album chart and number 6 on the Top Rap Album chart.
The album's release met with some criticism from city officials intimately familiar with the case. "If people want to buy the record, well, that's just a sad commentary that people are interested in what a child molester has to say," Assistant District Attorney Denise Oncken told the Houston Chronicle in October 2006. "He was convicted of it. The jury found that he abused a 9-year-old little girl."
Wiping more sweat off his brow, Coy grows excited behind the glass window when asked about what's to come. For an inmate with another 12 years left until he's up for parole and another 35 years left on his total prison sentence, he's noticeably tickled about the future. He talks of the four album projects he has ready to roll out - the first of four coming between the end of the year and the beginning of 2013.
Coy's productivity behind bars has raised questions for his supporters and critics alike. After the release of When Devils Strike, fans on the Internet speculated that some of the tracks had been recorded in prison, not before Coy's incarceration as he claimed. Then, during an appeals process in 2006, Coy was transferred from state prison to Harris County Jail and managed to find a legal loophole that allowed him to record new material -- something he was forbidden to do while in state custody. "We did a really good job of doing songs in county," he tells me. "We did 50 songs in 2006."
Coy says that his lawyer, Chip B. Lewis, told county jail personnel that the songs were for "legal purposes," Coy says. From there, it was all about increasing his song catalogue for potential future releases to not only fulfill his contractual obligations to Universal but to also help keep Dope House afloat.
It's still unclear how Coy managed to squeeze so much music through a small legal loophole. "The Harris County Jail does not allow inmates to record audio or to possess audio recording equipment for commercial purposes -- or for that matter, any other foreseeable reason," said Alan Bernstein, director of public affairs for the Harris County Sheriff's Office, in an email. "However, attorney-client conferences that take place in booths set aside for that purpose are not monitored by our personnel because of legal privacy law. Therefore it is conceivable that Mr. Coy's attorneys recorded him." Bernstein added: "Some of us here are aware of the artistic legacy of the artist formerly known as South Park Mexican."
Yet Coy told me he recorded the songs on his own using a pocket studio, a device no bigger than a child's lunchbox. In a November 2008 interview from a payphone, Coy told television station KHOU that he, along with other inmates, had used wool blankets to create a makeshift soundproof recording area. Around the same time, Dope House officials also told the television station that some of the songs featured on the upcoming album The Last Chair Violinist would be jailhouse recordings. After the album came out, Dope House would not confirm whether any jailhouse recordings were actually used. (As of publication, Dope House officials had yet to return multiple requests to schedule an interview for this article.) Later in his incarceration, after he was transferred back to state prison, Coy says he was transferred to administrative segregation for testing positive for marijuana use and being in possession of an MP3 player that had the ability to act as a digital recorder.
Whatever his recording methods, The Last Chair Violinist peaked at number 3 on the top independent album chart and number 5 on the top rap album chart - placing Coy just behind the likes of Lil Wayne, T.I., and DJ Khaled and ahead of releases from The Game and Lil' Keke. Coy says the album sold about 150,000 units -- 100,000 alone in the first six to eight months.
"I have no idea as to his mind set or method of making music while incarcerated," says Lewis who, along with representing Coy, was also the one-time legal counsel for the late Ken Lay of Enron. "I know Coy to be very creative and resourceful, so I am not surprised that he has been able to continue making music."
Tracking potential profits from incarcerated artists is difficult enough, but Coy's case is even trickier. His business relationship with Universal ended even before his arrest, according to company spokesperson Peter Lofrumento. All his subsequent albums have been released through Dope House, which is essentially run by Coy's family. Since he went to jail, the small label has had to readjust its distribution priorities. You'd be hard-pressed to find a Best Buy willing to carry a Dope House album. Instead, the company has been leaning on contracts with about 2,000 area Valero gas stations and quick-stop stores. But in this age of one-off digital downloads, most artists depend heavily on tour revenues -- and Coy isn't likely to play a live show anytime soon.
"Without Carlos, we're not probably making half of what we were making," Sylvia Coy said a Blog Talk Radio interview last year. Still, Carlos Coy says that Dope House brings in about $80,000 a month in total album sales, with about $10,000 of that coming from SPM albums.
"This is a family operation so my best guess is the money stays in-house," says Andy Kahan, victim advocate for the city of Houston. "He's their bread ticket."
SPM's story highlights just how much fans are willing to overlook when their hip-hop heroes find themselves in prison on serious charges. Tupac Shakur's prison sentence for sexual abuse in 1994 didn't stop his album Me Against the World from reaching number 1 on the Billboard charts. In 2010, Lil Wayne became the second artist to accomplish that feat when his album I Am Not A Human Being hit number 1 on the charts after he'd pled guilty to attempted criminal possession of a weapon.
Not everyone can maintain the kind of celebrity Shakur and Lil Wayne had during their respective incarcerations. But over the past 20 years, at least 23 other successful hip-hop artists have served six or more months in prison, and at least 11 of them had one or more album in the Billboard200 during or immediately after their incarcerations. Seven of those albums cracked the top 10, and most of the others reached the top 10 on the hip-hop charts, none peaking lower than number 25.
On a moral level, it may be hard to understand why fans would continue to support an artist convicted of serious crimes. But according to science, the answer is simple: The brain can't say no.
"Because music is so powerful, you might not care about other aspects such as whether the person who made the music is a nice guy or not," says Robert Zatorre, a neurologist at the Montreal Neurological Institute, which focuses on the effect that music has on the brain. "You might just say, 'Okay, I might never want to spend time with this fellow because he's a nasty, violent criminal, but I really like the music so I will put up with it.' We see this in other domains, too, where people are taken in by a very strong personality and they minimize the bad things that go along with that person."
To be sure, there are plenty of artists -- such as Ja Rule, Da Brat, Remy Ma and G. Dep -- who struggled to maintain mainstream traction during or after their prison sentences. But others actually grew more popular while incarcerated: Shyne, Pimp C, and Gucci Mane each earned their highest-ever chart positions for releases they put out during or after prison. Other hip-hop artists who enjoyed chart success during or after prison sentences, such as T.I. and Lil' Kim, saw their popularity either decline or plateau as their jail time receded further into the past.
Dan Charnas, author of The Big Payback: The History of the Business of Hip-Hop, insists that prison is likely to harm artists more than help them in the long run. "It's a horrible thing for their career," Charnas says, "especially in today's market where you have to be out there making money and doing shows. Does the lore of going to prison make you more exotic in some ways or give you more street cred? Yeah, maybe, but how long does that stuff last?"
Attorney Stacey Richman disagrees. She's long been the go-to criminal defense lawyer for hip-hop stars in legal trouble, with a client list that includes Jay-Z, Lil Wayne, Ja Rule, and Kid Cudi. Richman insists that when it comes to fan devotion, she hasn't seen a prison sentence produce a drop-off for any of her mainstream clients. "When Wayne was in, I had to take away body bags of fan mail," she says. She insists artists should be allowed to produce music in prison, arguing that it's good for the entire music industry. "The artist who can reach their fans in such a manner is truly an incredible gift."
For now, Coy's new releases continue to be welcomed by an aggressive fan base that continues to proclaim his innocence. The "Free SPM" campaign -- which has taken the form of shirts, hoodies, songs, mix tapes, albums, and shows -- lends the artist considerable digital footprint. You can't go to the comments section under any of Coy's YouTube videos without finding pages of discussion about his case. Leading the brigade is SPM Aftermath, a website detailing every update about Coy since his conviction. Jay Armijo, the site's editor, has posted numerous letters she has sent to the Harris County District Attorney's Office, demanding a reexaminination of Coy's case. She's even posted personal letters SPM sent from the Allred Unit. Like many others who believe in Coy's innocence, Armijo says he has a right to put out albums during his incarceration.
"Until TDCJ publicly reexamines the many problems with Carlos Coy's case, I hope he continues to release music to remind the world that innocent men do go to prison, and to fight for his freedom," Armijo says.
The visitation room where I'm sitting looks much like an elementary-school cafeteria with short brown tables and classroom chairs. Black flies buzz around the narrow hallway on my side of the visitation window, often landing on the glass, no closer than I am to Coy.
He's happier today than he ever was as the former SPM, a persona he now calls "the saddest man on the earth." Earlier this month, Coy started a Twitter account to promote his upcoming album. Behind the glass, he spits out new verses he's been working on and describes how he will be vindicated one day. His rosy view of the future may be far-fetched: Given the nature of his conviction, odds are Coy will not be granted parole when his first review comes 12 years from now. And his chances at scoring another county jail stay are slim, given his proven ability to capitalize on the lawyer-client privacy law.
Coy rubs away more sweat from his nose. If he serves his full sentence, he'll be 76 by the time he's released. But for now, he remains one of the most recognizable Mexican-American hip-hop artists in the game, and the future of his music is looking bright. He may be housed with some of the most dangerous men in Texas at the Allred Unit, including 400-plus other inmates convicted of aggravated sexual assault of a child. But for Coy, the music isn't stopping. Not just yet.
"I didn't fight the case like I should have," Coy says. "But [people] have to get used to it, because we have four albums that are off the chain, that no one is doing, that will come out - whether I see them drop while I'm alive or not."