Scenes From the Pussy Riot Protests
New Yorkers gathered on Friday to stand with the Russian punk band convicted of "hooliganism"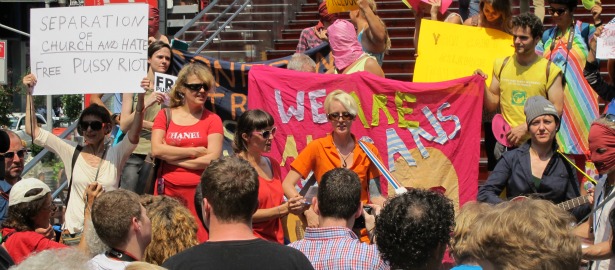 (Chauncey Hollingsworth)
Protesters took to the streets of New York yesterday to decry the two year prison sentence given by a Russian court to three members of the Russian punk/activist collective Pussy Riot on charges of "hooliganism." Starting at the Russian Consulate on the Upper East Side, protesters - many of them wearing homemade brightly colored balaclava-style masks that are a signature of Pussy Riot's look - chanted, marched, and, yes, got arrested.
Some background: Six months ago, five members of the punk/activist collective Pussy Riot stormed an altar at the Christ the Savior cathedral in Moscow to perform an anti-Putin protest song. Wearing heavy boots, colorful dresses and dayglo ski masks, they were removed by security almost immediately but a video quickly surfaced on YouTube of the protest spliced with audio of their "punk prayer." Belted in frantic Russian, its chorus goes, "St. Maria, Virgin, drive away Putin!" Three members of Pussy Riot, Nadezhda Tolokonnikova, Mariya Alekhina and Yekaterina Samutsevich, were arrested and charged with "hooliganism," a crime carrying a penalty of up to seven years in jail. The Russian Orthodox Church has condemned them repeatedly, and though Putin himself said that they "should [not] be judged so harshly for this," the group's supporters and many commentators think that the trial is yet another example of Putin stamping out political opposition. Details of the women's lengthy pre-trial incarceration have bolstered worldwide sympathy for them, including claims that they're sleep-deprived and poorly fed, and the fact that two of them have children whom they've been unable to see since their arrests.
Pussy Riot's cause -- an ongoing, loosely articulated protest against Russian President Vladimir Putin's leadership and the Russian Orthodox Church's support of it -- is the least fascinating thing about them. Rather, it's their mixture of intelligent defiance in the face of overwhelming power, their dynamic energy and reimagined riot grrl style that have ignited a ferocious love for them in the West. They're unashamed and vigorous and cool. No wonder the last generation's stars - Madonna, Peter Gabriel, Björk - have gone to such lengths to support them. Their explosive potency could only be ignited in a place like Russia, where Putin's autocratic style has carried into a third presidential term (Russia's constitution prohibits more than two consecutive terms) and rampant state corruption, crooked billionaire oligarchs and the short lifespans of inquisitive reporters have earned the country a reputation as a mafiocracy. Pussy Riot injects new life into punk rock, making it seem real again. When was the last time a Rage Against the Machine song sounded relevant?
Speaking in Times Square where the protest migrated after mid-day, Thadaus Umpster, a member of the anarchist group In Our Hearts, described six people arrested earlier, including two men carrying a banner in the street in front of the consulate, a third who stopped his bicycle in the bike lane, and three women wearing masks.
Facebook posts about the planned march warned that wearing a mask in New York to anything but a masquerade is illegal but it turns out that's not entirely true. Wearing a mask by yourself is A-OK; do it in the company of others and you're actually loitering. According to New York Penal Law 240.35, "a person is guilty of loitering when he...being masked or in any manner disguised by unusual or unnatural attire or facial alteration, loiters, remains or congregates in a public place with other persons so masked or disguised..." The law has been in place since 1845, when farmers protesting wheat prices attacked farmers wearing Native American masks. It was later updated in 1965 to exempt "masquerades."
By the time protesters arrived in Times Square, the sheer attention-getting volume of every other element around them seemed to diminish the entire affair, making them almost difficult to spot. Hawkers handed out flyers for musicals; several Elmos, Grovers and a five-foot-five Buzz Lightyear waved and posed; a 20-foot-high Pauly D leered down from a giant billboard throwing devil horns and urging passersby to drink energy shots. Only a few people were wearing homemade masks, and anyone with a placard or a balaclava was surrounded by photographers and microphones. Walking past, you could've been forgiven for thinking that Odd Future was shooting some kind of feminist-ridiculing video. Police were loosely gathered along the street and in the median around the protest but made no effort to intervene.
Olga Golovanova, a 24 year-old Russian citizen, wore seafoam green jeans, a FREE PUSSY RIOT tee and a blue homemade balaclava as she handed out flyers. "I'm really sad, I can't stop crying," she said. "I'm here today to express my deepest sadness, my deepest embarrassment, my deepest hatred on behalf of what's happened to these women. I debated one of them at Russian Hillel. I think what they did was in bad taste, it was bad manners, but should they be taken from their families for two years? Absolutely not."
Another protester, well over six feet tall and wearing a suit and tie in the 85 degree heat, chain smoked through his red ski mask. "The most offensive thing is the [Russian Orthodox] church saying the law of God is above the law of the land. I wear this mask, I do worry about this because I am Russian citizen, they can set up charges. I am 52 years old, I was alive, I remember Brezhnev. I remember the process of Brodsky. The process with Pussy Riot was not much different."
Joseph Brodsky was a poet and writer who, like Pussy Riot, was brought before Russian (then Soviet) authorities in the mid-1960s for charges of "malicious parasitism." After five years of hard labor, he was kicked out of the USSR and ended up in America, where he was eventually awarded the Nobel Prize in Literature and was appointed United States Poet Laureate.
Perhaps fate and history will treat Pussy Riot just as well.