Prison Chief's Unnerving Suicide-Prevention Memo: 'I Want You To Succeed'
After serious allegations of mistreatment at America's most famous federal prison, the agency in charge responds with a touchy-feely letter to inmates.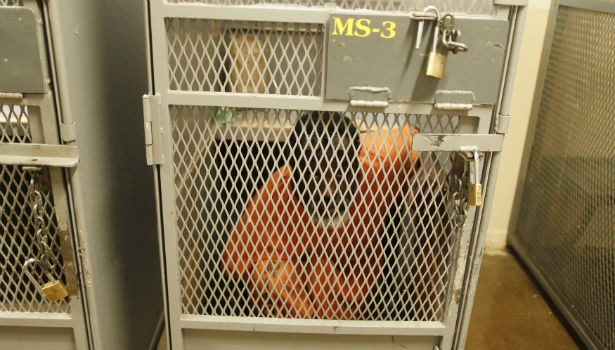 Reuters
Faced with two new federal lawsuits alleging prisoner mistreatment and abuse, one of which chronicles in grim detail the 2010 suicide of an inmate at the Supermax facility in Colorado, the Federal Bureau of Prisons last month sent an extraordinary "Suicide Prevention" memo to "all Bureau Inmates." Charles E. Samuels, Jr., director of the BOP, urged prisoners "unable to think of solutions other than suicide" not to "lose hope" and urged them to "be willing to request help from those around you."
Here's the text of the memo. It is dated July 20, 2012, one month after a class-action lawsuit was filed against federal officials alleging that they have violated the constitutional rights of prisoners by refusing or failing to provide even the most basic treatment for mentally ill prisoners at the Colorado facility. This lawsuit came one month after prison officials were sued over the suicide of an ADX Florence inmate, Jose Martin Vega, who had hanged himself in his cell after allegedly failing to get proper mental health treatment.
WHAT'S IN THE MEMO
You can decide for yourself what you think of the tone of the memo. Some of you likely will find it a cruel and patronizing attempt by federal bureaucrats and lawyers to try to cover their asses in anticipation of litigation to come. For example:
Every institution is staffed with psychologists who provide counseling and other supportive mental health services. Anytime you want to speak with a psychologist, let staff know and they will contact Psychology Services to make the necessary arrangements.
Others may find its touchy-feely language particularly odd given the memo's audience. This memo was sent to hundreds of thousands of federal prisoners, including some of the most deadly and violent America currently has in custody. For example:
If you are unable to think of solutions other than suicide, it is not because solutions do not exist; it is because you are currently unable to see them. Do not lose hope. Solutions can be found, feelings change, unanticipated positive events occur. Look for meaning and purpose in educational and treatment programs, faith, work, family and friends.
And then there is this passage, which makes Tom Hanks' "The Green Mile" guard Paul Edgecomb seem like Cool Hand Luke's jailer. Remember, Director Samuels here is speaking to men who live in such detention and isolation -- often as punishment for past conduct in prison -- that they have gone clinically mad from the conditions of their confinement:
You may be reading this message while in a Special Housing Unit or Special Management Unit cell, thinking your life is moving in the wrong direction. But wherever you are, whatever your circumstances, my commitment to you is the same. I want you to succeed.
WHAT'S NOT IN THE MEMO
Each of you may read such things into this memo. But none of you will be able to read it and reasonably conclude that the Bureau of Prisons is planning to help solve the problem by hiring more doctors and psychiatrists. The June civil rights complaint, in the case now styled Bacote v. Federal Bureau of Prisons, alleges that there are only two mental health professionals responsible for the care of 450 prisoners at Supermax. With such a ratio, it's ridiculous to think that even those inmates who want to accept Director Samuels' kind invitation are going to be successful in doing so.
MORE ON SUPERMAX

Nor can anyone read the July 20 memo and reasonably conclude that the Bureau of Prisons intends to modify its rules, which prohibit the use of psychotropic drugs in its "Control Units," the most secure detention portions of its prisons. That's the essence of the complaints in both pending cases: The Constitution requires adequate medical treatment, including mental health treatment, but often the inmates who need medicine the most are the ones who cannot by policy and practice get it.
Nor, finally, can anyone read Director Samuels' memo as indicative of a shift in prison policy that will encourage the reporting of staff abuse of mentally ill prisoners.The Bacote complaint alleges that, at ADX Florence, the prison "watchdog" official responsible for investigating allegations of official misconduct is married to the prison official who is responsible for "all correctional functions" at the facility. How could an inmate take Samuels up on his invitation and expect much of a growl from the watchdog?
THE MEMO'S AUDIENCE
Of course, not every federal prisoner is mentally ill. And not every mentally ill prisoner in the federal system has been abused, mistreated, misdiagnosed, or otherwise ignored. If there is one consistent pattern in the allegations of the two pending complaints, it is that federal prisoners tend to get better treatment (and, more important, to get better) when they are transferred away from places like Supermax and toward prisons like MCFP Springfield, in Missouri, which specializes in mental health care.
Another consistent pattern from the two complaints is the hostility towards mental health care that the plaintiffs allege at ADX Florence. You can't read the July 20 memo, for example, without remembering that there is an inmate in Director Samuels' realm who is allowed to self-mutilate in his Supermax cell (Jack Powers has cut off his scrotum, and a testicle, and has amputated some of his fingers) even though prison officials know that he responded well to drugs and treatment when housed at Springfield.
Jack Powers has been reaching out for help for years. So has Harold Cunningham, another plaintiff, who reached out as Director Samuels has suggested. Cunningham in 2004 was given a "tele-psychiatry" session whereby he spoke via video conference with an off-site doctor. Cunningham alleges that, during the session, he was handcuffed from behind with shackles on his legs and surrounded by corrections officers. Surely this isn't what the Bureau of Prisons means when it says that "help is available," is it?
Jaison Leggett probably got the memo. Suffering from mental illness, he now allegedly crawls around ADX Florence on one leg because prison officials have refused to replace his prosthetic. And perhaps Herbert Isaac Perkins did, too. After he tried to commit suicide in 2008, he was promptly returned to the cell in which he had made the attempt, a cell which was still covered in his own blood. This, after he had been successfully treated with psychotropic medicine at other prisons.
THE PATH AHEAD
The Bureau of Prisons has not yet formally responded in court to either of the two lawsuits, both of which are before U.S. District Judge Richard Matsch. The government's responses are expected soon. The Justice Department likely will ask Judge Matsch to dismiss the charges. The Bureau of Prisons did not immediately respond to my request for comment on the July 20 memo. But, in any event, it is clear what the legal response will be. It, too, is contained in Director Samuels' memo, at the very end:
I want your life to go forward in a positive direction -- a direction personally fulfilling to you, but also a direction which ensures the safety of the staff and inmates who interact with you each day.
That's the argument -- that, even if the allegations are true, the deprivation of medicine and care, the emptiness of reporting safeguards, and even the occasional abuse are necessary to ensure the safety of the prison, its staff, and its inmates. The sub-argument is that, even if reasonable people disagree about how to treat the mentally ill in our nation's prisons, the final call ought to be made by prison officials as "experts" in the field. Read's Samuels' statement to that effect, made in June during a Senate subcommittee hearing on Capitol HIll.
Speaking of Congress, my sense is that the Bureau's political response to the litigation is going to be: We simply can't afford to do better. As it happens, on Wednesday, Sen. Patrick Leahy (D-Vt.), chairman of the Senate Judiciary Committee, held a timely hearing (here's the webcast) titled "Rising Prison Costs: Restricting Budgets and Crime Prevention Options." The tone was clear. Our prisons are out of control, and money to fund them is running out. From Sen. Leahy's opening comments:
Between 1970 and 2010, the number of people incarcerated grew by 700%. The United States incarcerates almost a quarter of the prisoners in the entire world, even though we only have 5% of the world's population. There are currently more than 1.6 million people in state and Federal prisons and more than 700,000 more in local jails. That means we incarcerate roughly one in every 100 adults.
At the Federal level, over the last five years, our prison budget has grown by nearly $2 billion. In 2007, we spent approximately $5.1 billion on Federal prisons. This year, the Federal Bureau of Prisons requested over $6.8 billion. That means less money for Federal law enforcement, less aid to state and local law enforcement, less funding for crime prevention programs and prisoner reentry programs. As we spend more to keep people locked up, we have less to spend on the kinds of programs that evidence has shown works best to keep crime rates down.
I will try to find out what some of Supermax's prisoners thought of the memo. But here's one likely response: Spare us the platitudes, Warden, and just send us more doctors who are able and willing to properly treat us. "Learn from yesterday, live for today, hope for tomorrow." That's the Einstein quote that ends Samuels' memo to the inmates. Can you imagine? My sense is that it's going to take more than this memo to bring hope back to some of those men inside ADX Florence.
This report is part of The Atlantic's continuing series "An American Gulag--Descending into Madness At Supermax," which chronicles controversial conditions, and mental health concerns, at America's most infamous prison. You can read more here.