On Visits to Wounded Warriors, The Supreme Court Answers Back
A simple question about the justices and military hospitals provokes a worthy and fruitful conversation.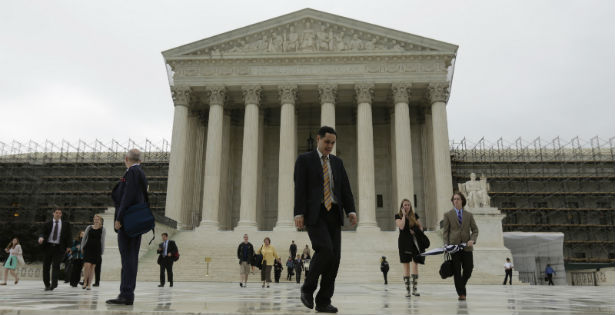 Reuters
Earlier this week, as part of a two-part series on the United States Supreme Court and the American military, I posted a piece about the current Justices and their connection to America's military personnel. The piece was titled: "Why Don't the Justices Ever Visit Military Hospitals?," and it was based upon the official reaction I initially received when I started asking around about the topic. No one seemed able to remember the last time a sitting justice had visited troops at a military hospital -- this from a Court without a war veteran for the first time since the Great Depression.
Four significant things have happened since the piece was posted, each of which deserves mention here. First, as noted in depth below, it's become gradually clear that there has been more personal contact between the Court and our troops than has been publicly known. This is a very good thing. Why such contacts -- visits, support, speeches, etc.-- have long lacked publicity is hard to fathom, even for an institution like the Court, which often is shrouded in secrecy.
Second, from the perspective of the military community, there has been a great deal of enthusiasm for the idea of inviting the Justices, or at least one Justice at a time, to cheer up our soldiers and veterans. This, too, is a great development. Hopefully, a renewed awareness of the long record of military service given to America by her future justices (which was the subject of Part I of the series) will soon result in more invitations to the justices from military groups all over the country. (Let the cameras in, for Pete's sake!)
Third, the series has reminded a great many people of the wave of military-related legal issues that will soon crest in courtrooms all over the country as more and more of our troops return home from overseas. For example, a group of lawyers, judges and other professionals have come together to write a book titled Attorney's Guide To Defending Veterans in Criminal Court, which will be out this fall and which will help countless servicewomen and servicemen.
Finally, from the perspective of the Justices, there is this from Kathy Arberg, the Court's official voice to the outside world. Last week, when she told me that she couldn't think of anything off-hand, she said she would continue to look into the matter. She did. There still isn't much evidence of consistent visits to military hospitals. But there is no denying that the Justices are, indeed, trying. On Thursday, Arberg offered this lengthy detail and insight about them. I've copied almost all of her email here:
Since 2008, the Court has participated in the Wounded Warriors Program -- a community outreach program where hospitalized soldiers and their families visit government facilities to improve morale and to allow them the opportunity to incorporate daily living with the new physical demands and other individual challenges caused by their injuries. The program was initiated at the Court by Mrs. Alito, who coordinates the arrangements for each of the programs.

The visit to the Court takes place twice a year and features a Courtroom lecture and tour, as well as a reception where Justices and other Court Officers visit with the soldiers and their families. Usually a Justice or two will make remarks at the reception and the Justices in attendance will speak personally with every service member and family member who wishes to do so.

Virtually every Justice has attended one of the programs and at the May 2012 event, six Justices were present along with Court officers and employees, many of whom have past military service themselves. To date, over 300 service members have participated in this program. Visits will occur again this fall and next spring.

These visits are not about publicity -- they have occurred for five years at the Court with little fanfare. They are about the service members and their families, and reaction to the program has been overwhelmingly positive. Many who have attended have described it as one of their best experiences during their period of recuperation. The Justices have found the visits to be moving and inspiring.

Justices do make visits to military installations and hospitals. Often these visits are made in association with travel for teaching, speaking engagements, or official appearances elsewhere. The visits are private and are generally not publicized, in part because the Justices -- unlike members of the Executive and Legislative Branches -- have no direct role in the management or regulation of the military.

For example, in May 2011, while on official business at the Fifth Circuit Judicial Conference, Chief Justice Roberts spent an afternoon with Wounded Warriors at the Center for the Intrepid, Brooke Army Medical Center in San Antonio, Texas. He taped a video message of encouragement and thanks to all of the soldiers, staff, and volunteers. The message was played on monitors throughout the hospital to share with those who didn't have an opportunity to visit personally with him.

During an official trip to Guam in January 2012, Justice Sotomayor visited a naval hospital, Naval Base Guam, and Andersen Air Force Base. Justice Kagan visited Walter Reed with Mrs. Mullen (wife of Admiral Mike Mullen) in February 2011. She also attended the Joint Chiefs' Holiday Reception for Wounded Warriors in December 2010. Justice Thomas has hosted a group at the Court from Fisher House at Walter Reed.

Justices and Court Officers routinely speak to military groups that come to the Court. Justices frequently meet with service academy students, including West Point, the Air Force Academy, the Naval Academy, and War Colleges. Justice Souter is an honorary faculty member of the Industrial College of the Armed Forces and taught a seminar there for 14 years. Justices often meet with Judge Advocate General's Corps officers and their families after Supreme Court Bar admission ceremonies.

A number of Justices have military experience and have family members serving on active duty.... Justice Scalia's son is a West Point graduate, now serving on active duty, who served in combat in Iraq and Afghanistan. Justice Scalia speaks annually at the Marine Corps University at Quantico for Constitution Day.
So in the end I'm saying three things. To officials in military hospitals around the country, please don't be afraid to invite a Supreme Court justice to visit the troops. To the nine sitting Justices, please let us know the next time you do charity work on behalf of soldiers or veterans. And to the rest of you, please don't be surprised if this area of the law -- how our new veterans are going to cope on the home front -- is one of the fastest-growing and most contentious in the decade to come.