Lonely Men on Campus: Student Veterans Struggle to Fit In
After months or years in far-off war zones, former soldiers are facing a new kind of isolation at college.
After months or years in far-off war zones, former soldiers are facing a new kind of isolation at college.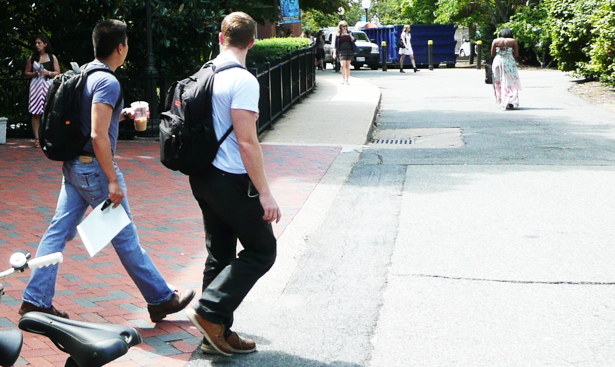 Josh Martell doesn't look like the popular kid anymore. His thick neck protrudes from a muscular body that once led the Preble Hornets of Green Bay to consecutive all-conference football titles. Tattoos now crawl up and down his arms; a collection of luck-themed designs pay tribute to a Las Vegas jaunt, where he won over $3,000 on a single bet at the blackjack table. The winning hand is etched on his right forearm opposite the "Welcome to Las Vegas" sign on his left.
It might have been luck that saved Martell during a patrol in Baquba, Iraq, a lush, rural insurgent paradise nestled in a river valley 40 miles northeast of Baghdad. A bomb targeting foot soldiers detonated near him during the bloody summer of 2007, when American casualties reached an all-time high. He was knocked unconscious from the blast but didn't suffer injuries beyond a concussion. Lucky.
"Who would want to be my friend?"
Martell spent just over three years in the Army, including a 15-month tour in Iraq as an infantryman. Now 27, he has since left the military, and his second daughter was born earlier this year. He juggles his welding job and family with a full load of courses at the University of Wisconsin-Green Bay, where he majors in communications.
He doesn't talk about his encounter with a jury-rigged bomb -- or any war stories for that matter -- with his classmates. Most of them were worrying about prom dates and acne while Josh trudged through open sewers, took sniper fire, and saw his fellow soldiers mangled and killed. He definitely doesn't mention the time four roadside bombs detonated next to his Stryker assault vehicle in rapid succession, where each explosion felt closer to the one that would tear open the steel underbelly like a sardine can and vaporize the men inside.
Universities have long been a place where young people develop a purpose in life. But for older students with wartime experience, those lessons have already been learned.
But it's not just the discussion of war he omits from other students. He has quarantined himself almost entirely. He shows up for class, takes notes, and leaves, most of the time without communicating with students or professors. In the first three months of his first semester at UW-GB, he never said more than a few words to anyone. "I'm almost 10 years older than everyone. I'm not a college kid partying on the weekends. Who would want to be my friend?" he told me over the phone as his own kids played in the living room.
His reclusive behavior on campus betrays the man who was once my roommate in a dilapidated Korean War-era barracks at Ft. Lewis, since renamed Joint Base Lewis-McCord, a verdant mega base that sprawls along Interstate 5 near Tacoma, Washington. His backstory seemed to be assembled from cliché high school movie plots: the big man on campus, the Type-A jock all the girls gravitated towards. Since then, the King of Preble High has transformed into an introvert, and his story is remarkably similar to those of other war veterans I spoke to for this story.
The challenge of societal reintegration after war has mystified soldiers throughout recorded history. The saying "War changes people" is a profound understatement of the issue. It also displaces the sense of belonging to any number of groups, from peers to the countrymen who stayed behind. When Odysseus returned home after 20 tumultuous years of battle and incredible journeys, a sense of unfamiliarity overtook him: "But now brilliant Odysseus awoke from sleep in his own fatherland, and he did not know it, having been long away."
The foreign shore of Homer's tale has become the college campus. Tens of thousands of troops rotate out of the service every year, and many head straight to school, thanks to federal education benefits for veterans. More than 700,000 veterans and family members have used the Post-9/11 GI Bill since its inception in 2009, according to the U.S. Department of Veterans Affairs. The benefit pays in-state tuition and fees, a living stipend, and cash for textbooks.
An unknown but likely majority of these students today have served in Iraq and Afghanistan. But for veterans who may have been out of school for years -- or are fresh out of the military -- universities are the cleavage between two groups: their own peers, who went to college or found jobs after high school, and their new classmates, who are often many years younger and increasingly isolated from military culture.
"Dare to be different"
Some veterans choose to blend in, but that's impossible for Jason Mendieta. At 6'2" and 300 pounds, he looks more like a misplaced bouncer than an undergrad student at Redlands University, a private school an hour's drive east from Los Angeles. His thick black hair and Nicaraguan descent challenge the stereotypical image of a combat soldier as a redneck with a southern drawl. Even his wartime injuries won't give him away. Jason, 28, earned a Purple Heart during his first tour after shrapnel from an explosion burrowed into the left side of his body. The scars aren't visible anymore, and neither are the tiny bits of shrapnel still embedded in his skin.
The grueling physical punishment of house-to-house guerilla warfare prepared him for a slot on the Redlands football team as an offensive lineman. Athletes and commentators have been known to make crude associations between football and war; enormous men shove each other in the trenches; the quarterback leads the air attack; defensive blitzes are a nod to Hitler's 1939 offensive. The vernacular even bleeds into merchandising. Ads for Nike's Pro Combat gear line show sinewy players under custom pads as if they were the chainmail of our day. Mendieta -- a professional of actual combat -- sees more subtle associations between the military and football.
"Football held it together for me. There was a lot of teamwork, a lot of camaraderie," he said. "It was really helpful." The discipline of the sport helped Mendieta stay focused on his studies in the field of international relations. School was new and exciting as he absorbed economics and posted about realist theory on his Facebook page. But Mendieta's savings from his two deployments dried up, and he needed an income to support himself through school. He hung up his cleats to work the night shift at UPS, a decision Mendieta says his privileged classmates likely won't face during their studies.
No longer part of the close-knit team, Mendieta's only social outlet melted away, and with it, interest and motivation in his schoolwork. He now struggles to maintain a crowded schedule on an average of four hours of sleep a night. Like Martell, Mendieta hasn't made any lasting friends. He stays on campus long enough to attend class, then he promptly leaves, walking past banners and posters carrying the school slogan: "Dare to be Different."
Universities have long been a place where young people develop an identity, or a purpose in life. Students load up on debt as they find out who they are and what they can achieve. But for older students with wartime experience, those lessons have already been learned amid a procession of struggle and sacrifice that's impossible to reproduce in a classroom. A personality molded in the crucible of war doesn't easily bend to the institutional tenets that universities push in glossy brochures. That leaves student veterans not only detached from other classmates, but from the schools their classmates take pride in attending.
"I've been here [at Redlands] for three years and I feel almost no connection with the campus. I'm so far disconnected with the kids in my class, it's amazing," Mendieta says. He hasn't met a fellow veteran in class yet. His high school classmates have already rotated through college and launched successful careers, and Mendieta wants to graduate and move on as fast as he can.
"They couldn't build new classrooms fast enough"
The original G.I. Bill, signed into law by Franklin Roosevelt in 1944, has been called the most successful social program in U.S. history and is often credited for the creation of the middle class. In 1947, when Irv Feinman was a student, veterans accounted for 49 percent of college admissions across the country.
Not many people can claim typing skills saved their life. Feinman's expertise on the Teletype, picked up in Chicago courier offices before World War II, helped him secure a spot in the Army's Signal Corps when most of the men at the volunteer board went to the infantry. Seven men out of the 39 who enlisted alongside him died overseas. Far from the line, Feinman set up his communication equipment in King Victor Emmanuel III's palace in Caserta, Italy, outside Naples. His war was spent in the throne room as Nazi warplanes strafed the Italian countryside.
Shortly after Germany surrendered, Feinman left Italy and returned home to Chicago after a brief messaging job in New York City. A friend from before the war studied at the University of Illinois at Urbana-Champaign, and he told Feinman they were expecting a lot of veterans to use the newly created education benefit.
Feinman was but a rock in the avalanche of veterans headed straight for Illinois' Urbana-Champaign campus. Student veterans there outnumbered civilians in the fall of 1946; six out of 10 students had once served in the military. He recalls a rush to accommodate the unprecedented number of students. "They were scrambling to make room for everyone. They couldn't build new classrooms fast enough," he told me. The veterans on campus, typically four or more years older than civilian classmates, were eager to resume the lives they'd put on hold. But they did it alongside understanding civilians who had watched them come home as heroes of a righteous war, and one in which nearly every family felt some measure of sacrifice.
These days, veterans aren't cramming the admissions office at Urbana-Champaign. No one is concerned about building new dorms or classrooms to head off a glut of returning troops. You might even call them the least visible minority on campus. Though the Department of Veterans Affairs estimates that the number of veterans enrolled in college will hit a three-year high, they still aren't a sizable presence. (In sharp contrast with the 1946 numbers, veterans accounted for just one percent of the undergraduate population at Urbana-Champaign in 2011.) Not surprisingly, two long, unpopular wars fought by an all-volunteer force, on behalf of a thankful yet unburdened public, have produced second-order effects. Civilian students are often unaware of their peers who have wartime experience, and veterans often conceal their pasts from those who might not understand them.
Finding another platoon
Heroes die, but legends live forever. Kyle Lund lived by these words even before his two tours in Iraq. Lean, with the kinds of angular features you'd find in a Cubist painting, he once walked into the 2/75 Army Ranger battalion compound at Ft. Lewis and stole a company guidon -- a four-foot square flag that represents the commander and may never touch the ground or fall into an outsider's hands. His mulish grit made him a natural choice to hump the M240, a bulky 27-pound machine gun fed by rounds about the size of cigarettes. Midway through his first tour, he volunteered to use another weapon -- an M-14 rifle used to engage long-distance targets. It came outfitted with a professional Leupold scope -- the kind used by professional hunters to bring down game.
Lund isn't the college type, even at the relatively young age of 26. Earlier this year, he enrolled in the Dallas Fire Academy in a class he estimates is one-third veterans, many with their own deployments behind them. While some veterans on college campuses shrink from identifying themselves as former military, it's the inverse for Lund and his veteran peers. They speak with authority on everything from first aid to small team management. Putting out fires is hectic and exciting for the guys with no military experience, but the veterans take a level-headed approach. They feel as if it's something they have done before.
Their environment closely resembles infantry platoon living areas overseas; men work in close quarters for long, uneventful stretches punctuated by brief adrenaline-soaked moments of danger. Lund notes one odd thing -- the veterans don't typically self-segregate from civilians like one would expect. Former grunts mingle with electricians and helicopter mechanics pal around with laid off construction workers. Perhaps it's because the fire department -- like the military -- is hardly the place for individualism.
Teamwork lies at the core of success, and selfish behavior can have deadly consequences. (A shared commitment to public service doesn't hurt.) Lund has never set foot in a college classroom, but he imagines that an anemic affiliation between students may be part of the reason veterans struggle to find their place. "The kid to your left is hung over, the girl to your right is there because her parents made her go, and the guy in front of you is there to get a high paying job," he told me over the phone a day after training to extinguish flashovers, deadly fires that can engulf a room in seconds. "When I'm in training, the guy to my left, right, and front are there for a common goal, and we're all facing hardships together."
Lund figured out the formula for an easier time after the military: find a social group, stay active, and make friends, even if they're not veterans. That's also the advice Brian Hawthorne regularly gives out. An Iraq veteran and board member of Student Veterans of America, Hawthorne held down a job while finishing a graduate degree in political management at George Washington University. "I don't think a lot of veterans want the college experience, and use the age gap as an excuse not to participate. And I think that's a dangerous thing," he told me. "When parents send their 18 year-old off to college, they say to them, 'Try everything.' So why don't we tell veterans that?" Hawthorne probably didn't try everything, but he fell into a social circle at the international relations fraternity on campus, which helped him get over the sense of isolation he felt with civilian students.
Some veterans feel their identities, closely tied to their service, can negatively impact how they're perceived in class. Martell worries sensational media portrayals of post-traumatic stress may cause some to think all veterans struggle with debilitating mental illness. Others find it difficult to leave behind personalities that have come to define their professional and personal lives.
Meg Mitcham, for instance, found that the staff sergeant in her never receded, even when she was a student at Penn State. A few months after her return from Iraq, she heard two girls chatting incessantly during a lecture and sternly told them to be quiet while the professor spoke. But she came to appreciate college as the ideal environment for veterans to transition home. Now the director of veteran programs at the American Council of Education, Mitcham says higher education is an integrated system of information resources, career guidance, and peer support, all of which are crucial elements for helping veterans succeed in their new environments.
Universities may be logistically suited to helping veterans return to the civilian world. But the disconnected social experience and age discrepancies turn many veterans off from approaching school in that way. Universities are beginning to understand this growing issue as the veteran population on campus steadily rises. A psychologist dedicated to serving student veterans has an office at the University of Texas at Austin. Spaces and buildings exclusively for veterans, like the ones at Montana State University, provide room for study and decompression. Purdue University has put up grant money to help student veteran groups in Indiana fund support and resource centers. Student Veterans of America, a national network of 500 student-run groups, works with universities to expand services and encourages its members to leave the dorm and integrate with the rest of the campus.
Even if student veterans eventually find their footing, a hard landing appears to be the standard experience. Social reintegration grinds on all veterans to some extent, though the wear is uneven. Few will encounter a smooth transition like the one at Kyle Lund's firehouse, and not many can expect to thrive on the comradeship of a football team. Many people begin lifelong friendships at college, but Jason Mendieta may leave Redlands with an empty address book. It's doubtful Martell will break his quiet streak. Others may drop out all together: A recent study at Arizona State University suggests the power of social relationships directly impacts a veteran's decision to stay in school. Post-traumatic stress and multiple deployments are thought to unravel the ability of some to make it through to graduation. Without the right support, veterans may not only forgo the campus clubs and house parties but leave before they get their diplomas. They won't only squander taxpayer money, but an opportunity to recalibrate their professional and personal lives after their service.
Members of the Oneida Nation returning from war undergo communal ceremonies to sooth their frayed bodies and minds. Tribal elders give the warriors new names to recognize a soul that has been completely transformed. For now, it would appear universities and colleges -- communities in their own right -- will remain the grounds of a silent return, the half-remembered beach of Odysseus' nightmare.
Becoming a unit again
Josh Martell has a lot on his mind, and his stunted social life on campus doesn't rank very high. He's a proud new homeowner with his wife, Janelle, and their baby girls keep him occupied between work and class. All three come before his studies. He still manages to make good grades.
Five members of our old platoon traveled to Green Bay last year for his wedding. It had been four years since we were all in the same place, when we stood in formation for the final time and left the Army together. Some of us had since landed jobs, gone to school, or like Josh, started families. But underneath the surface of a wedding celebration was a shared relief to be in trusted company once again.
After the ceremony, we gathered at a reception hall for dinner. The dance floor felt as long as a football field and became slick with beer as we laughed and shouted and hollered about old times while dancing in a circle away from the other guests. Journey's "Don't Stop Believin'" blared from the speakers. Our scrum suddenly tightened, our arms around one another's shoulders. No words were spoken. We once again became a unit; indistinguishable parts of whole -- members of the only tribe we had left.