How 'Race to the Top' Penalizes Smaller School Districts
Schools that are most likely to struggle financially also have the hardest time applying for competitive grants -- and a rule change will make it even harder.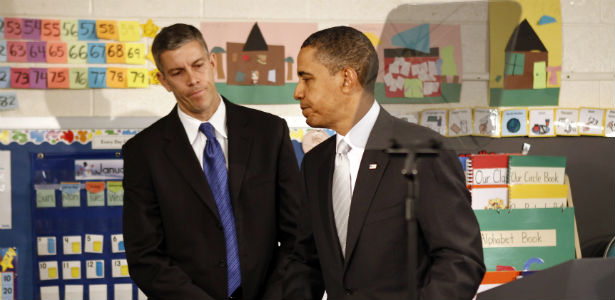 The rules for the latest round of the Race To The Top grant program, offering school districts the chance to apply directly for a slice of $400 million in federal funds, could make it difficult -- if not impossible -- for many of them to even have a shot at the prize.
The U.S. Department of Education has announced the final guidelines for school districts to apply either individually (in the case of larger districts) or in consortiums (for smaller districts with fewer than 2,000 students). In prior rounds, applications had to come from each state's education department.
As Education Week's Politics K-12 blogger Michele McNeil points out, that minimum number of students means about half of the districts nationwide are excluded from applying on their own. They could certainly try to team up with other districts on a joint proposal for spending the school improvement and reform dollars. But given the tight deadline -- districts are supposed to let the Education Department know they intend to apply by the end of the month -- finding partners could be tough. And then there's still a complex, 116-page application to wade through.
Many of the nation's larger school districts employ full-time grant writers who focus on applying for those crucial extra dollars from the federal government as well as private foundations. But many smaller districts don't have that luxury.
Lucy Gettman, director of federal programs for the National School Boards Association, said the shift from the traditional federal funding formula based on a per-pupil headcount to a more competitive landscape hasn't exactly been equitable. Competitive grants "generally put rural, and high-need, high-poverty districts, at a disadvantage," said Gettman, whose organization has members in 13,800 districts nationwide. "We've asked Congress and the administration to provide funds without this competitive element."
The federal grant applications, whether its RTTT or the new Investing in Innovation (i3) program, represent "an enormously challenging process for districts, even those that are fortunate enough to have full-time grant writers," Gettman said.
The level of enthusiasm among districts for the latest incarnation of RTTT is "all over the map," Gettman told me.
"We've heard from school districts saying they have just the population this grant program is designed to assist, the grant is consistent with the kind of work they are doing with high-need students, and they have a vision for how to put the grant to work," Gettman said. "We've talked to other districts that don't believe the time required to complete the application -- knowing how few of these awards there will actually be -- is worth the investment. "
When the first draft of new round of RTTT was announced earlier this summer, there was strong opposition from some quarters to a proposed requirement that districts evaluate the job performance of school board members. Gettman said the NSBA was glad to see that provision dropped from the final regulations.
"Since most school board members are elected officials, there is already a process for them to be evaluated before they are placed in their positions, and there is a transparent process for the public to express pleasure or displeasure with their leadership," Gettman said.
As I noted in a recent post, school board races typically draw minimal voter interest, and many candidates run unopposed or face only token opposition. Would an evaluation process, presuming one could be designed that would be equitable, actually raise the profile of elected officials who often control massive operating budgets and are ultimately responsible for setting district policy? Or would it only discourage people from seeking an already hard-to-fill position?
A reader of the Educated Reporter made an interesting suggestion, arguing that it's the upper-level district administrators -- like the region superintendents and other central office staff who actually implement the education policies and reforms - who should be evaluated. It's a reasonable point, but given that many states and districts are already struggling to comply with federal demands for more rigorous measures of teacher performance, I doubt school boards will be subjected to report cards any time soon.
This post also appears at The Educated Reporter, an Atlantic partner site.