Hate Speech Controversy Shakes the University of California
In response to vandalism and threats, a UC fact-finding team is recommending a ban on campus-backed protests against Israel. Will these limits only make things worse?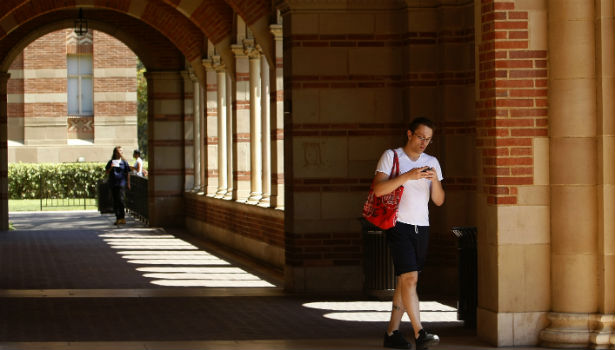 A controversy roiling the University of California highlights a familiar tension in higher education: What is the best way to encourage an open exchange of ideas on campus without fostering an environment that leads to harassment and discrimination?
In response to concerns about incidents of discrimination on the campuses in its system, a UC fact-finding team has issued a report recommending bans on hate speech and campus-backed protests against Israel as a means of curbing anti-Semitism.
Now several thousand members of the campus community are asking UC President Mark Yudof not to follow those recommendations because of the impact they could have on free speech, according to the San Francisco Chronicle.
Among the report's recommendations: banning hate speech, requiring "cultural competency training" for the entire UC community, and potentially prohibiting campuses from sponsoring "unbalanced and/or biased events." (For the full report, click here.)
The UC system should "push its current harassment and nondiscrimination provisions further, clearly define hate speech in its guidelines and seek opportunities to prohibit hate speech on campus," the report concludes.
The report -- put together by a fact-finding team following complaints of anti-Semitism on UC campuses, including harassment of Jewish students during pro-Palestinian demonstrations -- was issued by the President's Advisory Council on Campus Climate, Culture, & Inclusion.
The Chronicle reported Thursday that more than 2,200 students, faculty and staff have signed the petition that protests the report's recommendations. According to the language of the petition, the signees "believe in the principles of free speech and that these principles stand on their own and do not require any additional regulation."
In an open letter to Yudof posted on the change.org website, 27 UC faculty, students and alumni say the fact-finding team's's report and the recommendations "omit the experiences of many students and faculty in the Jewish community, grossly misrepresent educational initiatives focused on Israel and Palestine and political organizing in support of Palestinian rights, and threaten academic freedom on our campuses."
On the webpage, one commenter who identifies herself as a UC-Berkeley parent writes that she "always loved that Berkeley was the place where the freedom of speech movement began in the U.S. Still love it. Would like to continue loving it."
Incidents of harassment at UC campuses haven't just been verbal or directed only at the Jewish community. In March, at UC-Riverside, the word "terrorists" was scrawled on an Israeli flag belonging to a Jewish students' organization. And, in 2010, a lesbian, gay, bisexual, and transgender resource center at UC-Davis was defaced, and a noose was found in a campus library at UC-San Diego.
But as San Francisco Chronicle higher education reporter Nanette Asimov points out in her story Thursday, "The dispute is a collision between civil rights and free speech, where allegiances can't always be sorted out by religion." Many of the more vocal critics of the fact-finding team's report are Jewish, Asimov notes.
It seems unlikely that Yudof, a law professor and First Amendment scholar, will embrace the report's recommendations. The Chronicle cited the UC president's written response to Jewish students saying that he believed the university system's current policies already go "as far as they can, given constitutional limitations."
If the UC system were to follow the report's recommendations and test those constitutional limits, there's no shortage of potential challengers waiting in the wings. The proposed campus ban on hate speech would be "a very serious mistake," Harvard law professor and author Alan M. Dershowitz told the Forward, the nation's largest Jewish-American newspaper. "The first victims of the policy would be pro-Israel advocates. It will backfire."
The report's recommended adoption of a system-wide hate-free policy is where it "offends the Constitution," said Adam Goldstein, attorney advocate for the Student Press Law Center, a First Amendment advocacy organization in Arlington, Va.
A hate-free campus "would be a Constitution-free campus," Goldstein told me in an interview Thursday.
"The entire concept of free speech is that you're entitled to say offensive, hateful things," Goldstein said. "Nobody is trying to stop you from saying nice things -- the First Amendment would be utterly meaningless if all it meant was the right to hold up signs with pictures of flowers and puppies on them."
As for the question of whether anti-Semitism is being allowed to flourish on UC campuses, Goldstein said he's more concerned about the potential harm of the proposed remedies.
"The most anti-Semitic thing currently happening at the University of California is the attempt to abandon American principles in the name of the Jewish people, as if that was something Jews needed or wanted," Goldstein said. "It's condescending to assert that, somehow, anti-Semitism can't be confronted and dissolved by truth."
---
This post also appears at The Educated Reporter, an Atlantic partner site.