Will Texas Execute a Psychotic Man?
One prison doctor after another has diagnosed Marcus Druery as severely mentally ill. Does the Constitution permit the death penalty anyway?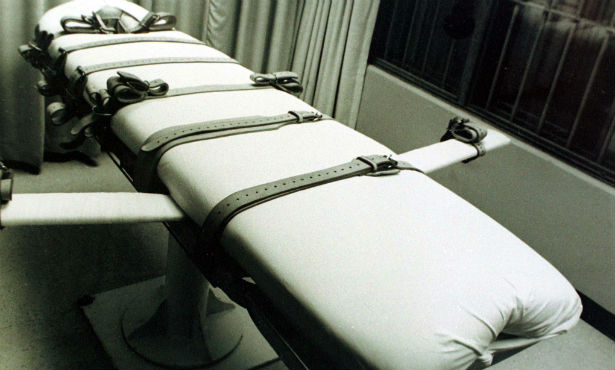 Some things are relatively simple about the case of Marcus Druery, a convicted murderer whom Texas officials plan to execute Wednesday evening at the state's death chamber in Huntsville. The details of the Halloween 2002 crime for which Druery was convicted are horrible, for example, and there is no pending legal claim that Druery is innocent or was wrongly convicted. This time, at least, no one seems to doubt that the police, the prosecutors, the witnesses, and the jurors all got the right man.
But there is one thing about the Druery case that is very complicated, indeed. No one seems to dispute that Druery now suffers from delusions and a psychotic disorder that doctors have consistently labeled as a form of schizophrenia. Nevertheless, despite these diagnoses, and despite United States Supreme Court precedent that precludes the execution of prisoners "who are unaware of the punishment they are about to suffer and why they are to suffer it," Texas still intends to execute Druery.
If the courts permit, that is. Late Friday, the Texas Court of Criminal Appeals stayed the Druery execution "pending further order." The unpublished ruling means that state appellate judges want to look more closely at defense claims that Druery has shown enough evidence of incompetency to preclude his execution. The central legal question here is: Can a state execute an "Undifferentiated Type" schizophrenic? Put another way, how mentally ill does someone need to be to be too mentally ill to be executed?
If the substance of the Druery appeal has to do with a single man's mental health, the process that led us here is illustrative of the deeply flawed nature of Texas' capital punishment system. We see in this case a judge more angry about delays than he is committed to accuracy. We see prosecutors with risible disdain toward defense counsel. And we see it all in a case in which the condemned man has been judged to be seriously mentally ill over and over again by the state's own doctors.
THE DEFENSE
In 2004, less than a year after Druery went to death row, prison staff concluded that he "may benefit from psychotropic medication." By 2006, Druery reportedly was "hearing things... noises... sometimes I feel people calling me..." By 2009, Druery suffered a psychotic break and was transferred to a psychiatric unit of the prison system. Later that year, a state psychiatrist, Nathan Pradan, examined Druery and concluded that he was suffering from the onset of psychosis. Over and over again since, prison doctors have diagnosed Druery as delusional.
From a recent defense brief:
In 2009 ..., Mr Druery told psychiatric personnel that he 'hear[d] people talking about him all day long' and had been hearing voices for months. He believed that he had a '10-month sentence' despite being on death row, and maintained that he followed the 'directives' of the voices. Of the voices, Marcus said: 'They say insipidus. That is a code... name or catch phrase ... I ask them ... whatever sense it was.' [Prison] mental health staff described Mr. Druery's speech as 'disorganized with looseness of association' and 'illogical' and determined that he required inpatient treatment.
All through 2010 and 2011 Druery continued to do and say baffling things. In March 2010, he told psychiatrists: "I was given option to go home while I was in Brazos county jail." In October 2010, believing his food contaminated, he began to refuse to eat breakfast. In May 2012, at the request of defense counsel, Druery was examined by Dr. Diane Mosnik, a neuropsychologist specializing in schizophrenia. She concluded that Druery, who was exhibiting "at least moderately severe delusional thinking," suffers "from a severe, active psychotic condition." The doctor wrote:
It is further evident that Mr. Druery does not now at this time have an understanding of his own mental state or an appreciation of his experiences as symptoms of a mental illness. In addition, the evidence presented above supports the finding that Mr. Druery has no insight into his mental status and a limited understanding or appreciation of his actual current legal situation.
Here is the link to Dr. Mosnik's diagnosis. You can judge for yourself whether you believe she makes a compelling case for Druery's incompetency. Also, here is the link to a supplemental brief filed by Druery's lawyers, a court filing that offers more detail about their client's current state of mind. In this defense filing you see how often Texas state doctors have diagnosed Druery's mental illness. Five times? Ten times? Yet, so far, Texas has not challenged these findings on their merits.
THE PROSECUTORS
Not wanting to dispute its own doctors, Texas argues instead that their diagnoses of Druery are legally irrelevant. Whatever mental illness plagues Druery, state lawyers say, has no bearing on his ability to understand his looming fate. Texas argues that Druery's words and deeds over the years have repeatedly met Texas's standard governing whether a prisoner is mentally competent enough to be executed. In a recent brief, state lawyers wrote: "Here, the Defendant is aware that he is to be executed and that it is imminent." Then, in a single paragraph, prosecutors made their case:
The Defendant has a rationale (sic) understanding that he is being executed for committing the murder of Skyler (sic) Brown, notwithstanding any delusions he might possess. This is evident from his written letter, dated November 21, 2011, where he rationally articulates that his punishment is unjustified -- that he "suffers from a wrongful conviction" for shooting Skyler (sic) Brown and robbing him of his property. It is also evident from his statement to the Court during the June 29, 2012 hearing: "The point is, sir, I'm not guilty of the charges. you know, that's my main complaint."
This is all that Texas law requires, state prosecutors argue, to determine that Druery is competent to be executed. His delusions are irrelevant so long as he understands that he's about to be executed. Meanwhile, it's worth noting that the June hearing mentioned by prosecutors evidently was a raucous affair. First, the Brazos County District Judge, a controversial official named J.D. Langley, railed at defense attorneys (more on that later). And then the defendant himself chimed in. From The Eagle (Bryan-College Station):
Despite advice from his lawyers, Druery did decide to go on record, but wasn't addressing issues relevant to the day's hearing and instead attempted to bring up matters from his 2003 trial. "I'm not guilty and I would like to take a lie detector test," he said. "Medical records, a lie detector test, all that could've helped me before we got to this point." Langley -- who was patient with Druery as he tried to interrupt the judge several times to ask about trial evidence -- explained to the shackled defendant that the appeals court had already upheld the guilty and death penalty ruling in his trial and Friday's hearing was Druery's chance to comment about the way his lawyers currently were handling the case.
THE REVIEWING JUDGE
The conduct of the judge in this case, as revealed by court transcripts, is both arbitrary and capricious. At a May 14 hearing, Judge Langley blasted Druery's lawyers-- "Honest to God you people drive me insane"-- while countenancing state violations of a discovery order. In the end, the judge told defense lawyers they didn't need to see all the evidence to make a "threshold finding" of incompetency, then made it harder for them to see all the evidence, and then denied their motion for failure to meet the threshold. If the justices in Washington ever see this part of the record, they will be appalled.
As part of their competency evaluation, Druery's lawyers sought to review approximately 1,800 pages of Druery's medical records. State lawyers were required to provide these documents to the defense but failed to do so. Declaring in open court that they thought such discovery was some sort of "set up" by the defense, prosecutors instead decided to send the documents directly to the judge. Judge Langley, who had earlier ordered the documents produced directly to the defense, agreed to accept the documents.
When prosecutors transferred Druery's records to the court, however, Judge Langley instructed that they be transferred again to the district court clerk with instructions to charge Druery, who is indigent, for copying costs. When defense attorneys asked Judge Langley to have the county pick up the copying costs, he denied the motion. "I don't particularly appreciate the fact that we are wasting so much time and I don't appreciate we're wasting money," Judge Langley said, on the record. That was after he said, "It is possible that defense counsel has caused Mr. Druery to go insane."
It's hard to know what the Texas courts will do. But it's hard to fathom the Supreme Court will countenance this sort of aberrant behavior from a state court judge. In the meantime, Druery and his lawyers are waiting for someone, anyone, in the state's criminal justice system to stand up and say that it isn't a waste of time or money for Texas to accurately litigate whether Druery's psychosis precludes his execution. The estimated cost of those copies is $900. Is Druery's execution really going to come down to that?
THE LAW
All of which brings us to the law -- and perhaps soon to yet another showdown between the Supreme Court, the Texas courts, and the 5th U.S. Circuit Court of Appeals. In Ford v. Wainwright, a 1986 decision, the Court ruled that the Constitution forbids the execution of a prisoner who is "unaware" of what is about to happen. "If the defendant perceives the connection between his crime and his punishment, Justice Lewis Powell wrote, "the retributive goal of the criminal law is satisfied. And only if the defendant is aware that his death is approaching can he prepare himself for his passing."
The holding in Ford was limited but clear. If a death row inmate showed signs of incompetence just prior to his execution, the state was required to provide the defendant with a meaningful chance to be heard on the matter. Over the next 20 years, Texas set up a procedure to allow death row inmates to argue their incompetency. But by 2007 the state, its courts, and the 5th Circuit had whittled down the Ford standard to a nub: If a prisoner knew he was going to be executed, and why, he would be found competent.
In Panetti v. Quarterman, a 2007 case decided by a 5-4 vote, Justice Anthony Kennedy ruled that wrote that the Constitution requires a lower standard of proof for establishing incompetency than the one created by Texas. "A prisoner's awareness of the State's rationale for an execution," Justice Kennedy wrote, "is not the same as a rational understanding of it." He continued:
Gross delusions stemming from a severe mental disorder may put an awareness of a link between a crime and its punishment in a context so far removed from reality that the punishment can serve no proper purpose. It is therefore error to derive from Ford, and the substantive standard for incompetency its opinions broadly identify, a strict test for competency that treats delusional beliefs as irrelevant once the prisoner is aware the State has identified the link between his crime and the punishment to be inflicted.
In both Ford and Panetti, prison doctors found their inmates to be competent. There is, as of yet anyway, no such similar finding in the Druery case (much less the due process hearing required under both of those precedents). So can Texas constitutionally ignore the diagnoses of its own prison doctors and refuse to provide Druery with the hearing required under Ford? Can the words and deeds of a diagnosed schizophrenic be used against him for purposes of an execution? A lot is likely to happen here between now and Wednesday.