Why Not Try Khalid Sheikh Mohammed by Video?
A noted terror trial judge has a bright idea on how to safely and efficiently prosecute Khalid Sheikh Mohammed. Is Washington ready to listen?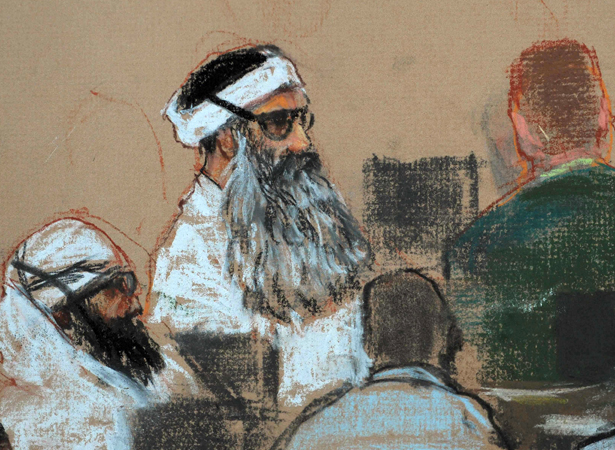 Reuters
As long as President Obama is listening, Daniel Klaidman is writing, and Washington seems interested, U.S. District Judge William G. Young reckons it's as good a time as any to pitch an idea he's been tinkering with for a few years. It's a bold suggestion, designed to solve one of the most difficult problems raised by the war on terror, and to work it would require leaps of faith and policy that seem far beyond the cognitive ability of the current crop of public officials. But surely it's worth the conversation. Nearly 11 years after 9/11, perhaps its time to listen carefully to a serious judge with a practical plan.
A 1985 appointee of President Ronald Reagan, Judge Young, as you will see below, already has earned himself a measure of immortality in the world of terror law. And now he's back with an earnest pitch: Why not prosecute Khalid Sheikh Mohammed and other terror suspects in federal civilian court at the American prison at Guantanamo Bay, Cuba? If Mohammed can't be brought to the federal courts, how about bringing more of the federal courts to Mohammed? Judge Young believes that foreign terror suspects may safely, efficiently and constitutionally be tried in an Article III civilian court without ever leaving Gitmo. Here are the broad contours of his plan:
Why don't we try him by video conference? He will stay in Guantanamo, a criminal jury will be empaneled in the normal way, in an appropriate way, all crimes save for impeachment should be tried by jury. Trial takes place in Gitmo. Witnesses must go to Gitmo. Judge must go to Gitmo. Our video conference hookup is sophisticated. Jury could see him and every witness but KSM could not see jurors. When all the evidence is over, the lawyers would come back to New York and give closing arguments. KSM could see the final arguments.
Judge Young concedes that a federal criminal trial has never before been done by video conference. But he says he is unaware of any insurmountable "constitutional infirmities" that would preclude it. The technology already is in place (last year, for example, a group of Yemenis at Gitmo were allowed to video conference with their families). No offense to the military officials who are currently presiding over the commissions, Judge Young adds, it's just that federal trial judges in New York, Boston, Washington, and elsewhere have centuries of combined experience controlling their courtrooms in terror cases.
THE PRESIDENT
Why does Judge Young's opinion matter more than the average federal trial judge?  Klaidman tells us. His latest set piece, Kill or Capture: The War on Terror and the Soul of the Obama Presidency, starts off with a bang. It is January 2010, and President Obama and his top advisors are in the White House Situation Room trying to decide how to react to the stab in the back just administered to them by New York Mayor Michael Bloomberg. Originally supportive of a federal civilian trial for 9/11 mastermind Khalid Sheik Mohammed, Bloomberg by now has changed course and opposes a big terror trial in the city, a venue that has safely, for centuries, hosted hundreds of such terror trials.
As the meeting degenerates into what Klaidman calls "squabbling," the president picks up from the table in front of him a copy of a federal judge's remarkable speech made in open court in Boston in early 2003. It is the now-legendary smackdown given to Richard Reid, the so-called "shoebomber," who in December 2001 had tried to detonate a bomb aboard American Airlines Flight 63 from Paris to Miami. The courtroom orator, U.S. District Judge William Young, a Reagan appointee with a long history of outspoken, trenchant opinions, was responding to a pro-Al Qaeda outburst made by Reid following his guilty plea.
Here is the full text of the January 30, 2003 speech -- then and now one of the most eloquent statement of American values uttered by a public official since September 11, 2001. To his credit, Klaidman reproduces the entire speech as well. And why not? After reading Judge Young's speech aloud to his audience, the president reportedly asked: "Why can't I give that speech?" before quickly and wordlessly leaving the Situation Room. Why not, indeed. Thirty months after the president asked his rhetorical question, the case for federal civilian trials for terror suspects somehow has lost political ground.
THE SPEECH
THE COURT: Mr. Richard C. Reid, hearken now to the sentence the Court imposes upon you. On Counts 1, 5 and 6 the Court sentences you to life in prison in the custody of the United States Attorney General. On Counts 2, 3, 4, and 7, the Court sentences you to 20 years in prison on each count, the sentence on each count to run consecutive one with the other. That's 80 years. On Count 8 the Court sentences you to the mandatory 30 years consecutive to the 80 years just imposed. The Court imposes upon you on each of the eight counts a fine of $250,000 for the aggregate fine of $2 million.

The Court accepts the government's recommendation with respect to restitution and orders restitution in the amount of $298.17 to Andre Bousquet and $5,784 to American Airlines. The Court imposes upon you the $800 special assessment. The Court imposes upon you five years supervised release simply because the law requires it. But the life sentences are real life sentences so I need not go any further. This is the sentence that is provided for by our statutes. It is a fair and just sentence. It is a righteous sentence. Let me explain this to you.

We are not afraid of any of your terrorist co-conspirators, Mr. Reid. We are Americans. We have been through the fire before. There is all too much war talk here. And I say that to everyone with the utmost respect. Here in this court where we deal with individuals as individuals, and care for individuals as individuals, as human beings we reach out for justice.

You are not an enemy combatant. You are a terrorist. You are not a soldier in any war. You are a terrorist. To give you that reference, to call you a soldier gives you far too much stature. Whether is it the officers of government who do it or your attorney who does it, or that happens to be your view, you are a terrorist. And we do not negotiate with terrorists. We do not treat with terrorists. We do not sign documents with terrorists. We hunt them down one by one and bring them to justice.

So war talk is way out of line in this court. You're a big fellow. But you're not that big. You're no warrior. I know warriors. You are a terrorist. A species of criminal guilty of multiple attempted murders. In a very real sense Trooper Santiago had it right when first you were taken off that plane and [placed] into custody, and you wondered where the press and ... TV crews were, and [he] said, "you're no big deal." You're no big deal.

What your counsel, what your able counsel and what the equally able United States Attorneys have grappled with, and what I have as honestly as I know how tried to grapple with, is why you did something so horrific. What was it that led you here to this courtroom today? I have listened respectfully to what you have to say. And I ask you to search your heart and ask yourself what sort of unfathomable hate led you to do what you are guilty and admit you are guilty of doing.

And I have an answer for you. It may not satisfy you. But as I search this entire record it comes as close to understanding as I know. It seems to me you hate the one thing that to us is most precious.

You hate our freedom. Our individual freedom. Our individual freedom to live as we choose, to come and go as we choose, to believe or not to believe as we individually choose. Here, in this society, the very winds carry freedom. They carry it everywhere from sea to shining sea. It is because we prize individual freedom so much that you are here in this beautiful courtroom. So that everyone can see, truly see that justice is administered fairly, individually, and discretely.

It is for freedom's sake that your lawyers are striving so vigorously on your behalf and have filed appeals, [and] will go on in their ... representation of you before other judges. We care about it. Because we all know that the way we treat you, Mr. Reid, is the measure of our own liberties. Make no mistake, though. It is yet true that we will bear any burden, pay any price, to preserve our freedoms.

Look around this courtroom. Mark it well. The world is not going to long remember what you or I say here. Day after tomorrow it will be forgotten. But this, however, will long endure. Here, in this courtroom, and courtrooms all across America, the American people will gather to see that justice, individual justice, justice, not war, individual justice is in fact being done.

The very president of the United States through his officers will have to come into courtrooms and lay out evidence on which specific matters can be judged, and juries of citizens will gather to sit and judge that evidence democratically, to mold and shape and refine our sense of justice. See that flag, Mr. Reid? That's the flag of the United States of America. That flag will fly there long after this is all forgotten. That flag still stands for freedom. You know it always will. Custody, Mr. Officer. Stand him down.
THE JUDGE
Custody, Mr. Officer. Stand him down. To this day, Judge Young insists that he did not write out that speech in advance, that he was speaking "off the cuff" following Reid's allocution. The judge told me last week that he always tries to specifically explain a sentence he's just given a defendant. And Reid, who had told the judge in open court that he was "at war with your country," provided Judge Young with a unique opportunity to make a statement not just about one case but about an entire philosophy: The quicker we label Al Qaeda detainees as superhuman monsters, Judge Young cautioned, the harder we make it for ourselves to treat them like the mortal suspects they are.
Judge Young says today that he had no idea that his statement would go viral and eventually reach the president's eyes. "I would have made the sentence had he not made the comments that he did," Judge Young says of Reid. "I knew that it would get some play in the press. And I wanted to have the last word. I didn't expect it to have the impact it did. I thought it was a one-day story." He says he still gets emails congratulating him for his choice of words. In the lingering political dispute over venues for terror trials, amid all the recrimination and fear, Judge Young (and Richard Reid) are Exhibits A and B supporting the case for federal civilian trials.
Exhibits -- and also witnesses. In a 2009 law review article, Judge Young reminded Washington of how stoically ordinary citizens had faced their obligations to the criminal justice system even as their elected officials were peddling fear, prejudice and ignorance about the ability of the federal courts to handle terrorism cases. Of the months following 9/11, Judge Young wrote:
Americans stood united in a way not seen since Pearl Harbor, but our unity was not only expressed in our military response or our humanitarian outreach to the victims. With the judicial branch, citizen response to jury subpoenas spied to record levels. Amidst all the frenetic activity in the months following September 11, not only potential juror-- not one-- sought to be excused on the ground that the courthouse itself was a probable terrorist target. Americans came to serve in record numbers simply because their country called them (emphasis added).

Still more impressive, and ultimately far more profound, in the year following September 11 the government's conviction rate remained relatively unchanged. In other words, juries continued to perform their constitutional role of providing impartial, even-handed justice even in the face of a looming, inchoate terrorist threat, and never subordinated their independent judgment to that of the government.
Judge Young's point, then and now, is that American jurors aren't afraid to judge terror suspects. Unafraid -- and still representative of core American due process and fair trial values. As the conscience of their communities, as the voice of the people, jurors have performed this public service for hundreds of years. Hundreds of terrorists -- domestic, foreign, and something in between -- are today serving out their civilian sentences thanks to jury verdicts. It isn't just constitutionally dubious for Congress to restrict the ability of jurors to hear terrorism cases, the argument goes, it's also just a bad idea.
THE PROBLEM
In the nine years since he sent Reid packing, Judge Young and the rest of us have witnessed a startling reversal in the political dynamic over terror law. In January 2003, Congress was a supine "partner" to the executive branch. The Bush White House ran the show. Today, even though no American jury has ever allowed an Al Qaeda defendant to walk free, Congress has significantly restricted the administration's ability to try terror suspects in federal court. The folks who found and killed Osama bin Laden can't be trusted to prosecute his deputies. And jurors can't be trusted to hear those cases.
No one personifies this double standard more than Khalid Sheikh Mohammed himself. He was captured in Pakistan in May 2003 -- just a few months after Judge Young made his Reid speech. (For an excellent account of the pre-arrest portion of the Mohammed story, read The Hunt For KSM by Josh Meyer and Terry McDermott). Next, over the objections of the FBI, Mohammed was waterboarded, thus complicating forever any future prosecution in civilian court. Then he was to be tried by military commission. Then he was to be tried in New York. Now he is in Gitmo, barred by federal law from being transferred to the States for trial.
In May 2009, when Mohammed first was arraigned by military commission, the typically perfunctory hearing quickly devolved into chaos. Three years later, with new tribunal rules in force, Mohammed was arraigned again -- and the same thing happened. There is no way such defendant behavior would have been tolerated in our nation's federal courts. You want to act up in court, Mr. Mohammed? Go right ahead. You, too, Mr. Binalshibh. But then you'll have to watch the rest of the proceedings from your cell, just like any other criminal defendant who acts up. That's what a federal judge would say. Military judges? So far they have seemed spooked by the in-court antics of Mohammed and company.
THE REACTION
I ran Judge Young's terror trial-by-video conferencing idea by some of the bright men and women who focus upon this area of terror law. Kenneth Roth, the executive director of Human Rights Watch, and often a key figure in Klaidman's book, answered my question this past weekend about the legality of such a trial. Via email, he told me that the proposal "would pose risks to the suspect's due-process and confrontational rights in several respects." For example, Roth notes:
The suspect wouldn't be able to see the whole courtroom of the trial where his very life is in jeopardy. Having sat in the courtroom (separated only by glass) for the arraignment of the 9/11 suspects, and at the same time watched the video, I saw the enormous amount of important visual information that the video camera missed. I don't think that was intentional, but rather inherent in the difficulty of connecting to a courtroom (as opposed to, say, an ordinary deposition) by videoconference.

The unusual nature of having a suspect tried by videoconference would signal to the jury that the suspect is so dangerous he must be guilty -- hardly an auspicious basis for a fair trial.

Presumably the suspect could communicate with his attorneys in real time only by separate phone, raising major questions about confidentiality (or the likely lack thereof, given the government's current approach to security) and how that would affect their ability to mount an effective defense. 

The first and third problems could be avoided by having Congress authorize the SDNY to sit in Gitmo, but the second one -- involving the selection of jurors who could spend months there -- would not
On the other hand, there is this from military law expert Gary Solis, the former head of West Point's Law of War program, a retired Marine judge advocate, who is now an adjunct professor of law at Georgetown University Law Center. He told me:
Trying Guantanamo cases by federal video-conference, rather than by military commission, is a fine idea. Federal trials would proceed with greater alacrity; any resulting conviction would be a federal conviction rather than a military commission conviction, lending greater credibility to the outcome; yet no detainee would be brought to the continental U.S., satisfying present U.S. law. I believe federal trial by video-conference would be a bridge too far for cases other than Guantanamo detainee terrorism charges which, because of the detainees' location, are unique. Any necessary modifications of the Federal Rules of Procedure should apply only to detainee cases.

The Department of Defense would strongly object to such trials, however. An assertion of inadequate civilian prosecutions would be raised, despite hundreds of terrorism convictions. Additionally, in terms of hoped for international acceptance, as well as Guantanamo's physical infrastructure and dedicated manpower, the military has a lot riding on military commissions. DOD would find political allies willing take up their cudgel, and who might block the necessary amendments to the Federal Rules of Procedure.

While Guantanamo trials by video-conference is a promising idea, we probably are too far down the torturous road to more trials by military commission to deviate.
So the civil libertarians wouldn't be too happy with it. And neither would the Defense Department. Sounds like a good starting point to me! Here's hoping that President Obama and his council still are paying attention to Judge Young.  And here's hoping we one day soon get to hear from this president the speech he says he wants to deliver on this topic. If and when that day comes, Judge Young deserves a special seat front and center at the White House -- and on Capitol Hill as well.
UPDATE:
Another federal trial judge, also with extensive experience handling terror cases, responded to this piece this morning. He wrote:
Once again, I note that the East Coast considers itself the font of all knowledge and wisdom. Out here in the sagebrush and forest fire country, we have been taking testimony from prisoners via video in a number of trials and in pretrial proceedings for a number of years. Just last week, I held a supervised release violation hearing and sentencing via video with our court in Grand Junction.