The Real Wayne and Garth: Public Access TV's Eccentric Survivors
The Internet should have killed their medium years ago. But these self-made television hosts have no plans to go off the air -- even if nobody's watching.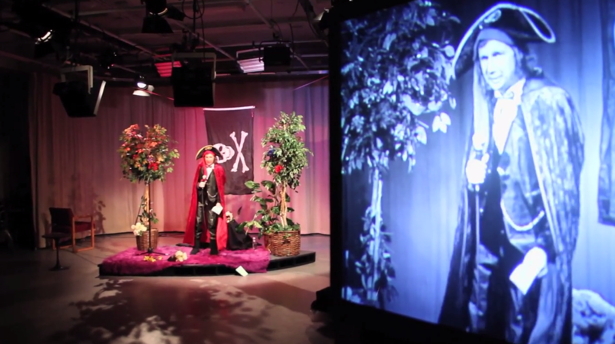 Spotlights shine down on a small stage raised a foot off the ground, illuminating a pink shag carpet, two fake plants, a stuffed teddy bear, and a crumpled pirate flag. In the shadows immediately offstage, a red-caped performer quickly applies a layer of makeup to his cheeks and forehead.
"I don't wear makeup in real life," he says. "But on camera I look so hideous if I don't have a little bit of makeup on, and I only look kind of hideous if I have a lot of makeup on."
"You've got a great outfit," an audience member tells him. "But, what's going on here?"
Related Story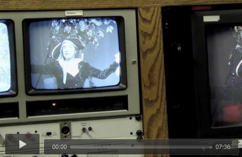 "I don't know, I'm dressed like a pirate for some reason," the performer answers, looking down at his own costume. "It was either this or a Viking, and I just really couldn't justify the Viking. You know, pirate -- I can kind of go pirate."
As the clock inches toward 7 p.m., the middle-aged operators start their countdown behind a pane of glass. "Bring it up, okay, go to studio," commands Steve, the long-bearded director. There's a pause. A black screen flickers. "I am -- it's not going!" insists an equally long-bearded man named Marcel sitting to his right, pressing one button after another. At last,the image of Moby Theobald, the made-up pirate, flashes onto the screen, and Steve and Marcel exhale deeply.
"Welcome one and all to episode 128 of 'Watch This!'", Theobald says, bounding onto the stage. The lone audience member, sitting at the back of the classroom-turned-studio, claps his approval.
This is public access television, beamed into thousands of homes across Berkeley and the East Bay. Watch This!, an hour-long variety show, is one of dozens of programs airing on Berkeley Community Media, a public access stalwart and one of the last of a dying breed. On any given night, Channel 28 (BeTV for short) plays host to a range of local programming--from the politically charged talk show "Stoney Speaks" to "Frank Moore's Unlimited Possibilities," which features a naked, quadriplegic host and a series of equally naked guests engaged in what can only be described as softcore porn. A typical '80s Wayne's World aesthetic generally prevails.
"You're always picturing some guy dressed in a wizard costume with a blue screen in the background," Jeff Kimmich, BeTV access facilitator, says. "We put on what you give us. That's kind of the best and the worst part of the place."
The idea of public access television is simple: government-funded non-profit TV stations like BeTV typically provide training, equipment, and studio space for citizens to produce their own television shows. The shows are then broadcast on a channel designated solely for local programming. The principles behind these stations emerged during the infancy of cable TV in the early 1970s, when media advocates argued that local communities should have access to this powerful communication tool.
Today, the Internet has replaced most of the functions of public access television--community engagement, self-expression, voyeurism -- and cash-strapped cities throughout the country have slashed funding to community stations. But in Berkeley, this antiquated relic is still hanging on: Berkeley Community Media remains a bubbling community of creative eccentrics eager to "be TV."
"Stoney Speaks"
In the smaller of two studios at Berkeley Community Media's office -- a series of converted classrooms on the vast Berkeley High School campus -- longtime public access producer Stoney Burke finishes taping the most recent episode of his show, Stoney Speaks. Burke has been producing the show since 1985, years before BeTV went on the air. (A short-lived community studio was open in the mid-70s, but a series of disputes between the city and the cable companies kept local programming largely off the air until the launch of BeTV in 1994.)
Burke uses his monthly time slot to rant about local and national politics, and to give voice to local Bay Area characters. "I like putting people on TV that have never been on TV," Burke says, sitting next to tonight's guest, "Bishop Joey," of the First Church of the Last Laugh, a satirical, faux-religious group.
Burke, 59, has a strip of dyed green hair ringing his otherwise bald head. Tonight, he's wearing a tattered burlap sack that covers his whole body. Next to him, Bishop Joey wears an ersatz clergyman's cloak and a fez and wields a 12-inch plastic bone like a wand. They sit in front of a set decorated with political posters, slogans, and drawings. They call themselves "broke-butt clowns" and do a sort of Laurel and Hardy give-and-take. "When people have the remote in their hand and they're switching channels, they stop, and go, 'What the heck was that?'" Burke says. "That doesn't look like anything you've ever seen on a blog or something like that."
Before there was quality streaming video, says BeTV programming coordinator Arielle Elizabeth, public access was the most viable option for distributing and watching independent content. "People watched TV to see what their community was doing. Now, things have changed." These days, Elizabeth says, people "go looking to YouTube to learn things, and to hear different ideas and thoughts. They don't flip through TV."
For Burke, though, the allure of television remains strong. He's a Berkeley legend who has been performing his political clown act on U.C. Berkeley's Sproul Plaza since the late 70s. His television show is an extension of his street performance, a way to reach a larger audience. "This is cheaper for me to do than buy a bunch of giant computers ... work at a keyboard or some stupid thing. That's not TV," he says. "Here they give you a technician. All you have to do is do your thing and fill your space, and it goes right on the air, reaches about 20,000 people."
Twenty thousand is a stretch. BeTV's Channel 28 -- along with Channel 35, which is reserved for government programming -- reaches about 17,000 homes throughout Berkeley and parts of neighboring Albany, Emeryville, and North Oakland, as part of Comcast and AT&T cable packages. But, clearly, not every cable subscriber watches BeTV. It is impossible to track the exact viewership because BeTV isn't included in any Nielsen rating programs. "They say with cable access, take it down to about 1,000 [viewers per show]," Burke acknowledges. By comparison, Burke uploaded about 20 videos to YouTube last year and has had a total of 2,700 views. Sixteen people subscribe to his channel.
The exposure public access provides is vital for Burke, but he holds out hope for greater notoriety. "I'm still looking for my William Hung moment," he says, referring to the American Idol's star turn, "that one moment in media history where they go, 'Did you see what that guy did? It was the funniest thing.' I'm still looking for that moment."
"Watch This!"
On one 1999 episode of Stoney Speaks, Burke interviewed a local comic book artist who had never been on television. On March 24 of this year, that guest, Moby Theobald, aired his 128th show on BeTV. "I was just blown away by the whole idea," Theobald recalls. "A person can put on their own show. This is amazing!"
Shortly after appearing on Stoney Speaks, Theobald decided to produce a variety show like the ones he grew up watching. In May 2001, he filmed his first episode of Watch This! Eleven years later, the show's format is remarkably similar -- a mix of comedic monologue and pre-filmed sketches, which Theobald writes, shoots, edits, and acts in, playing most of the roles in various costumes and disguises. His makeup kit includes about 20 different mustaches.
Theobald, who produces a show every two or three weeks, sees it as "a way of being validated, a way of saying, 'Oh, you have meaning.'" He just wishes he could get paid for it. "I guess the dream would be somebody saying, 'Hey kid, I'm gonna make you a star! Come over here, sign this, sign this," Theobald says in his gruffest agent voice, pantomiming a cigar in hand. "A bunch of cast members on Saturday Night Live got discovered through Internet sites. But that's not a plan, that's like saying, 'My retirement plan is I'm going to win the lottery.' Yeah, work on that luck, buddy."
For now, Theobald is sticking to his day jobs as a caretaker and as a day manager at a Berkeley pizzeria. After finishing a shift one recent weekday, he used the restaurant as the setting for a sketch. Changing out of his dingy T-shirt and customary brimmed hat, he donned an all-black leather vest that showed off his bare chest. He pulled out his camera, set up his tripod, and got to work. Borrowing a few empty beer glasses and pitchers for set decoration, Theobald issued directions to Steve, the bearded director, who is his friend and neighbor and often hangs out helping film sketches and directing the live shows.
Theobald took a seat in a booth and Steve stood behind him recording. Theobald then reached up and pretended to strangle Steve, who made gurgling noises and wriggled about. The scene was for an upcoming skit called "Inside the Music's Behind," a riff on VH1 specials and ASCAP music rights.
After the scene wrapped up, one of Theobald's co-workers asked, "When's this going to be on? Can I see it?"
"Friday, Channel 28," he replied. "Do you have cable?"
"No," she said. "Can I get it on an antenna?"
"I don't know. But it streams live on our website."
The irony seemed lost on both of them. Theobald is in his 40s, younger than Stoney Burke, but he still resides firmly in the pre-Internet generation for whom television possesses an aura unmatched by streaming videos online. "I haven't figured out how to post videos on the Internet," Theobald confesses, even though he is skilled at Photoshop, iMovie, and other complicated software. So why doesn't he just learn how to upload his videos? Why does he need an entire television station at his disposal?
In response, Theobold recounts an interaction another producer had with a guest on his public access show. "The guest said, 'I want my friends to see that I was on television. I know it's on a disc or YouTube, and I can watch it anytime I want. But it's not the same." For Theobald and other public access enthusiasts, "the thrill of television is it's somehow out of your hands." When a show airs on BeTV, "somebody else is saying, 'This is good, we're going to put this on.' Or, 'This is terrible, we're going to put it on anyway because that's how we roll.'"
Next page: How soft-core porn gets on the air
A public access director prepares a set at the Berkeley Public High School campus. (Adam Grossberg)
"My Naked Truth"
"Anything can get on the air," Arielle Elizabeth, BeTV programming coordinator, says matter-of-factly. Anyone with a membership -- $60/year for Berkeley residents, $100/year for non-residents -- can reserve studio time and equipment. Once the show is completed, the creator simply turns in a DVD. Elizabeth slots it into BeTV's schedule, and the show airs. That's it. Currently, BeTV's mainstays include the food show Cooking with Ruben, the long-running youth literacy program Wee Poets, the counterculture explorations of Bay Area 51, the spiritual ponderings of Crystal Mind, and the nude discussions of My Naked Truth.
"We do not censor anything based on content," Elizabeth says. In fact, BeTV staff members are expressly prohibited from watching any show before it airs. "You can have practically soft-core porn, or you can be doing something very insightful and meaningful. There's sort of no real boundary." Well, there is one: "adult programming" can only air between 10pm and 6am. Other than that, anything is fair game.
But even that restriction is vague. Public access programming like BeTV is not governed by the FCC, the body responsible for regulating content broadcast on radio, television, satellite, and cable systems across the country. "We're governed by the city," Elizabeth says, "and the city believes in free speech." Since Elizabeth and her staff cannot review content until it airs, the "adult" label is applied at the discretion of each individual producer. When submitting a show, a producer simply checks a box labeled "adult," alerting Elizabeth to air the show after 10pm.
In her five years at BeTV, Elizabeth has only had to pull one program off the air, an episode of My Naked Truth. One afternoon several years ago, she received a call from a furious mother. "'What the heck was that? My kid just saw a naked man on TV at 2 p.m.,'" Elizabeth says, quoting the angry caller. "I should've used my brain," she admits. "But Gypsy (the show's producer) didn't check the adult box."
BeTV's commitment to free speech has been essential to its continued existence. In 2006, California passed the Digital Infrastructure and Video Competition Act, which directly altered the way the state's public access stations are funded. Until 2006, cable companies had to negotiate a "franchise fee" with every local municipality they operated within. An earlier federal mandate had each area setting aside a portion of that franchise fee to fund local television stations. The California act ended this relationship by allowing cable companies to negotiate directly with the state, eliminating the funds that had been designated for many public access stations.
Without dedicated revenue coming from cable companies, the onus to fund these stations fell upon individual city councils. Many have chosen to cut or remove funding, leading to the closure of numerous stations. But not in Berkeley. "The council members realized that Berkeley is the bastion of free speech," David Joliffe, executive director of Berkeley Community Media, says. "This type of non-profit agency offers unfettered access to free speech. So they uphold their heritage by keeping us funded."
"Berkeley is a special place in this country," Stoney Burke says. "If you say 'Berkeley,' you don't say, 'Oh yeah, great oranges!' No, you say, 'Free speech!'" Throughout Burke's 27-year public access career, he has worked at numerous stations throughout the Bay Area (most of which have gone dark). At other stations, he says, his radical political views resulted in passive forms of censorship, like being told that no technicians or studio space were available. But that has never happened at BeTV. "That's why this place is so strong and that's why I validate it so much," he says, "Because it isn't just a cable access station. It represents the values of this community."
"I think the residents of Berkley are very lucky that the city of Berkeley still believes in [public access]," Arielle Elizabeth says. But after more than 10 years in public access, she is realistic about the future; she won't be surprised when BeTV goes off the air. "We are at the end of an era. I hope people enjoy it while we have it."
"Dead Air"
When David Jollife became Executive Director of BeTV in 2008, the goal of public access was to influence people. "Now that's over," he says. But in this digital era, Jollife still sees value in a brick-and-mortar meeting place where people like Moby Theobald and Stoney Burke can meet and make a show about whatever they want. "When people with a like mindset gather in a certain place," Jollife says, "the result is a lot stronger than when you put something up on YouTube." That is certainly debatable, but there is no denying the camaraderie within the BeTV family.
"I've come to think of it, honestly, as a form of group therapy," says BeTV facilitator Jeff Kimmich. "People come together to do studio shows and they all have to work together to achieve something. If that makes their lives better, then I don't see anything wrong with it."
"Here it is, the moment you've all been waiting for, " Theobald says, now back on stage, wrapping up the 128th episode of Watch This! with guest Stoney Burke by his side. "I want to thank our wonderful crew and lovely staff," Theobald says. "Steve, Lily, and Bobby and Joey and Chewy and Han and Leia and Luke and all the droids. Here it is, the end of the show!"
The screen fades to black as Theobald and Burke rise from their seats, hug, and take off their microphones. Marcel turns to Steve. "We still have 90 seconds of airtime. Should we go back to studio? We don't want dead air." Steve considers this but decides against it. Dead air doesn't seem so bad.
"Yeah, it's not professional-grade quality, but that's because the people aren't professionals," Theobald says after the taping. "The shows are real and homespun, and they're produced by people in your community who are communicating from their heart and from life experiences."
Who they're communicating with seems irrelevant. "I know people are watching," programming director Elizabeth insists, "because when something's wrong with the channel I get calls." Theobald and Burke watch each other's shows, but not many other public access shows. This is not uncommon: Even public access advocates don't seem to watch much public access programming. But in non-commercial media, viewership isn't what matters. Theobald, Burke, and other producers will continue making their shows until they're told they can't, whether or not anyone is actually watching.