The Internet should have killed their medium years ago. But these self-made television hosts have no plans to go off the air -- even if nobody's watching.
Moby Theobald records an episode of his show "Watch This!" for the Berkeley public access station BeTV. (Adam Grossberg)
Spotlights shine down on a small stage raised a foot off the ground, illuminating a pink shag carpet, two fake plants, a stuffed teddy bear, and a crumpled pirate flag. In the shadows immediately offstage, a red-caped performer quickly applies a layer of makeup to his cheeks and forehead.
"I don't wear makeup in real life," he says. "But on camera I look so hideous if I don't have a little bit of makeup on, and I only look kind of hideous if I have a lot of makeup on."
"You've got a great outfit," an audience member tells him. "But, what's going on here?"
Related Story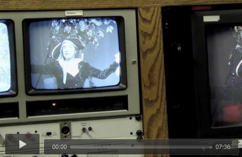 "I don't know, I'm dressed like a pirate for some reason," the performer answers, looking down at his own costume. "It was either this or a Viking, and I just really couldn't justify the Viking. You know, pirate -- I can kind of go pirate."
As the clock inches toward 7 p.m., the middle-aged operators start their countdown behind a pane of glass. "Bring it up, okay, go to studio," commands Steve, the long-bearded director. There's a pause. A black screen flickers. "I am -- it's not going!" insists an equally long-bearded man named Marcel sitting to his right, pressing one button after another. At last,the image of Moby Theobald, the made-up pirate, flashes onto the screen, and Steve and Marcel exhale deeply.