Godly Locks: Inside L.A.'s Bizarre Human Hair Business
Wig-making may be the only industry that relies on religious devotion, Hollywood glamor, and raw materials harvested from human heads.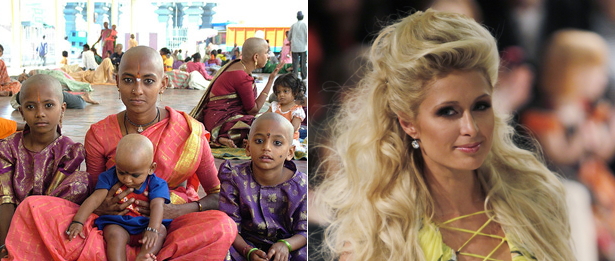 Spend any time in the San Fernando Valley and you'll come upon a house like this: ceiling pocked with acoustic spray that could easily contain asbestos; gold-flecked wallpaper and beveled mirrored tiles; bulbs that sear Stasi-watt light onto a mute carpet; bedrooms with doors ajar just enough to know you don't want to enter. It was in such a house on an evening in the mid-1990s that I found myself drifting past guests chattering in Continental tongues into the kitchen where my host, Isaac Bracha, was chopping mint. We had met a week earlier at some chic gathering in Los Feliz. He had mentioned what he did for a living, but I suppose I had thought he was joking.
Now, standing amid stacks of cookbooks, I happened to look down. On the worn linoleum floor next to the stove lay a blue plastic vat. Inside it, floating in a dark liquid, was a thick coil of human hair. Shiny, silky, medium brown.
"Come see my office," Bracha rumbled, and tossed aside the towel he'd been using as an apron. He opened a door off the living room and descended into the darkness of the basement. Fluorescent lights buzzed alive and I blinked.
A disembodied lock of hair recalls Freud's essay on the uncanny: the familiar that is oddly frightening.
It might have been a hydroponic marijuana farm. It might have been a crystal meth lab. Double wrong. For starters, there were the plastic vats, just like the one in the kitchen, but rows of them arrayed here on metal shelves. The silent mounds within these vats were further evidence that the sodden clump nestled by the stove upstairs had been just a tease. Once I surveyed the contents of the basement, it became clear that I beheld the fledgling business of a human hair merchant.
***
Human hair. When we cut it, the cut is painless, bloodless -- and often devastating. En masse and gleaming, it can be alluring. But a disembodied curl lying in a vat calls to mind Freud's essay on the uncanny: the familiar that is oddly frightening. Even while lying reassuringly on the head, hair is charged with paradox: by the time it is visible, it is already dead. "Come hither," it teases. "I am a sexy omen of your very mortality. I am death in life's trappings."
At this point, a little taxonomy might be useful. Item number 0501 on the US Harmonized Tariff Schedule pinpoints the product, raw human hair, as that which is "unworked, whether or not washed or scoured" -- hair, in other words, that has been freshly razed. As a commercial item, human hair is insignificant when compared with, say, bananas. In 2011, the U.S. brought in over $1.8 billion worth of fresh bananas. During the same 12 months, around $1.3 million of raw human hair entered this country. Still, it is a noteworthy import, given that it is harvested not from banana plants but from human heads.
In the past year, thieves have stolen from U.S. beauty salons as much as $230,000 worth of human hair, overlooking flat-screen TVs and full cash registers in their quest. During one of these heists, a salon owner was killed. No question, in its own way, human hair is a booming commodity on the world market. As such, it faces a grim future.
In 2011, two-thirds of the raw human hair brought into the U.S. came from India. Mainly the source is benign: itinerant peddlers pay village women a few coins for their shed hair. Occasionally, the means are more coercive: gangs hunt down women for their hair; husbands force their wives to shave their heads.
There is a third source. In the state of Andhra Pradesh in southeastern India is a cluster of seven hills. Perched atop one is Tirumala Venkateswara. Dating back nearly two thousand years, it is the most visited religious site in the world. With attendance three times that of the Vatican, Tirumala hosts nearly 20 million pilgrims a year. About half are women participating in a ceremony they hope will bring good luck. Perhaps they still haven't found a husband. Perhaps their child is sick. For their luck to change, they believe, a special action is required.
So, after waiting in a queue that is miles long, 25,000 women each day mount the steps of a special building. Inside sit some six hundred barbers. The women bend over and, with a few deft strokes of a straight razor, the barbers shave off their hair. The hair used to be thrown away. These days, if it is virgin -- that is, never colored, never processed, never cut, having cascaded from her head two or three feet or more -- it will have a significance that is not merely spiritual. It is auctioned to licensed peddlers; this past year Tirumala held several online auctions, in one day reaping $27 million. Peddlers sell the hair to exporters, who sell it to manufacturers, who process it and sell it to distributors, who sell it to salons, who attach it to the heads of millions of Western women. Removing the hair had been a means of ego eradication; adding it serves now as an ego boost.
***
When you start researching human hair, you end up noticing the stuff on people's heads. On Isaac Bracha's head it is black, flecked with grey, cut very short. His face is long and his eyes convey unmistakable humor. Five centuries ago, Bracha's Jewish ancestors were expelled from Spain. They resettled in Bulgaria, survived the war, and in 1948, immigrated to the new state of Israel. Bracha was trained as a medic in the Israeli Defense Forces, but in 1988, he came to America, seeking his fortune in textiles.
In Los Angeles, he met a quiet, self-possessed woman named Elizabeth Dirks, an Aleut transplant from a tiny island in the Alaskan archipelago. Together, they sold hand-made garments to Macy's and Bloomingdale's; one year, Quincy Jones attended the Oscars wearing a vest they had designed. Then Macy's went bankrupt and Bracha lost over $50,000. He was heading back to Israel when a family member asked him to help sell men's toupees. Bracha learned his craft, then sensed an opportunity in a larger market: human hair. But where best to operate?
It's a quiet thicket of female heads: pigtails and braids, blond and brunette. If they turned around, they'd have faces.
It was the early 1990s. Post-Soviet Russia had a population that was the sixth largest in the world, but its people were impoverished. Bracha reckoned there might be women willing to swap hair for cash; he headed to Moscow and set up shop. His intuition was impeccable. His business thrived and predictably the Russian Mafia wanted in. Armed with a duffel bag, a bottle of vodka, and a shotgun, they threatened Bracha's manager who promptly demanded from him a 20 percent cut of the business. It was time to move on. But where?
Again he turned east, this time, to India. Once Bracha started importing hair from there, he realized that the local operator was not screening hair at a high-enough standard. Eventually, he opened his own factory near Chennai but much time passed before it functioned properly.
Still, problems continue. "Can you see this?" Dirks is doing inventory. It is several years since I stumbled on the vat in Bracha's kitchen; I am visiting his 3,500-square-foot office in the heart of Van Nuys, another drab San Fernando Valley community not far from his home. I nod at Dirks, but I'm hard-pressed to spot the nuance. She goes to the window and holds the sample of hair in the sunlight. Despite her usual reserve, I can tell she is annoyed at the dye job. "Even if there were a slight difference," she says, "they might have gotten away with it, but that's too noticeable." She will send the hair back to Chennai to be fixed; in the process, it will lose valuable length.
Bracha appears and tells me I'm in luck. While most of his hair comes from India, he still imports raw hair from Ukraine, and a shipment has just arrived.
In the middle of the workroom sits a large cardboard box. "This is how the Russian hair comes to us," he says, opening its flaps. "Exactly as it comes off the girl." We peer inside.
It's a quiet thicket of female heads: pigtails and braids, blond and brunette. If they turned around, they'd have faces. On impulse, I pick one up. It weighs nothing. Soon, the red ribbon binding it will be removed and, with it, the last trace of the former owner.
Next: The woman who puts hair on the heads of Paris Hilton and Samuel L. Jackson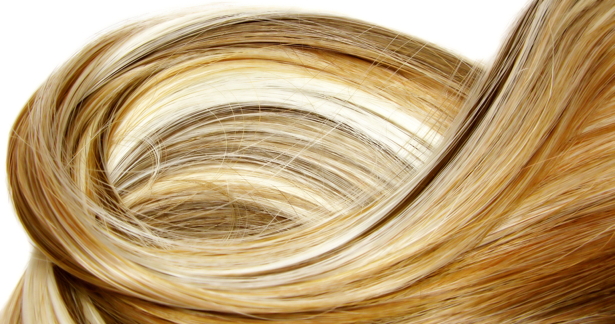 Nastya22/Shutterstock
"There's probably 10 top wigmakers," Victoria Wood tells me. "That covers Italy, Germany, England, France, the U.S., and Japan. I would like to think that I'm in the top 10 or 15."
We are in Wood's modest home in Long Beach, California. Outside sits a Toyota Avalon whose license plate reads, WIGMAKR. Wood made the wigs for Will Ferrell and Jon Heder in Blades of Glory, Kevin Spacey in American Beauty, and Barbra Streisand in Meet the Fockers. Angelina Jolie wore her wigs in Girl Interrupted; Dakota Fanning wore them in The Secret Life of Bees. She recently did the wigs for the remake of Total Recall.
Wood has a fine-boned face and dark blond hair. In her mid-50s, she has a teenaged son and a husband -- her fourth -- whom she met at church.
"I wanted to be a make-up artist in film. I didn't know God had wigmaking," she says. Once she learned God did have wigmaking, she never looked back: she has been ventilating -- the industry term -- for 32 years, mostly for film and Broadway shows. Since then, Wood has bought most of her hair from Bracha and Dirks. Nearly all of their hair is virgin, she says, and of extremely good quality.
Wood leads me to a small workshop in the back. The room is cluttered with cabinets, headshots, wigs on wig blocks bound in white canvas. I note a book called, simply, Dreads.
If you know your hair will grow back -- or be covered with someone else's beautiful hair -- are you truly giving up everything?
Wood shows me a needle with a tiny barb like a fishhook at one end. "You're not a wigmaker if you can't tie a knot. People say, 'I want to work with you.' I say, 'Make a clean knot and a fast knot, or you're of no value to me.'" She pokes the barbed needle through a piece of net, snags the single strand of hair, loops it, pulls it back through the net, twists it, captures the strand, again pulls it back through the net, and secures the knot. Or something like that: she tries to slow it down but can't. At speed, she'll make a knot in half a second.
If a Broadway show succeeds, a wig must endure multiple wearings; over time, single knots can loosen, so Wood double-knots each strand. She charges a minimum of $3,000 per theatrical wig and twice that amount for film wigs, but film is a business that's used to paying for maximum flexibility. "They want to be able to say, 'We had this very expensive virgin blond hair' -- my God, this happened! -- 'but we think she would look better with dark hair.' So they dye the hair dark."
Wood slows her speech for emphasis. "Twelve hundred dollars worth of virgin blond hair, as opposed to five hundred dollars worth of dark brown hair that you could have gotten virgin anyway?" She lets me savor the calamity, then points to her waist, "Or, hair down to here that was so expensive and so hard to find? 'Oh, we just decided it looked a little bit unruly.' And they get done and it's up here" -- hand by her ear -- "because it 'looked nicer.'"
Another tough customer was Paris Hilton. The heiress kept missing appointments but when the wig was done, according to her assistant, she loved it and nicknamed it Precious. Yet she lost it within a year. The first time out, Wood had charged $6,000; the second time, she upped her quote to $10,000. "Additional suffering fees," she explains.
Press her for celebrities who wear her creations offscreen and Wood hesitates. Men, as a group, don't want people to know they are losing their hair. Exceptions include clients Samuel L. Jackson and Ving Rhames. They could let their hair fall out; instead, they shave what lingers. When they need hair, they call her. It's easier to make a hairline look real if you are not concealing anything beneath, she says.
Wood, in fact, specializes in wigs for actors of African descent. In the workshop, I finger samples of "Zigzag Weave for Weaving" and "Nappy Kinky for Afros." Comedian Chris Rock's 2009 documentary, Good Hair, explored the enormous demand by the African-American market for auxiliary human hair. Even simple maintenance can eat up a large portion of one's monthly expenses, yet role models for such excess abound: when Wood's former client Tyra Banks required a weave flowing out from beneath a wig, only vast amounts of hair could achieve this double-decker look.
Cornrow wigs present another challenge, Wood tells me, starting to work on one. Since the scalp is a prominent feature, the net must be dyed extra carefully; it can take three women five or six days to complete it. She is simultaneously preparing a dreadlock wig. Frequent client Will Smith is slated to wear them both in the film Hancock. As often happens, the production budgeted for these two contingencies, but in the end opted for yet another: they used Smith's own hair, a decision that sent Wood rushing to make a third wig for Smith's stunt double who happened to be bald.
***
On Melrose Avenue is a hole-in-the-wall hair salon run by Mathi Avidor, Israeli-born and in her 50s. While her clientele includes cancer survivors and alopecia sufferers, Avidor mainly works with women from Los Angeles' Orthodox Jewish community.
"It's an issue of modesty," says Chavy, a brunette woman who has brought in her daughter for a trim. What she says next astonishes me: "And the point is, 'Why are you wearing this beautiful human hair wig?'" It is what I was thinking, of course: the absurdity of covering beautiful hair with -- beautiful hair. "A lot of us ask the same question," she twinkles.
"Because you're not supposed to look ugly," Avidor interjects, while tending to a young woman with an energetic toddler. Contemplating this tableau, mother and child, I reflect that modesty may be important, but looking attractive ensures that the species survives. Avidor finishes fixing the woman's own hair -- straight and blond and shoulder-length -- and reaches for a wig -- straight and blond and shoulder-length -- which she secures on the woman's head. She steps back, regards her work and beams. The woman does not.
I wonder aloud: If the wig is made of human hair nearly identical to your own, what's the point? "There's a difference," Chavy insists. She means that no matter how beautiful a wig makes a woman, the hair doesn't actually spring from her own head. Thus it is deemed a lesser beauty and the original mandate -- modesty -- is preserved.
"I don't go out anymore," the young mother says, picking up her headscarf. "I wear this all the time. My mother screams at me."
I ask why.
"Because it's ugly. She's going, 'Wear your wig! You used to take care of yourself, what's with the jean skirt?' I'm like, 'Aaarrghh!'" Her son starts banging the floor with a hairbrush.
Perhaps the young mother is too frazzled to worry about her appearance, but her mother is not. And despite the stated ideals of modesty, one retains the freedom to choose which wig to buy. Are these choices truly in keeping with ego-surrender? Might a wig-covered head -- or, for that matter, the shaved scalp of a Hindu devotee -- in fact call attention to the self?
I think of a woman I met named Meena, a native of southern India who lives in Los Angeles yet journeys often to Tirumala with her husband and children. She has as yet refrained from having her head shaved. To do so would be "to give up everything, not to think about yourself," she says, her dark hair rippling down her back. "It's done only when you get past your selfishness." I consider this and wonder: if you know your hair will grow again -- or be covered with someone else's beautiful hair -- are you truly giving up everything?
This is what I'm thinking; what I say to the group in the salon is that it all seems pretty complicated.
***
Over a decade has passed since Isaac Bracha's party. Once again, I am dining in his home. I mention my latest meeting with Dirks. She had shown me some Russian hair, saying, "There's something wrong with this. It's sick. I don't know how else to describe it. It's grainy. It's crinkled." She'd had to reject all of it.
Bracha nods. There has lately been a dramatic drop in quality with an inversely dramatic rise in prices, some "300 or 400 percent." Skyrocketing demand for Russian hair has caused traders to accept inferior hair. The hair that looked sick, he says, probably came from older women who at one time would have been turned down. Moreover, it seems that Indian women are finally selling their hair for real money. Young women have started to cut their hair regularly, as Western women do. Some are even buying extensions.
According to Bracha, it is this cultural shift that is the biggest threat to the human hair business. What will he do if Indian women stop growing their hair three feet long? Will he start over in yet another country? He says he is indeed exploring new business opportunities, but the world has changed. Rather than benefit from cultural difference, he will be taking advantage of globalization, of the world's increasing homogeneity.
In August 2011, Bracha's Van Nuys office was robbed at gunpoint. The thieves were caught, but soon afterward, he stopped importing the prized Russian hair. Apparently, hair-filled bunkers under armed guard are now the norm in Ukraine.
***
I have been sitting with Vikki Wood one afternoon when suddenly it hits me. "How are your eyes?"
She responds instantly, the subject clearly on her mind. "My eyes are getting older, and I do need to get them checked every year." She has another eight or ten years before she retires, she figures, and, failing sight and carpal tunnel syndrome aside, she's also not sure that the hair supply will last. "That could disappear before anything else happens. The film industry isn't going to be happy with synthetic. Then again, maybe it'll all be computer-generated hair."
Wood likens human hair to an endangered species. "The only way to get more hair is to have people that will grow their hair long and leave it alone. And the only way to get more hair to be grown is, you know, God has to create the people to have the hair grow. But you can't breed more hair like you can breed 10,000 sheep and you've got ten thousand more heads of wool. You can't just breed people because you want their hair. You know what I mean?"