American Infrastructure Report: D.C. Storm Edition
My wife and I were (and still are) 1800 miles away from our house in Washington when the latest catastrophe-storm roared through 48 hours ago. We hear from neighbors that we were lucky that none of the trees that blew down landed on our house, and that one just grazed rather than smashed my wife's car.
So I feel bad giving any kind of complaint from a distance -- unlike the situation in the winter of 2011, when a snow storm knocked out our electricity (and heat) for five full days. That turned into a candlelit, frozen, Dr. Zhivago-type experience -- until I decamped to a motel in Virginia, where I had electricity and light to finish
an article
. (Yes, "I" decamped. My wife stoically stayed the last 36 hours in the dark and cold, wrapped in a blanket by the fireplace and awaiting the repair crews who were at any moment supposed to arrive.)
I know all the extenuating circumstances for a big power-outage in this case. Washington is a very heavily treed area; its verdant suburb-within-the-city areas are the most forest-like of all; many of the trees, especially the enormous and beautiful
tulip poplars
, seem easy to knock down. Also, urban officials can't really base their plans on
weather extremes
they have never seen before -- though with current climate trends these seem to be coming more and more frequently.
Still. How can it be that in the imperial-capital city of the richest nation the world has ever seen, people are told that it will probably be
a full week
* before electric power is restored? For the second widespread multi-day outage in the past two years. No lights, rotting food, no communications (internet, TV, and radio out, no way to charge cell phones). We have neighbors with little children, who get very hot -- forget air conditioning, even electric fans won't run -- and want to have milk from the refrigerator. We have neighbors who are elderly, and very sick, and have medicine that needs to be kept cold and monitoring machines to run. This is not special pleading for our neighborhood, just a reminder of the whole modern existence that depends on electricity. I would worry that when we return we will not be able to get our other car out of the garage, which has an electric door-opener -- until I remember that it doesn't matter, since the roads on all sides are still (as of Sunday night) blocked by huge trees like the ones shown in a Washington Post
photo
today.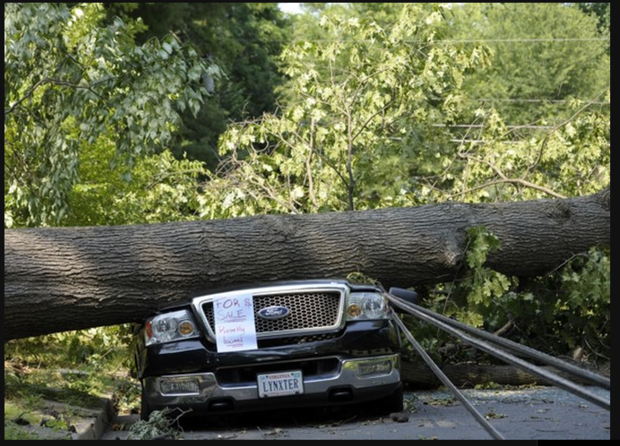 This is in a neighborhood less than four miles from the White House. America's motto is supposed to be resilience. Here's a reminder of the brittleness of crucial parts of our infrastructure. No doubt we would draw unflattering conclusions if we saw this happening in some other world capital.
Infrastructure is boring; we're not supposed to speculate about whether a series of extreme weather events points to something bigger underway. But maybe it's time for an infrastructure campaign to be ready for what the elements have in store.
__
* From the Pepco
outage map
, here is the report in our immediate area:
Customers Affected: 1044
Outage Reported: Jun 29, 10:39 PM
Cause: Weather Conditions

Crew Status: Pending
Estimated Restoration: Jul 6, 11:00 PM

I am sure that they are over-estimating the service time, so they can beat expectations. Still, a week?