They're outdated, impractical, and slowly dying. It's time to put them to rest.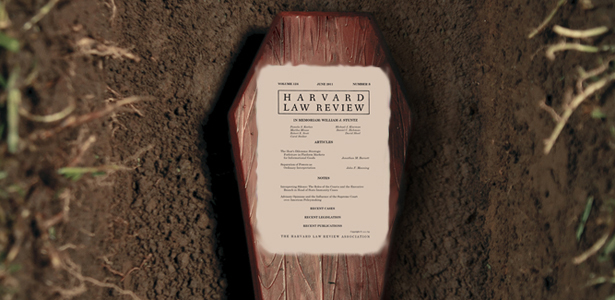 Daniel D. Snyder/Shutterstock/Fer Gregory
In 2008 a federal judge sentenced nine executives of Newsday, the Long Island newspaper, to probation, fines, and community service over their role in a circulation scandal that had rocked the publishing world. Prosecutors said that the executives had schemed to overstate the tabloid's reported circulation over several years--by 15-17 percent in the 2002-03 period, for example--thus victimizing advertisers by significantly overstating its reach and influence.
I thought of the Newsday scandal when I read one of George Mason University law professor Ross Davies's witty yearly reports on the plight of law reviews, the most visible scholarly monuments of the nation's 200-odd schools of legal education. The circulation of law reviews has been plummeting for a generation; the most famous and widely circulated of them, the Harvard Law Review (HLR), has seen its subscriber base dwindle from 10,895 in 1963-64 to a mere 1,896 in 2010-11. That downward spiral did not keep the HLR from presenting a cheerful face to the world, though: according to Professor Davies, "as late as 2009 its website was claiming 8000." Oops!
Solving the nation's most entrenched problems
See full coverage
Neither I nor, so far as I know, Professor Davies thinks that prosecutors should be marching some of tomorrow's brightest lawyers out of the HLR offices in handcuffs. No doubt it was a matter of mere inadvertence, not purposeful fraud. And not to be mean about it, but there's another big difference between a major ad outlet for Long Island car dealers like Newsday and the venerable Harvard Law Review, which is that when it comes to whether HLR distributes 8,000 issues, or 2,000, or 1,000, let's face it: no one really cares.