A New 'Master Teacher Corps'?
Plus more states freed from No Child Left Behind requirements, this week at the Department of Education.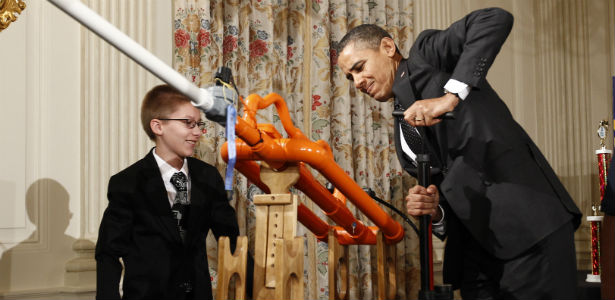 It's a busy week for the U.S. Department of Education. On Wednesday, President Obama proposed spending $1 billion to fund a "Master Teacher Corps" initiative, which would reward top-performing educators with $20,000 annually. And on Friday, six states and the District of Columbia will receive waivers from some of the toughest provisions of No Child Left Behind, bringing the total number of exemptions to 33.
Not everyone's on board with the proposed Master Teacher Corps, which is aimed at boosting student achievement in science, technology, engineering, and mathematics (STEM). As an aide to Rep. John Kline, R-Minn., chairman of the House Education and the Workforce Committee, told the Associated Press, the federal government already has more than 80 teacher quality programs. Kline spokeswoman Alexandra Sollberger questioned the wisdom of pouring more money into another program that might not add anything new -- or effective -- to the existing options.
"Republicans share the president's goal of getting better teachers in the classroom," Sollberger told the Associated Press. "However, we also value transparency and efficient use of taxpayer resources."
But in a statement, Obama said the master-teacher program would shine a light on the best STEM educators, and allow them to "mentor and model" for their less-experienced colleagues. The program would start with 50 teachers and eventually expand to 10,000 teachers over four years. The funds to pay for it -- projected at $1 billion for the 2013 fiscal year -- would require congressional approval.
"If America is going to compete for the jobs and industries of tomorrow, we need to make sure our children are getting the best education possible," Obama said in the statement. "Teachers matter, and great teachers deserve our support."
Obama's announcement of yet another new initiative comes on the heels of a House Appropriations sub-committee vote approving a bill that would dismantle three key elements of his education reform plan: Race To The Top, the School Improvement Grant program, and the Investing In Innovation (i3) grant program.
It's still too early to evaluate the effectiveness of RTTT, although states have certainly made major revisions to education policy and practice, and in enacting Education-Department-approved reforms in order to qualify for a share of the more than $4 billion in federal funds. The i3 program, which requires communities to develop public-private partnerships to boost student achievement, is also in its early stages.
The SIG program, which at $4.6 billion is arguably the most costly federal education initiative on record, has shown promising indications of having helped some low-achieving schools boost performance -- a point U.S. Secretary of Education Arne Duncan made in March. And University of Virginia researcher Thomas Dee found California's SIG-funded schools did indeed improve test scores at a better rate than campuses with nearly identical demographics that did not receive the extra federal dollars. However, districts and states are also struggling to meet the SIG program's mandated requirements for reform measures, particularly the provision requiring some schools to replace ineffective educators with more qualified staff. Researchers, including the Center on Education Policy, have also questioned whether those reforms will continue once the federal grant funds run out.
As for the NCLB waivers, the lucky winners in this round are Arizona, D.C., Kansas, Michigan, Mississippi, Oregon, and South Carolina. It's important to remember states are not being given a pass on accountability. Student performance data must still be reported and achievement benchmarks must be met. Now that the newest waiver recipients have been announced, only a third of the states will still be playing by the old rules. So, at what point does the old rulebook become obsolete?
---
This post also appears at The Educated Reporter, an Atlantic partner site.