Why a Weak Website Can't Replace a Daily Newspaper in New Orleans
Today's layoffs at the Times-Picayune signal the end of daily papers as tribunes of the communities they serve.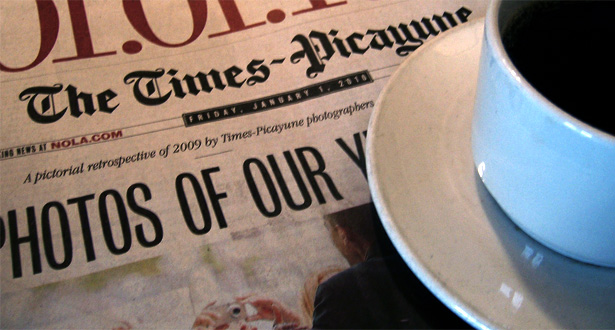 Casey Fox/Flickr
The newspaper industry is in the midst of a mass decimation. This is due to the inexorable forces of the web and to the constantly fracturing attentions of readers, who can find much of the stuff that used to be exclusive to newspapers elsewhere and in vastly greater quantity and quality. But there are still core functions that newspapers can do very well: covering news, sports, and entertainment in their communities, offering an authoritative channel for distinctive voices on those topics.
But what if the process of relentless downsizing degrades a newspaper's relationship with its community, and with it those last sources of journalistic strength?
This is an especially urgent question given what's happening in New Orleans, where today 200 employees at The Times-Picayune are getting pink slips, and others new job descriptions, as part of a radical restructuring. In the fall, Advance Publications, the paper's New York-based parent company, intends to reduce daily publication to Wednesdays, Fridays, and Sundays and reassign a much-reduced staff to focus on the paper's apparently well-trafficked but oft-derided website, nola.com. Similar changes are underway at three Advance-owned Alabama papers.
On the surface, this looks like more of the same for the beleaguered newspaper industry. Local dailies -- including the SeattlePost-Intelligencer and Advance's own Ann Arbor News -- have slashed staff and gone all-web. The Detroit News and Detroit Free Press cut back home delivery to three days a week, though they still print papers seven days for newsstand sales. And The Rocky Mountain News went out of business.
It's a free-for-all: The quality of news-gathering depends on an owner's whim.
But for journalism, this is a signal development. New Orleans will now be the largest American city without a daily paper. And during a time when newspapers are being hollowed out, The Times-Picayune has managed to retain its hard-won reputation for local journalism and, especially post-Hurricane Katrina, become an important community voice. Maintaining that reputation has depended on the owners' backing. Now that has effectively been withdrawn.
New Orleans greeted the announcement of the cuts -- a closely guarded secret until a leak to the New York Times -- with an extraordinary mixture of shock, outrage, and whimsy. There's been a protest, a petition, even t-shirts. An organization of community leaders has formed to pressure Advance to reverse its decision. Last week, advertisers also joined the fight.

Above all, though, there's a sense of bafflement among the staff and readership. (And for me personally: I was a reporter for The Times-Picayune for more than 20 years until taking a buyout in 2006, and worked on investigative projects that helped build the paper's reputation as a medium-sized daily that did ambitious journalism.) The owners have said the paper is currently profitable. Why a radical overhaul that will damage its journalistic foundation, and a push to the web in a city where nearly a third of the population has no Internet connection? New Orleans would seem to be the last place to do this, not one of the first.
The Times-Picayune's plight is partly a result of the process Jack Shafer describes here, a slog to irrelevancy in which newspaper owners dismantle their institutions to keep ahead of falling revenues, cashing in residual goodwill at the same time. The future looks bleak:
Newspaper owners may be running out of time to beat the liquidation clock if the prediction (pdf) made in January by the USC Annenberg Center for the Digital Future proves accurate. Because the current generation of print newspaper readers aren't being replaced, most major U.S. print dailies will be dead in five years, the report concluded. Very small newspapers might endure as dailies, as well as the large national newspapers - The New York Times, The Wall Street Journal, and USA Today -- and the local Washington Post. For other newspapers to beat the reaper, said the Annenberg report, they must downsize from daily to once- or twice-a-week publication.
The difference in New Orleans is, after making cuts at various points over the past few years, Advance has simply decided to dispense with piece-by-piece downsizing. Instead, it's blowing up the old Times-Picayune and turning what remains into an adjunct to its nola site, creating a new, digital company called the NOLA Media Group to run it. This is audacious. And who knows? Since no one has yet figured out how to make newspapers profitable in the long run, either in print or on the Internet, maybe we would have ended up here anyway after a few years.
But what's the nature of this new enterprise? While the local controversy has focused on the loss of daily publication, something more disquieting has been overlooked: Advance's Internet strategy has never been about journalism or news. It's about clicks.
Nola.com is one of a bunch of regional web portals Advance has created. They're like local versions Yahoo.com or MSN.com. All have the same generic design template. They are run independently of the affiliated local newspapers, sometimes by non-journalists, and it shows. They are generic, ugly and notoriously hard to navigate. They share DNA with Parade.com (the website of Parade Magazine, the newspaper insert) another Advance property whose former boss now runs Advance's local digital strategy. They present news in a rolling blog format, as it is fed to them, without regard to its importance or community interest. In this framework, news is primarily a click-generating engine, featuring movie listings, weather forecasts, or the doings of the Kardashians.
Editor Jim Amoss, who is staying, attempted to reassure the staff in a memo: "We will have a smaller staff. However, our reporting arm will be at least comparable to what it is now. We will continue to be probing and ambitious in our coverage."
Amoss, my former boss, is a talented editor. But Advance executives have never indicated that they care about the important debates now consuming responsible news executives: is it possible to use the Internet to make better journalism better and make a profit at the same time?

There are many promising experiments underway, whether with aggressive community engagement and social media, or paywalls and premium content. But with nola.com, the owners have so far promised to deliver only the barest bones of what an online news operation does: 24-hour coverage. In a click-centric website this can mean a hamster-wheel ethic, with staffers churning out blog posts, tweets, and video snippets 24/7, with little time to go deeper.
That is a shame -- a travesty, really -- because New Orleans is the ideal place to build a sustainable, innovative local newsgathering operation. In 2005, The Times-Picayune won widespread recognition its brave coverage of the aftermath of Hurricane Katrina and the devastating flooding that followed. Staffers camped out with most of the city under water and without electricity, and documented the unfolding FEMA snafu. (I worked on flood coverage as well, though from a safe remove in the Washington bureau.)

Since then, the Times-Picayune has expertly handled the most challenging ongoing story a newspaper can encounter: the drama of a city literally rebuilding itself, body and soul. And despite diminished resources, it has ably covered major news including the Deepwater Horizon oil spill, and continued to do investigations, such as this recent deep dive on Louisiana's prisons. The paper hasn't been perfect, by any means. Some love it, some hate it, but everybody reads it. It has one of the highest so-called penetration rates -- percentage of residents who read the physical paper -- in the United States.
That kind of credibility can be leveraged in both coverage and in revenue generation. It could be invaluable to building a well-rounded Internet-based news site, the kind that brings journalism talent and technology together to tap deep sources of community knowledge, and wires them together in new ways.
We should be grateful that Advance is at least not pretending this is its intention. The owners, the Newhouse family, haven't said much, and it appears they're just waiting for the protests to die down. But the silence signals the looming end of newspapers as -- well -- tribunes of the communities they serve.
When newspaper business models worked, local journalism was a luxury the owners could afford. Now, it's a free-for-all: the quality of newsgathering depends on an owner's whim. The new owner of the U-T San Diego, for instance, is taking a different and possibly more destructive tack than Advance's, using the paper to promote his own business interests. On Monday, the Orange County Register and related newspaper properties were purchased by a Boston-based investor.

But this trend has a couple of upsides: with their value plummeting, newspapers can be purchased for a song, meaning one of these days someone may find a model that works. It also opens the way for local investors interested in maintaining them as institutions. In April, a group of local businesspeople bought the Philadelphia Inquirer and Daily News, which had ping-ponged among owners in recent years, and promised to stabilize them. In recent months Warren Buffett bought his hometown paper, the Omaha World-Herald, and 63 other local newspapers, saying he thinks their community connections make a good investment.
Local investors, philanthropy (such as a recent grant from the Ford Foundation to the Los Angeles Times to cover immigration and other issues) and news startups will fill some of the void left by decimated newspapers. Thanks to the Internet more local information (as opposed to news reports) is available than ever.

But the real loss will be journalist eyes probing and interpreting local events and trends. As diminished news operations migrate to the web, without a commitment from owners to their communities, and to news and journalism innovation, they will find it harder to cover the stuff that needs covering, to investigate and hold public officials to account.