The Difference Between Science 'Skills' and 'Knowledge'
Students might be able to fill in the right answers on a national assessment of science learning, but they don't necessarily have a deep understanding of the material.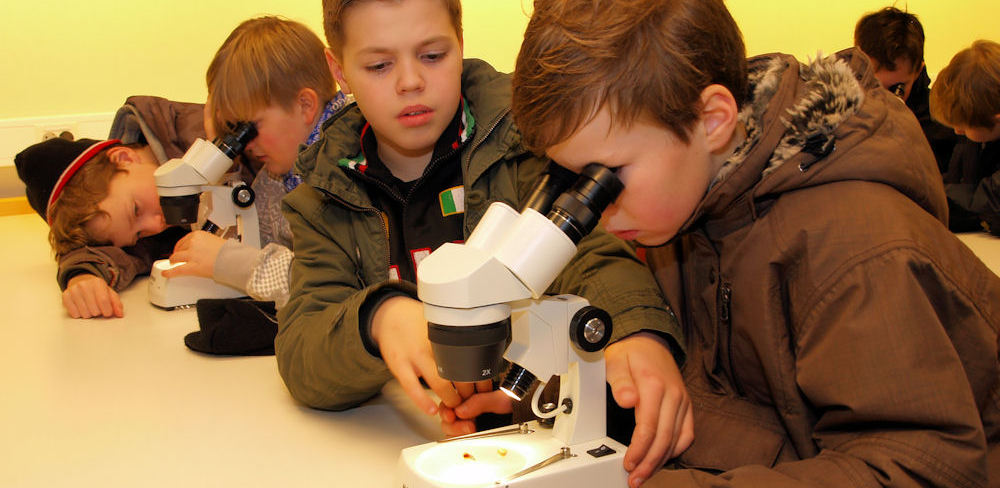 Atli Harðarson/Flickr
American students are more successful at correctly completing simple scientific tasks than they are at explaining how they used evidence to draw their conclusions, according to the latest results from the National Assessment of Educational Progress, known as "The Nation's Report Card."
The NAEP results released Tuesday represent a sampling of U.S. students in grades 4, 8, and 12 who participated in interactive science assessments in 2009. Some of the questions involved what are known as "hands on tasks," while others were "interactive computer tasks." The assessments measure the students' grasp of prior knowledge -- material covered in class -- as well as their ability to predict, observe and explain outcomes based on the evidence provided.
That cognitive leap -- from choosing the right answer and being able to articulate how it was reached -- matters, said Alan Friedman, chairman of the assessment development committee for the National Assessment Government Board, which sets policy for NAEP.
"Science and technology would be easy if all our challenges could be solved with simple memorization of accepted facts, and purely procedural application of known principles and laws," Friedman said at a press conference Tuesday in Washington, D.C. to announce the NAEP results. "In the real world, things are messy and one size does not fit all."
The hands-on tasks for fourth graders included having them assemble a simple electrical circuit and then determine the conductivity of various objects. The 12th graders were asked to test samples from two different water sources to determine the better location for a new town. (The interactive computer tasks for all grade levels are available online via the NAEP Web site.)
The interactive activities used for the assessments were hugely popular among the students, said Jack Buckley, commissioner for the National Center for Education Statistics, which oversees the NAEP administration. Teachers reported that their students said they had actually tried harder on the activities "because it didn't seem like a test," Buckley said.
When it came to the achievement gap for minorities and students from low-income households, the science assessment results mirrored prior NAEP findings in core subjects including math, reading, and history. The group of students qualifying for free and reduced-price meals scored significantly below their more affluent peers. The group of black students had the lowest percentage of correct answers at every grade level.
Interestingly, the gender gap that typically favors boys on science assessments was reversed in some areas of the new results. By a margin of between 2 and 4 percentage points, girls' group outscored the boys' at every grade level on the hands on tasks. For the interactive computer tasks, girls also outscored the boys in grades 8 and 12, although the margin was just 1 percentage point.
Part of the problem is that even in schools where hands-on science learning is commonplace, students are not being asked to write or explain how they reached their conclusions, NAEP officials say. Just 39 percent of fourth graders and 57 percent of eighth graders had teachers who said they put at least a moderate emphasis on cultivating scientific writing skills. At the high school level, 28 percent of 12th graders said they had to complete a written science report at least once a week.
Indeed, it's one thing to be able to give the correct answer to a question or follow directions for a lab experiment, and another to use that knowledge as a springboard to deeper levels of intellectual inquiry. Since that rarefied air is where innovation happens, the new NAEP results are of particular interest to Change the Equation, a coalition of over 100 leading companies that have teamed up to help transform how STEM (science, technology, engineering and mathematics) courses are taught in public schools.
The NAEP results are "further confirmation that it's those broader kinds of skills, the ability to draw appropriate inferences to understand and explain, is where we show weakness," said Claus von Zastrow, Change the Equation's chief operating officer and director of research. "That's very much the area where we need to show strength."
Change the Equation's corporate partners want students to have greater access to the kinds of interactive learning opportunities used in the NAEP assessment, so they are doing more than just rote memorization, von Zastrow said. However, students still need to master basic skills and core subject matter.
"There's been a long-raging, and somewhat phony, debate between knowledge and application -- could you have 21st century skills without knowledge," von Zastrow said. "These (NAEP) results are further proof that's a false distinction."
Change the Equation is using a $1.5 million grant from the Carnegie Corporation of New York (as part of its campaign to add 100,000 high-quality STEM teachers to public schools in the next 10 years) along with private donations to scale up successful programs in underserved schools. The long-term goal is to cultivate students who will be the next generation of scientists and engineers, so that corporations can look closer to home for talent instead of recruiting outside of the United States, von Zastrow said.
---
This post also appears at The Educated Reporter, an Atlantic partner site.