What the eighth annual Aspen Ideas Festival can mean for a world badly in need of new thinking
There's nothing like a prolonged economic crisis to afford the American businessperson some time to rethink what it's all about. For the past several years, all kinds of people have emerged to tell the corporate leaders of this country that mindless pursuit of maximum profit is not all there is to running a company. From Umair Haque to Paul Hawken to every devotee of the triple bottom line or social entrepreneurship, many varieties of gurus want to usher in a new era of American business that's adds meaning to work.
Notes from the Aspen Ideas Festival --
See full coverage
All of our modern day gurus are about 50 years behind Walter and Elizabeth Paepcke, the promoters of modern Aspen, and the would-be civilizers of America's post-war executives. In 1949, they celebrated an era of humanistic business with a 20-day festival on Goethe and went on to found The Aspen Institute, The Aspen Music Festival and School, and the International Design Conference in Aspen.
Without the Paepckes, there would be no Aspen Ideas Festival, which kicked off its eighth edition here in the Roaring Fork valley. The Paepckes' seemingly quaint notions of progress and cultivation of the mind have never seemed more necessary than in a political and economic environment of divisiveness, uncertainty, and turmoil. Supercapitalism, and the massive lobbying efforts it necessitates, is now the rule of the land, which means that there is a genuine purpose to educating the successful profiteers.
"It's been said that the average American businessman is so busy with the urgent that he never has time for the important," Walter Paepcke told CBS News in 1955. "He runs a good business, but he has a little bit of trouble deciding what are the important things in life, what he believes in, and why he believes it."
What separates Paepcke from cynics like myself is that he believed that listening to good music, seeing great art, and thinking about life might make the world a better place. He believed you could grow good people by putting them in the right soil, at least every once in a while.
Today, in the Ideas Festival's opening session, Aspen Institute chief Walter Isaacson delivered a plea to return to our country's founding principle of balance. Not the false balance of thinking truth lies precisely between the most extreme two positions, but the real balance of weighing different values against another to find just the right configuration to advance society.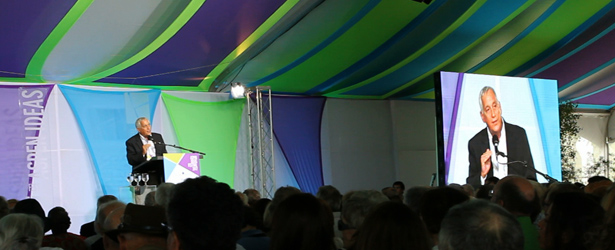 In the post-post-modern world, it's easy to snicker at calls to make the world a better place, whether they come from sustainability advocates or dedicated humanists. But who really wins if no one believes that our nation's leaders, corporate and otherwise, can be better than the worst we can imagine about them? What good does it do to assume no compromise will ever be struck and no bargain can ever work out for all sides?
Aspen is now famous as a place of unimaginable wealth, but in my third year of attending the Ideas Festival, I like to think that this city can be more than its multimillion-dollar mansions. Aspen can be the place that drew the love of Walter Paepcke and Hunter S. Thompson; it can be a place where wild, powerful ideas can meet stalwart dedication. The Aspen Ideas Festival can help its participants grow and maybe, if we're all lucky, provoke some positive change in the world beyond the river valley, where it's sorely needed.