'Savor' Craft Beer Extravaganza: If You're in D.C. Tonight ...
"Savor" -- an "American craft beer & food experience" -- closes out its two-night run in DC this evening. Information is here. I was there last night and recognized the sensation that previously I had had only when attending the Oshkosh "AirVenture" mass airplane rally in the summer, or going to a multi-day tennis camp. That is, entering a culture I had an enthusiast's interest in, and realizing that there were worlds upon worlds of people who were far deeper into this than I had even imagined. To see virtually every craft brewery I'd been aware of -- from Samuel Adams and Sierra Nevada at the top of the "mainstream" pyramid; through Stone and Dogfish Head and Brooklyn and Rogue and New Belgium in the "mid-major" bracket; to regionals I'd enjoyed, like Boulevard and Mirror Pond and Surly; plus many others I'd never heard of, most of the companies having the CEO or brewmaster in their booth  -- it all induced a sense of vertigo. But in a good way.
Visual aids:  The founder and CEO of Maui Brewing, Garrett Marrero, talking about his (very good) pineapple- and coconut-infused beers, in a special "education" salon: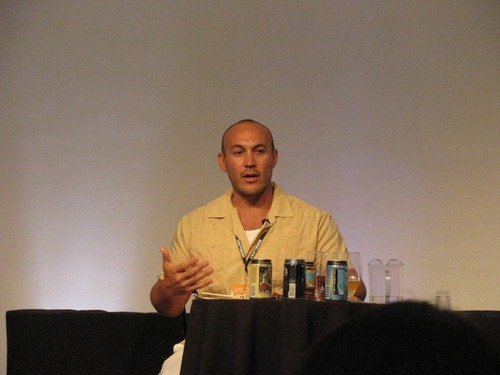 Posters from Foothills Brewery, in North Carolina, that caught my eye:
The general vibe in the National Building Museum (young, mostly white, hip and generally  in-shape considering the central focus on beer):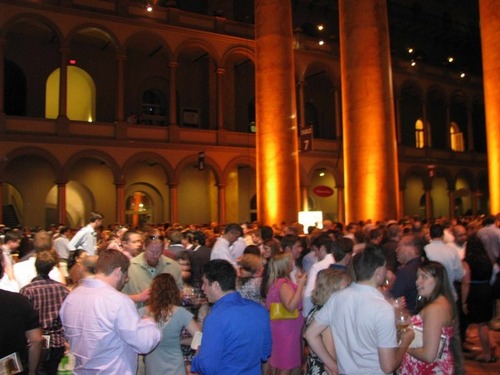 A ticket for a night's eating and drinking at Savor is not cheap -- $120 as starting price. But you do get something for the money.