Outdoor education isn't just about learning how to build a fire or wield a bow and arrow. It's a crucible for personal ethics and identity.
AllaR15/Shutterstock
In the last hours of his life, Welles Crowther saved at least a dozen other lives. An analyst for Sandler O'Neill and Partners, Crowther was working on the 104th floor of the World Trade Center's South Tower when United Airlines Flight 175 crashed into the building on September 11, 2001. Trapped amidst smoke and debris, office workers recall a young man with a red bandana over his nose and mouth bursting onto the floor, instructing survivors to follow him to the stairwell, physically carrying those who were injured or unsteady on their feet.
Welles, a longtime volunteer firefighter in his hometown of Nyack, New York, made several trips up and down the stairwell through the upper levels of the tower, searching for injured workers, before the building collapsed with him inside. Several credit Welles directly with their survival. "If he hadn't come back, I wouldn't have made it," Judy Wein told CNN in 2002, recalling how Welles led her to safety on the 78th floor. "People can live 100 years and not have the compassion, the wherewithal to do what he did." On 9/11, Welles was no longer an equities trader. He became a firefighter.
I heard the story of the "Man in the Red Bandana" in 2004, during my first summer as a counselor at Camp Becket-in-the-Berkshires. Welles attended Camp Becket as a child and was an avid Boy Scout before he became a volunteer firefighter at 16. The trust fund established by his parents makes annual gifts to Camp Becket and other organizations that impacted Welles during his youth.

"The most fundamental thing we can do as a human being is to not run away in the face of a crisis, but turn around and run into," recalled Tim Murphy, a long-time Becket staffer, when I asked him about Welles in May. "It's such a compelling example of the Becket values at work, those lessons we try to instill in campers. Whether or not Welles was manifesting those, or they were in the back of his mind, who knows?"
When I heard Welles's story, I found my mind drifting back to my own first day at camp in 1997. I was standing at dinner in the dining hall, a cavernous gallery that would serve as a major meeting space for more than 300 boys and staff for the next month. I was 10 years old and terrified. Bookish and diminutive for my age, I shied away from strangers and felt overpowered by the taller, more energetic boys surrounding me. Most had already spent a summer at Becket, and their intimate, extensive knowledge of camp lore made me feel even smaller.

When the meal ended, the entire hall burst into raucous song. Overwhelmed by the sudden assault of alien noise, I fled to the grass leading from the lower part of the building to Rudd Pond, the man-made lake on which Becket sat. My counselor, Jon Roy, followed me.

Jon, now a teacher in Newton, Massachusetts, had been at Becket as both a camper and counselor for nearly a decade. "I know this seems like a lot to take in," he said, lowering himself to one knee so he could make eye contact. "But this place will seem like home before you know it. There will be good days and bad, but I promise you that by the end of this session, you'll carry Becket with you for the the rest of your life."
He was right. I spent 11 summers at Becket, first as a camper, then on teen leadership programs, and finally as a staff member. But it wasn't until I found myself faced with the Welles's final act of compassion that I truly realized what a dramatic impact outdoor education could have on a child. Summer camp isn't just a place to make new friends and learn new skills. It's an essential feature of American life, a crucible for the moral and personal development of young people into adults.
American summer camps and other forms of outdoor education -- organized, experiential learning in a natural setting -- owe their intellectual foundations to Henry David Thoreau and his sojourn into the wilderness in Walden. Fearful of the encroachment of "over-civilization" during the mid-19th century, Thoreau took to the woods surrounding Walden Pond in Concord, Massachusetts, to gain a better sense of society and himself, ensconced in the "raw" and "savage" delights of nature. "I went to the woods because I wanted to live deliberately," remarked Thoreau in one of the most famous passages from Walden, "to front only the essential facts of life, and see if I could not learn what it had to teach, and not, when I came to die, discover that I had not lived,"

The first North American summer camps embodied Thoreau's belief that sojourns into the wilderness were essential in the face of "over-civilization." Earlier ventures, like the two-week camping trips organized by the Gunnery School in Washington, Connecticut, in 1861, had been extensions of existing educational institutions. The first private summer camp, the North Mountain School of Physical Culture, was founded by Dr. Joseph Trimble Rothrock, an environmentalist and "father of forestry," in 1876 near Wilkes-Barre, Pennsylvania. The idea behind North Mountain School, as Dr. Rothrock put it, was to take "weakly boys out into camp life in the woods ... so that the pursuit of health could be combined with the practical knowledge outside the usual academic lines."

As Abigail A. Van Slyck noted in A Manufactured Wilderness: Summer Camps and the Shaping of American Youth 1890-1960, the rise of outdoor education was a natural reaction to industrialization. Summer camps were "aimed at providing respite from what were regarded as the moral and physical degradations of urban life, evils to which women and children were understood to be particularly prone." The growing interest in outdoor education eventually gave rise to programs like the Boy Scouts and Girl Scouts of America. Children were challenged with self-improvement, both moral and physical, far removed from the din of urbanity and the drumbeat of familial and academic routines.
By the beginning of the 20th century, summer camps had evolved into an entire system, running parallel to America's schools. This is partially thanks to Charles W. Eliot, the longest-serving president in Harvard's history, who transformed his institution from a provincial New England college to America's preeminent research university. He summed up his sweeping case for education reform in a 1869 Atlantic article titled "The New Education."

"We are fighting a wilderness, both physical and moral," wrote Eliot. "For this fight we must be trained and armed." An educational institution, argued Eliot, should be an environment built on strong communal bonds and foster students' ability to adapt to change. In this, he came to see the summer camp as a natural role model. In a 1922 treatise on education, he sang the praises of the camp experience: "I have the conviction that a few weeks in a well-organized summer camp may be of more value educationally than a whole year of formal school work."
Summer camps, like their academic counterparts, often reflected the political complexions of their times. Following World War II, the American Camp Association developed its first accreditation standards and began to encourage patriotic duty. This civic responsibility, wrote Callie Millner in The Daily, didn't mean simply fretting about Communists: "It was also the point when U.S. camps began to reach out to the rest of the world by inviting international campers, for instance."
At the same time, camps continued to focus on developing engaged citizens. Wrote camping enthusiast C.I. Hammet in 1951:

[Opportunities must be provided] for campers to learn to do for themselves, to practice outdoor skills that teach self-reliance and resourcefulness. This should happen in daily living, not on an occasional hike or outing, and the camper should have an active part in the preparations. These are not times of entertainment, but times of doing, and from the day-to-day practice will come skills that will serve naturally in times of emergency.
The civic imperative evaporated from outdoor education during the 1980s and 1990s. There was a decline in the number of new residential camps, and some old camps went bankrupt or sold out to real estate developers. The drop in enrollment was also demographic: As the Baby Boomers grew up, camper-aged populations declined, cutting into revenues and forcing some camps to close.

Today, though, there are more campers than ever: In 2000, the American Camping Association reported that the number of children attending day and overnight camps is nearly 9 million. In a survey of more than 200 camp directors, 56 percent indicated that camp enrollments for the 2012 season were higher than the previous summer, with nearly 90 percent reporting the same or higher levels of returning campers. The ACA also estimates that the number of camps in this country has increased 90 percent across the past 20 years.
While urbanization drove many 19th century city youths to the wildness, the distractions of technology may have spurred a similar resurgence today. Scholars have fiercely debated the impact of technology on our culture and society (is Facebook, for example, making us lonely?), but for a generation of parents who see their children growing up in an always-on world, the benefits of getting lost in a camp setting are often more existential than measurable. "Those were visceral childhood moments, wrote New York Times reporter Susan Domus in 2008, reflecting on her time at Camp Walt Whitman. "The passing of time grew vague, the senses were lit, and all of it was rich with an absence of purpose."
So are summer camps inherently good for children? Research in childhood development and psychology seem to confirm what any camp alumnus will tell you. Researcher Michael J. Unger argues that the camp experience -- being placed in a minimalist environment away from the watchful eye of parents -- can make children more independent and resilient. "There are the simple challenges of learning how to build a fire, going on a hike, or conquering a high ropes course," wrote Unger in Psychology Today. "There are the much more complex challenges of getting along with a new group of peers, learning how to ask for help from others, or taking manageable amount of risks without a parent following after you."

Similarly, psychologist Michael Thompson argues in Homesick and Happy: How Time Away from Parents Can Help a Child Grow that sending your child away from home is vitally important. As children are distracted with laptops, cell phones, and video games, they're doing less exploring and adventuring in the real world. Thompson argues that overnight summer camp programs are perfectly suited to remedy this: As he told NPR affiliate StudioTulsa in May, "Going to camp means being in an electronics-free zone -- in a multi-generational community where daily rituals like group meals and cabin clean-up, and  shared activities as skits and sing-a-longs, not only enrich lives and create cherished memories but also foster independence and emphasize moral development."
Many of the arguments for outdoor education come in the form of testimonial support, anecdotal examples, and passionate rhetoric, which, while powerful, are not scientifically compelling. One of the more comprehensive statistical analyses of the effects of outdoor education comes from James T. Neill, a professor of psychology at the University of New Hampshire. In 2008, Neill examined the results of five meta-analyses, encompassing 244 studies and 18,776 participants.

The vast majority of the studies found gains in a variety of desirable traits. Each meta-analysis divided the positive effects of outdoor education into broad categories (such as "leadership," "self-concept," and "interpersonal"). Neill's evidence also suggests that the benefits continue when campers return to their home environments. This research, however, comes with a caveat: "Some outdoor education programs are much less effective and some outdoor education programs are more effective. Outdoor education is not a panacea."
This makes sense, of course: Not every summer camp experience is transformative. If summer camp heaven is introspection at the heart of nature, then hell, to paraphrase Jean-Paul Sarte, is disrupting that solitude with other people. No camp is free from the infiltration of bad schoolyard habits, from cliques to bullying to other forms of wanton cruelty.

I know this firsthand; I learned my first true swear word -- "shithead" -- during the early days of my first summer at Becket, at the hands of cabinmates frustrated by my lack of hand-eye coordination and general smarminess. People are cruel, and children, intentionally or not, can be cruelest of all. The outdoor experience often loses its luster amid such cruelties, as a reader told the New York Times in a response to a 1994 column by Frank Rich on Jewish summer camps:

I am still relieved, 38 years later, not to be away at Indian Head Camp in the Poconos. Unlike Frank Rich's sentimental view of his camp memories (column, July 24) and unlike the exhibition at the Jewish Museum in New York, I hated the five summers my parents made me and my brother (who says he loved camp) board the bus for the trip from our house in West Hempstead, L.I., to the bucolic acres of purgatory on the lake.

For such it surely was for all of us who don't like group living, who don't want to hit a softball at 10 A.M., who can't sleep in a bunk that has bats in the rafters, who want to go off and read by the lake and who, most of all, hate the petty competition of color war and the nasty cliques of the pretty, athletic, competitive girls.
Often, the camp experience is more dependent on who you are as a person than on a particular institution's outdoor education, as Tim Noah argued (with hints of scorn) in a 2006 Slate article:
If there's a more reliable Rorschach than sleep-away camp, I'd like to see it. How you responded to being shipped off (often at an appallingly tender age) to a cluster of cedar cabins beside a mountain lake; to being taught Native American crafts, chants, and songs of dubious authenticity; and to being subjected to various painful hazing rituals--many of them involving underwear--reveals an awful lot about your fundamental character. ...

People (like myself) who didn't enjoy camp tend to have a problem engaging in organized activities of all kinds. Later in life we often become criminals or sociopaths. The more respectable among us often become journalists. If we're extremely bright or creative (or aspire to be), we may become writers or scholars or artists. The common thread is an outsider mentality. A self-flattering analysis, I know, but such is my privilege as author of this article.
These anecdotes reinforce what Neill has statically shown: not only different programs but different participants achieve different outcomes. But if some people are the "right sort" for summer camp, what sort of program is best suited for spurring on the personal growth identified by Neill?

I realize now that the eight Camp Becket mottos, which hung in the dining hall and were emblazoned on plaques in every cabin, were baked into every aspect of  my camp experience. Each group of eight boys was tasked with keeping our own cabin clean, setting and clearing the table, and generally looking out for each other. Conflicts were mediated by our counselors, but only if they couldn't be solved within the cabin itself. (Often, they could, with minimal bloodshed.) Despite the lack of empathy and the outbursts of anger that accompany adolescence, I found myself continually surprised by the levels of compassion exercised by my cabin-mates.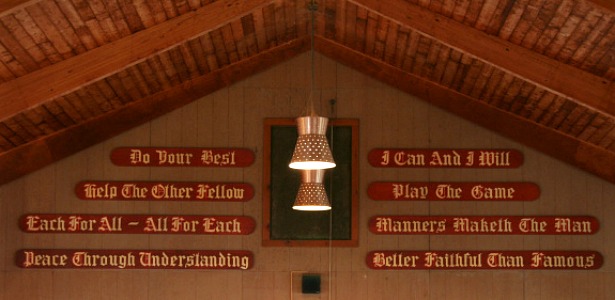 Competitive activities -- particularly sports -- were tempered with whimsy to encourage activity for the sake of sheer enjoyment rather, than as an exercise in victory in defeat. During one of my staff summers, a group of counselors showed up for a staff football game in their athletic best, decked out in pinneys and sweat bands and ready to do battle. The opposing team showed up in dresses. The how and why of play always deflated the lust for victory that comes with competitive activities. And most of our games were followed by a debrief, using the problems we'd just faced as a springboard to discuss team building and fair play.
Camp wasn't only a place of lessons learned and problems solved; such growth was made possible by an environment of unconditional support. I spoke to Dave Deluca, director of Camp Becket during my time as a camper and staff member, and he told me the following story:

One year, a younger camper who had practicing his lip synicng and dancing routine for the week or two prior to the event got up on stage and just froze in front of 400 people sitting in front of him. The entire population was very supportive; there was no catcalling, no jeering. People first became quiet, then appropriately encouraging. His counselor, a man by the name of Ab Brody, made his way to the side of the stage and began whispering encouragement to the young man. He finally began his routine and finished. Now, it was apparent that this child was not destined for a career on Broadway, but the cheers he got from the crowd were incredible. He put himself out there, he took a risk, and he did it in an environment that supported him. My colleague at Camp Chimney Corners, Shannon Donovan-Monti, often says this: "Camp is the place the honors the leap as well as the landing."
***
My counselor, Jon Roy, was right. Becket wasn't the perfect place, but the time I spent there gave my moral compass more direction than I could possibly express in words. Thrust into the wilderness, removed from the mundane routines of my daily life, I learned skills that have stayed with me for my entire life -- not just how to build a fire or wield a bow and arrow, but how to be a better friend and, if the circumstances called for it, leader.

To this day, I can see those Becket mottos in my minds eye, suspended on the far wall of the dining hall; I can't help but wonder if Welles did, too, in the last minutes of his life. I think of him, and I think back to that day in the dining hall, to that song that so frightened me on my first day in the wilderness. It was "Becket-In-The-Berkshires," now one of my favorites in the camp songbook:

B-B-B-Becket in the Berkshires
Neath nature's verdant hand
B-B-B-Becket in the Berkshires
Where we seek the worthy man
We enter to grow strong, wise,
Strong and wise and true,
B-B-B-Becket, in the Berkshires,
Depart to live, to live and love, to love and serve,
Depart to live and love and serve mankind.