If Colleges Want Federal Funds, They'll Have to Prove Students Get Jobs
Post-secondary programs, especially for-profit ones, can now be cut off from government aid if their graduates aren't finding work.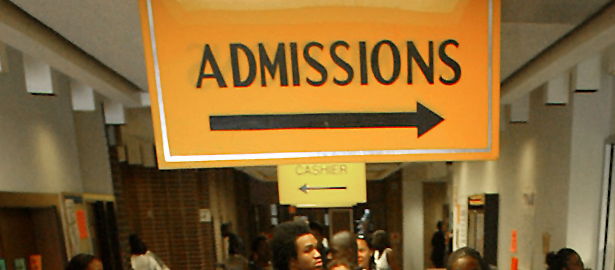 AP
The U.S. Department of Education intends to crack down on postsecondary career programs that can't demonstrate that enough graduates have found "gainful employment," a move some for-profit colleges say could cost thousands of students the opportunity for a better future.
Amid much controversy, the feds last year set new regulations for career training programs at public, nonprofit and for-profit institutions. In order to qualify for access to federal student aid, the programs must meet the new "gainful employment" requirements, which are designed to ensure graduates are in a position to earn enough money to pay back what they owe.
The career programs will be required to meet federal standards on three metrics: At least 35 percent of former students must be repaying their loans; the estimated annual loan payment must not exceed 12 percent of a typical graduate's total earnings; and the estimated annual loan payment must not exceed 30 percent of the individual's discretionary income.
For the first-round of evaluations, the feds looked at 3,695 programs in 1,336 schools, representing 43 percent of students in career training programs. Of those, 5 percent -- 193 programs at 93 individual schools -- fell short on all three metrics. Just 35 percent of the programs satisfied all of the regulation requirements.
"Career colleges have a responsibility to prepare people for jobs at a price they can afford," Education Secretary Arne Duncan said. "Schools that cannot meet these very reasonable standards are on notice: Invest in your students' success, or taxpayers can no longer invest in you."
Inside Higher Ed has a concise breakdown of the feds' list of campuses that fell short in all three areas. Among them are cosmetology academies, culinary schools, art colleges, and programs preparing students for careers in technology or health-related fields.
The feds are offering a substantial grace period in which to improve. The regulations take effect this fall, and schools have until 2015 to come into compliance before they would lose eligibility for the federal student aid.
The new regulations come amid a national debate on the relative value of higher education. Tuition costs at both public and private institutions have been soaring, even as many universities and colleges have cut programs and services. The for-profit college sector has come under significant scrutiny, in part because of how quickly it's been growing. Enrollment is up 160 percent since 2000.
The career programs affected by the new regulations are particularly popular among older adults returning to school in the hopes of improving their career prospects by earning an additional degree or completing a certification program.
There's a significant financial incentive for the feds to push for-profit programs to improve the career success rates of their students. For-profit institutions account for about 12 percent of all higher education students but, as the policy think tank Education Sector pointed out in a 2010 issue brief on the new regulations, but they "consume 25 percent of all Pell Grant dollars disbursed and 21 percent of all federal student loan dollars."
The nonprofit advocacy group Project On Student Debt reports that in 2010 the student loan default rate at for-profit institutions was 25 percent -- more than double the 10.8 percent for public colleges, and more than triple the private college rate of 7.8 percent.
The for-profit college sector had lobbied hard against the new regulations, saying the feds' methodology was too heavy handed.
Steve Gunderson, president and CEO of the Association of Private Sector Colleges and Universities -- whose membership consists of for-profit colleges -- said Tuesday that the Education Department's metric doesn't accurately measure what career colleges provide, and the new regulation could cut off thousands of students from the chance to continue their education beyond high school.
"America faces a demand for eight to 23 million workers with postsecondary education over the next decade, but this regulation seeks to only impose a series of faulty numerical measures that ignore the economic reality of inner-city and rural areas, education's long-term benefits and the will of the Congress," Gunderson said in a written statement released following the feds' release of the data.
Given that federal student aid accounts for as much as 90 percent of the revenue for many for-profit colleges, there's likely to be strong motivation to satisfy the new requirements. At the same time, losing those federal dollars could force many programs out of business.
There's another underlying issue at play here: community college capacity. Often students in career programs in private colleges choose that route because there's a waiting list for the most popular programs at the public colleges.
A few years ago, I met a young woman who chose to go in debt -- $14,000 in federal student loans -- to enroll in a nine-month medical assistant certification program at a for-profit college. The same program, spread out over 12 months, would have cost her about $3,200 at the local community college, had there been room for her to enroll. In fact, she really wanted to be a practical nurse, but she couldn't afford to wait to get a spot in the two-year community college program.
She needed a better job now, and was ready to gamble that the higher-price certification program would improve her career prospects. With these new regulations, the Education Department is signaling it is less willing to take similar risks.
---
This post also appears at The Educated Reporter, an Atlantic partner site.