Death, Yes, but Torture at Supermax?
A new federal lawsuit alleges that officials at America's most famous prison are legally responsible for the suicide of an inmate.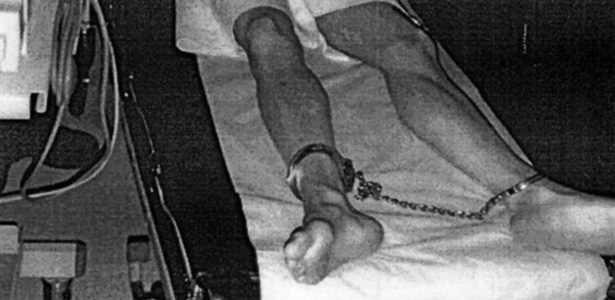 Jose Martin Vega's body remains shackled post-mortem. (Fremont County Coroner's Office)
Jose Martin Vega was no saint. Convicted in 1995 of 15 counts of racketeering and armed drug trafficking, he was sentenced, at the age of 20, to four consecutive life sentences. Nine years after his conviction, and after a violent confrontation at another maximum security federal prison, Vega found himself at the United States Penitentiary -- Administrative Maximum ("ADMAX" or "ADX") near Florence, Colorado. As its name suggests, this lonely place is where America sends many of its most troublesome prisoners.
Vega first came to ADX on April 5, 2004. Six years and 26 torturous days later he was dead -- at the age of 35. On May 1, 2010, using a bed sheet, Vega hanged himself in his cell in the control unit of the prison, an especially isolating part of the facility. Although Vega was not shackled when he hanged himself, the photos contained in the coroner's report show an unconscious man shackled at the hands and feet while prison officials are administering rescue efforts. At ADX, in the control unit especially, even the dead or dying are shackled.
Fremont County Deputy Coroner Carlette Brocious estimated the time of Vega's death at 9:10 a.m., but she noted in her report that "the scene of the death was 'cleaned up' when I sought to go out to the prison to finish my investigation. Therefore, I was unable to go to the scene of the death, see the cloth utilized as a ligature or talk to anyone other than the attending PA [physician assistant] regarding the decedent." She had first seen Vega's body hours later, at a local hospital, where it had been brought, still shackled, by prison officials.
Brocious also noted in her report that she talked with two prison health officials about Vega and was told by Mark Kellar, ADX's health administrator, "that the decedent had a long psychiatric history. ... As to whether or not the decedent had ever attempted suicide previously neither men could tell me." That "psychiatric history," and how ADX officials dealt with it in Vega's case, is at the heart of an important new federal lawsuit that seeks to dig down deeper into ADX's mental health policies and practices.
Why should we care about how our most difficult prisoners are treated? Why should we interfere with a "prison code," expressed or implied, that emphasizes both the use of official force and the denial of official help to humiliate and ultimately control inmates? The answers are both simple and complex. Because we tell the world (and each other) that we are an enlightened nation of laws and not a medieval land of barbarism. Because even our harshest prison isn't supposed to be the Tower of London.

THE PRISON
You probably know ADX better by its stage name, "Supermax," the forbidding place that houses such criminal luminaries as Terry Nichols, Ramzi Yousef, and Ted Kaczynski as well as hundreds of other, less notable prisoners. When I visited the facility in 2007 as part of a media tour that was carefully choreographed by the Bureau of Prisons, I found the place sterile and soulless. But the hard-ass approach to incarceration was obvious, right down to the tiny circus-like cages where some of the men -- one at a time, of course -- are permitted to briefly exercise.
Today, Supermax is the most famous prison in America, a worthy if far less visible heir to Alcatraz out in California. When 60 Minutes did a memorable piece on ADX in October 2007, Scott Pelley interviewed one of its former wardens, a man named Robert Hood. Pelley asked Hood why he had been so excited to come to Florence when the job opportunity presented itself. "In our system," Hood answered, "there's 144 prisons. And there's only one Supermax. It's like the Harvard of the system."
If anything, the past five years since Hood spoke those words have only heightened the national perception of ADX as some sort of forbidden fortress, America's chamber of secrets. Terrorist after terrorist has been deposited there since 2007-- most under Special Administrative Measures which largely preclude them from communicating to the world (or having it communicate back). Meanwhile, inside the prison, for the few guests ever allowed in, there is a place where you can buy ADX shirts and coffee mugs.
Supermax has nine different units, some more secure than others, and in that sense it's a microcosm of the nation's federal prison system. There is a unit for the terrorists, for example, and also one where prisoners have some measure of interaction with one another. But the Control Unit, where Vega lived and where his body was found, is the harshest. This is especially true for prisoners suffering from mental illness, who often are ostracized by other inmates even as they become more isolated by prison officials.
THE PRISONER
Generally speaking, unless you are an infamous terrorist, you have to do something bad in prison to make it to Supermax -- and then to its control unit. And Vega had. On March 13, 2003, while at the federal prison in Lewisburg, Pennsylvania, Vega attacked an associate warden with a razor blade at the late-morning meal. Vega was subdued after a struggle, given an injection to render him defenseless, stripped naked, and then "assaulted by prison staff for a duration of at least one hour," according to an unpublished federal trial court ruling.
The Lewisburg prison health officials who saw Vega after the incident neither treated him properly nor adequately recorded his injuries. That same day, Vega was transferred to the nearby Allenwood federal prison facility, where authorities saw fit to place him on "suicide status." Soon thereafter, Vega was sent to the U.S. Medical Center for Federal Prisoners, located in Springfield, Missouri (the same place where the Tucson shooter, Jared Loughner, was more recently sent for pre-trial competency tests).
In July 2003, while at the Missouri facility, Vega was charged in federal court for his attack upon the warden. He pled guilty and was given a 188-month sentence added to his existing life sentences. But he also had the nerve to complain, officially, about the way he had been treated by Lewisburg officials after they had gotten the razor blade out of his hand. Unsurprisingly, prison officials rejected his claims -- and then promptly shipped him to ADX, where he'd be subject to a whole other level of incarceration.
The facts about how Vega made it from Pennsylvania to Colorado are set forth in an opinion dated November 4, 2005, by U.S. District Judge William Caldwell, a distinguished Reagan appointee. Vega didn't stay at ADX long, however. Less than one year after he arrived in Colorado, and a few months after an ADX psychologist there diagnosed him with paranoid schizophrenia, Vega was sent back to the Missouri prison facility for more mental health evaluations. About one year later, after another diagnosis of severe mental illness, he was back in ADX Florence. And back in the control unit.
THE LAWSUIT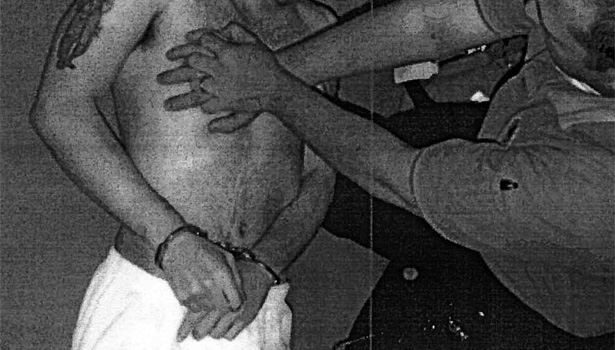 Fremont County Coroner's Office
Exactly what happened next to Vega is the subject of a new lawsuit that has been filed in federal court in Colorado. Vega's brother, Raymond Vega, has brought a wrongful death action against ADX warden Blake R. Davis and other prison officials, alleging that they helped cause Vega's death by exhibiting a "persistent and deliberate indifference" to the prisoner's "serious mental illness." The lawsuit accuses ADX officials of giving Vega "cruel and unusual" punishment in violation of the Eighth Amendment.
Raymond Vega contends that mental health officials at the special Springfield facility concluded in 2005 or early 2006 that Jose Martin Vega (his family called him "Martin") had a "history of depression and antisocial personality disorder." This diagnosis, says the plaintiff, should have precluded Vega from being transferred back to ADX at Florence and from being assigned to the control unit. Once there, the complaint charges, Vega's continued presence in the control unit prevented him from receiving "medication to treat or ameliorate the effects of his mental illness."
It's not hard to predict what happened next. The worse Vega acted without his meds, the more prison officials in the Control Unit clamped down. And the more they clamped down, the worse he got. The complaint alleges that "ADX staff members repeatedly chained Vega unnecessarily, sometimes for periods of ten days or more." In the meantime, when he could, Vega was reportedly telling "other prisoners that he believed the ADX Florence guards were poisoning his food and spraying things into his vents."
Indeed, Vega's prison file, portions of which I have seen, reveal a delusional man. On January 18, 2008, for example, Vega complained in writing that a prison guard had "violated" his "bodily integrity" after drugging him following a "verbal altercation." The response from the feds? "Your allegations of staff misconduct have been referred to the appropriate Bureau component for investigation," wrote a bureaucrat. "The results of the investigation and the action taken against staff, if any, are not disclosable to you."
THE LAW
The pending complaint alleges that Supermax officials mistreated Vega in contravention of Bureau of Prison policies governing the treatment of prisoners with mental health diagnoses. "BOP policies require that mentally ill prisoners be monitored on an ongoing basis to asses treatment compliance," the complaint states, but "BOP does not provide adequate mental health staffing at ADX Florence, given the size of the mental health caseload at that facility." Vega may be gone, in other words, but the problems his case highlight likely linger.
You probably won't be surprised to learn that federal law and judicial precedent make it tremendously difficult for the families of prisoners like Vega to win wrongful death claims brought against federal officials. In fact, the procedural and substantive hurdles make it virtually impossible. The right to bring such a claim -- a right that is contested by many conservative scholars -- was first recognized, in 1971, in a Supreme Court case styled Bivens v. Six Unknown Fed. Narcotics Agents.
In Bivens, the Court's majority ruled that an individual could recover money damages from federal officials for particularly odious conduct -- "flagrant and patently unjustified," is how Justice John Marshall Harlan put it. In the 41 years since Bivens, however, the lower federal courts have gone back and forth on the extent of the right. But this much is clear. The Bivens right to sue applies in the prison context. It extends beyond the death of the individual who is acted upon by government officials. And inadequate mental health care in prison can trigger actionable Eighth Amendment rights.
Raymond Vega, Jose Martin Vega's brother, is represented pro bono in the case by Ed Aro, a partner at Arnold & Porter, a revered white-shoe law firm with a history of pro bono work on behalf of the indigent and mentally ill. U.S. District Judge Richard Matsch, the fearless Oklahoma City bombing trial judge, has been selected to handle the litigation, which likely will take years to resolve. The federal government has not yet responded to the complaint -- it has not yet even been served -- but federal lawyers will almost certainly ask Judge Matsch to quickly dismiss the case.
When the feds react, I will write about their response to the complaint. Vega v. Davis, as the case now is styled, represents an enormous opportunity for all of us to gain some rare insight into one of the most secret places in America, a prison where hundreds of men go and are never heard from again. We want to be safe from our most dangerous criminals. But how we treat these men, and how are government treats them in our name, ultimately says more about us than it does about them.