Can We Save the City's Children?
Instead of distant detention facilities, community-based rehabilitation centers might be the best way to help urban youth.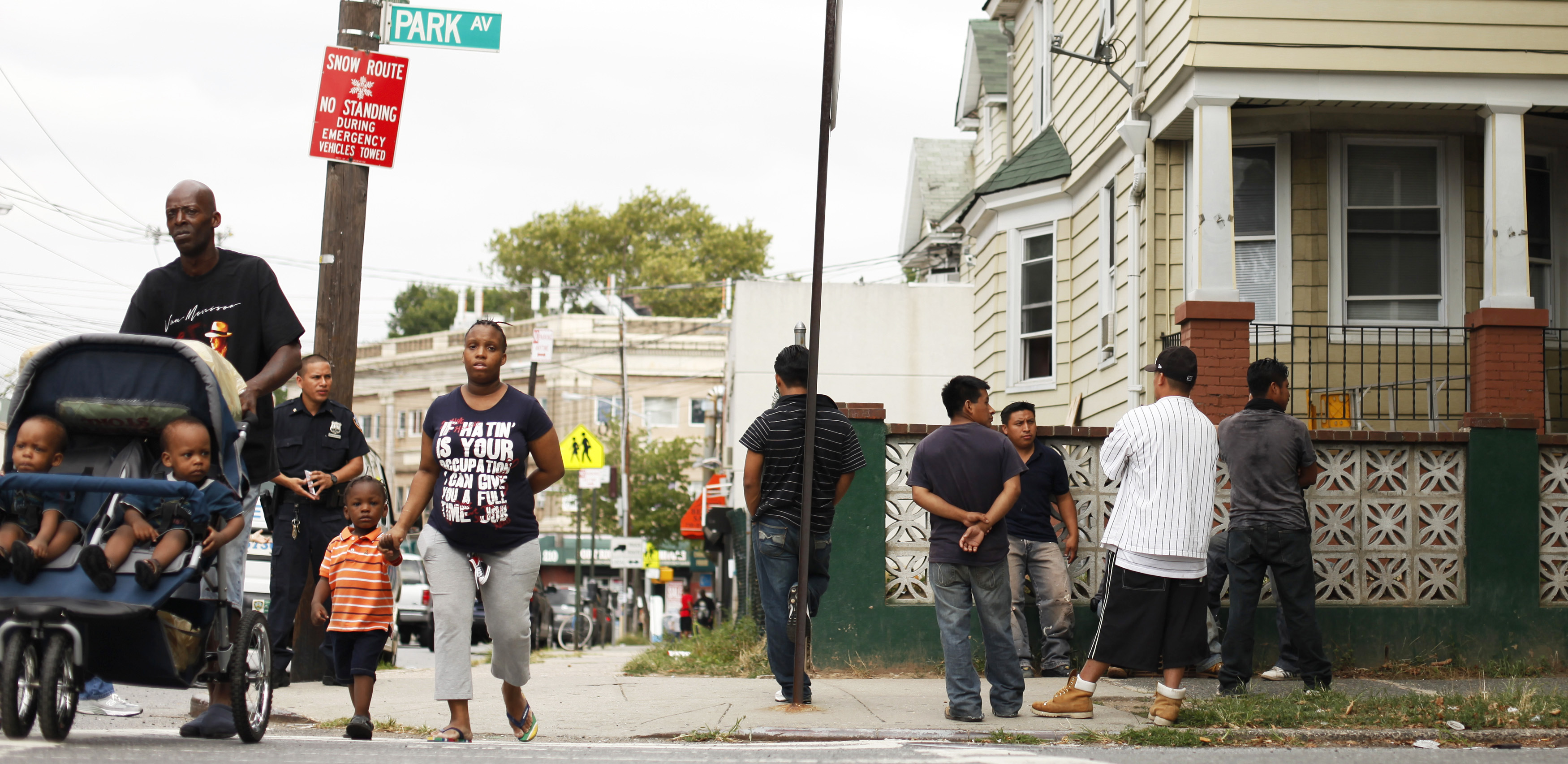 Reuters
Trevor grew up in an unstable environment, shuttling back and forth between his mother and grandmother for most of his young life. He spent too much time on the street and began getting into trouble. Eventually, he was convicted of a minor infraction and sent to an upstate facility 250 miles away from home. He did not have an easy time of it. A small kid who was singled out not only by the other boys but by some of the guards as well, he fought a lot, was "restrained" a number of times, and in one incident was slammed against the floor and suffered a serious injury to his jaw. When he came home, Trevor was exhibiting serious anxiety around adults and crowds.
The Children's Aid Society, the organization I head, witnessed this behavior firsthand when Trevor got into an altercation on the very first day he came to our community-based juvenile justice program, called Lasting Investments in Neighborhood Connections (LINC). LINC works with young people aged 14 to 19 who are just like Trevor: disconnected, not working and not in school. It tries to increase their social and emotional competencies and employability by using a life-coaching model. Last year, 81 percent of our youth did not return to a facility for violating terms of their release--a rate far below state levels.
Solving the nation's most entrenched problems
See full coverage
If you are a young man from a poor neighborhood in New York City, though, like Trevor, the odds of moving on to a healthy and productive adulthood are stacked against you--particularly if you are black or Latino. Mayor Michael Bloomberg acknowledged as much in a recent speech to members of a church in the Brownsville section of Brooklyn, a community where 40 percent of children are born into poverty. These children are twice as likely as white children to drop out of school and end up out of work. The murder rates among young men of color in New York City compared to young white men--36 times higher for black men and 12 times higher for Latinos--are tragic. In fact, 90 percent of all people murdered in the city are black or Latino, and 96 percent of shooting suspects are black and Latino.
The plight of young men in the city is exacerbated by a juvenile justice system that simply does not work. Seventy percent of youths who are incarcerated in upstate New York facilities, where the majority of the city's juvenile offenders are sent, are rearrested within 24 months of release and thus face abysmal chances of rehabilitation.
Engaging the local community is vital to the rehabilitation process. For young offenders, receiving supportive services in their home communities, where they can remain connected to families and local institutions, offers the most reliable path for ensuring that they do not grow up to become lifelong criminals. For most children convicted of minor infractions, effective services can be provided while they live at home, avoiding the costs and negative impact of institutionalization. Yet for the past few decades we have failed troubled youth--the vast majority of them black and Latino (84 percent of all admissions in 2009)--by shipping them to juvenile detention facilities hundreds of miles away from home, often for minor infractions.
Cutting these children off from their communities threatens their often fragile family relationships. Worse, young people don't learn to become responsible adults at these facilities--on the contrary, they are often neglected and face abuse. And despite how ineffective and unsafe these facilities are, the city and state spend millions of dollars a year to keep them running. Compared to the alternative, the waste is astonishing. Holding a youth offender in a secure facility costs around $260,000 a year; alternative, community-based treatment programs can cost about $20,000 per child per year, and have better results.
One of these alternatives is the Close to Home initiative, supported by Mayor Bloomberg and recently signed into law by New York Governor Andrew Cuomo. Close to Home reforms the city's juvenile justice system to allow the New York City Family Court to place young offenders in facilities closer to their home communities. This new system promises to help kids like Trevor.
At LINC, we slowly built a relationship with Trevor, convincing him to meet regularly with his coach and attend peer group sessions. He began to form real bonds with us and his peers. When he was ready, he started the employment training component of the program and did well. At the same time, we worked with Trevor to focus on his education. We helped prepare him to apply for Job Corps, a free education and vocational training program administered by the U.S. Department of Labor. We have high hopes that Trevor is on a path to success.
In our view, the only way to prepare troubled youth for success and true participation in society is through a community-based approach to rehabilitation. Ideally, we need to engage at-risk youth before they get in trouble, through comprehensive and coordinated preventive models that can link them to strong schools, reliable and quality health care, and safe and engaging after-school and summer programs. Programs should also engage families and make schools welcoming places where children living stressful lives can find the support they need. Often, these strategies are best pursued through long-term partnerships with community organizations that serve these populations every day.
Yet government usually does the opposite. These penny-wise, pound-foolish budget strategies dominate our approach to youth development. We cut after-school programs and social services to save money, when all we are doing is postponing the tab, with an exorbitant interest measured both in dollars spent and lives ruined. Oftentimes, those who have an economic interest in the status quo, including upstate townships that benefit from the jobs and unions that represent juvenile correction officers, use their political muscle to drive bad policy.
One of the most innovative new approaches to addressing societal needs is the Social Impact Bond (SIB), also known as Pay for Success. This model brings together government, private investors, and nonprofits to create and deliver innovative social programs. All three parties agree on the desired program outcomes, and an independent evaluator monitors performance. Private investors fund the initial capital needs for a social program, and nonprofits implement the program. If the outcomes are achieved, the investor receives their capital plus a return based on savings to the system from implementing a more cost effective program. If an initiative fails, the investor loses the money and the taxpayer pays nothing. Overall, the model encourages the bankrolling of new ideas that can deliver better results at lower costs to government and taxpayers.
To date, SIBs have only been implemented in Great Britain and Australia, but the federal government and many local jurisdictions are trying to bring this strategy to the United States. They offer an exciting opportunity to save money, drive results in criminal justice and other policy areas, and give youth a real chance of being rehabilitated.
By helping youth rebuild their lives in their own communities, we save lives, make neighborhoods safer, and save the state millions of dollars. Surely this is an approach those on the left and right can get behind.