The Mundane Advice of Commencement Speeches
Our "unconventional wisdom" for college graduates has become all too conventional
Our "unconventional wisdom" for college graduates has become all too conventional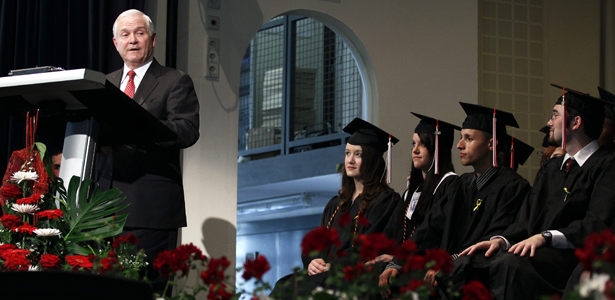 The Wall Street Journal's most popular article at the moment is "10 Things Your Commencement Speaker Won't Tell You," by Charles Wheelan. And with reason. In general, it's an excellent warning against the pitfalls of hypercompetition. But it's also a reminder of how conventional unconventional wisdom has become.
Take point two, "Some of your worst days are ahead." Especially now, with high rates of young adult unemployment, that's hardly a new or shocking idea. Speakers have been preaching resilience for years, and with reason.
Likewise point point four, "Marry someone smarter than you are," used to be the de facto rule for women -- at least to help sustain the illusion that a husband was smarter. But since young women's earnings and educational attainments have been exceedng young men's for at least several years, looking for a spouse with better career prospects is also hardly a novel concept.
But the puzzling entry is number 7:


Your parents don't want what is best for you. They want what is good for you, which isn't always the same thing. There is a natural instinct to protect our children from risk and discomfort, and therefore to urge safe choices. Theodore Roosevelt -- soldier, explorer, president -- once remarked, "It is hard to fail, but it is worse never to have tried to succeed." Great quote, but I am willing to bet that Teddy's mother wanted him to be a doctor or a lawyer.
I haven't found what Roosevelt's mother really wanted for her son, but Edmund Morris does note, in The Rise of Theodore Roosevelt, that his father was sympathetic to young Theodore's original plan to become a professional naturalist instead of joining the family plate-glass importing business. The strenuous, adventurous outdoor life was exactly what he, and probably his wife, wanted for their asthmatic boy.
Mr. Wheelan should have cited another heroic figure, Charles Darwin, instead. Darwin actually is as good an example of the philosophy of life Mr. Wheelan presents as any other great historical figure I can think of, especially of his point 10, that the best chance to become great is not to try too hard. Darwin came from a distinguished medical family, and his father really did want him to be a doctor, yet without any special ambition he found his real vocation, according to the site of the American Museum of Natural History (co-founded, incidentally, by Theodore Roosevelt, Sr.):
Charles's mother was often sick when he was young and died when he was eight years old. The next year he was sent to a local boarding school near his home in Shrewsbury. He hated the school's stifling curriculum based on rote memorization of Greek and Latin. "Nothing could have been worse for the development of my mind than Dr. Butler's school," Darwin recalled.

Impatient with Charles's lack of progress, Darwin's father pulled him from the school and sent him to Edinburgh University in Scotland to study medicine, like his father and grandfather before him. When Charles showed no interest in becoming a doctor, Robert exploded, "You care for nothing but shooting, dogs, and rat-catching, and you will be a disgrace to yourself and all your family." His father next sent Charles to the University of Cambridge to prepare for a career in the church. Charles had no objection. A quiet country parish might be just the place to pursue his interest in natural history.
So I would like to an 11th maxim that may be also be conventional wisdom, but that neither commencement speakers nor their critics can emphasize enough: Don't assume.