The Clear Consensus on Education Reform: Voters Want Major Change
81 percent of the nation's electorate believe education bureaucracy needs systemic reforms
81 percent of the electorate believe America's school bureaucracy needs a dramatic overhaul.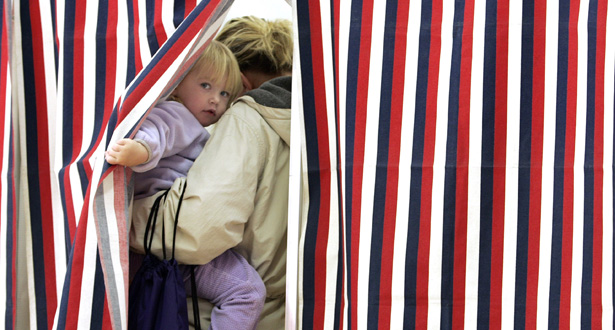 Reuters
Everybody wants to improve education. But the big question is: How do we do it without spending money we don't have?
The answer, many suggest, is systemic reform -- fixing broken bureaucratic structures and cutting red tape that hold back students, teachers, and school principals from doing, and giving, their best.
Solving the nation's most entrenched problems
See full coverage
Voters clearly believe schools needs improvement. Eighty-two percent said in a new nationwide poll* that "major changes" are needed in our public education system so America can "successfully compete with other countries."
The poll, which was conducted by my firm and sponsored by Common Good, the government reform coalition, found that an overwhelming majority of the nation's electorate -- 81 percent ­­-- believe the quality of public education would greatly improve if school system bureaucracy was cut down and teachers and principals were given more flexibility to do their jobs.
Strikingly refreshing in today's highly polarized world was the partisan breakdown of this survey data: 78 percent of Democrats, 84 percent of Republicans, and 81 percent of independents were in agreement that teachers and principals need less red tape and more freedom.
It is evident throughout the survey's findings that voters are suspicious of school system bureaucracy and its effects upon the culture of individual schools. They're also troubled about classroom discipline issues and how obsessive legal fears scare away teachers and principals from doing what they believe is right.
Other findings of the poll:
By nearly a five-to-one margin (47 to 10 percent), voters believe giving principals more authority to make decisions would improve, not lower, the quality of schools. Less than a third of respondents polled -- 32 percent -- don't think that giving principals more authority would have any effect on school quality.


65 percent of voters surveyed believe that lack of classroom discipline is a "big" problem in public schools, while 25 percent said it is a "small" problem. Only 3 percent said it's no problem.



78 percent of the nation's electorate thinks that "fear of being subjected to a long, complicated legal process is causing teachers and principals not to discipline disruptive students." Of that 78 percent, 42 percent said they fear that red tape is hindering classroom discipline "most of the time" and 36 percent said "some of the time." Only 12 percent said it is "rarely" happening and 1 percent said it never happens.

Voters believe that disputes involving teachers and student discipline should be resolved by committees of teachers and parents who were not involved. A 53 percent majority of survey respondents chose this method for this type of internal conflict resolution. Trailing that choice was having the school principal decide these matters (23 percent), having the local school board decide (13 percent), and having a court of law decide (5 percent).


Even on the highly sensitive issue of budgeting special education programs, many voters were inclined to favor more flexibility on the part of each school's leadership. A few more voters than not (48 percent vs. 43 percent) agreed with the statement: "To achieve the right balance between educational services for special-needs students and education services for all students, school principals should have the discretion to set their own budget priorities, even if it means adjusting the amount of money spent on special education programs."
This year's candidates for the White House and Congress, as well as state and local offices, should take heed: In addition to more and better paid teachers, and modernized school facilities -- improvements many voters traditionally favor -- the American people believe the nation's education bureaucracy is broken and needs to be fixed. They want better management of resources, with less red tape and more accountability.
Yes, a large chunk of the electorate is willing to invest tax dollars in improving education. But they also believe that some of the most meaningful school reforms don't have to carry a multi-billion dollar price tag.
---
* The nationwide survey was conducted April 25-26, 2012 by Clarus Research Group, a nonpartisan polling firm based in Washington, D.C. The survey's 1,000 sample of self-identified registered voters has a margin of error of +/- 3.1 percent. Interviewing was conducted through live telephone calls, using both landline and cell calling.