Stonewall Jackson's Arm Lies Here
What a memorial for an amputated limb can teach our society about wounded veterans
What a memorial for an amputated limb can teach our society about wounded veterans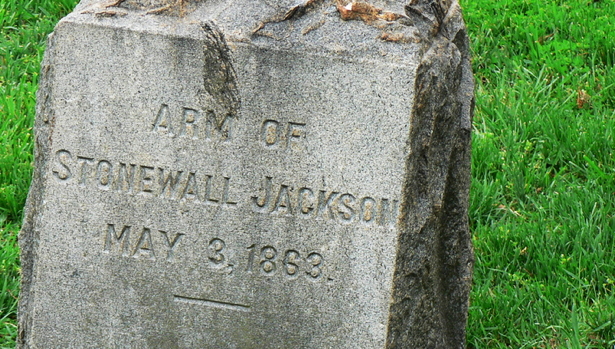 This week in 1863, the celebrated Confederate General Thomas "Stonewall" Jackson was returning from a nighttime reconnaissance ride near Chancellorsville, Virginia, when he was mistakenly shot by his own camp's picket guards. On May 2, Jackson's wounded arm was amputated; Jackson's chaplain, Beverley Tucker Lacy, buried it the next day in a nearby family graveyard. Seemingly on the mend, Stonewall Jackson was removed far behind the battle lines to recuperate at Fairfield Plantation, but his condition soon worsened. Stonewall Jackson died eight days later, on May 10, 1863, of pneumonia.
General Robert E. Lee assessed the gravity of the situation for himself and the army when he first heard of Jackson's amputation. "William," Lee declared to his cook, "I have lost my right arm. I'm bleeding at the heart."
The spot where Jackson was shot is marked today by a large boulder, just behind the Chancellorsville battlefield visitor center, and the outbuilding at Fairfield plantation where Jackson died is known to this day as the Stonewall Jackson Shrine. His lost limb is buried in a graveyard off the main Chancellorsville battlefield, at what was then Ellwood Plantation. Among the unmarked graves of men and women, mothers and sons, there is one monument--to an arm.
In comparison to the wounded veterans returning home today, the story of Jackson's amputated arm demonstrates how far we have come. During the American Civil War, injuries to limbs often spelled death from infection. Amputation was seen as a dramatic chance at life--though, as Jackson's case demonstrates, the prognosis was far from certain. But many managed to survive, and in the aftermath of the Civil War, the man on the street with a missing arm or leg was accorded respect. The veteran saluting with a crutch under one arm became a key symbol of national sacrifice, and the commonalities between white and black veterans' experiences in the North helped pave the way for the equal-rights commitments of the postwar Amendments. In time, the common suffering of Union and Confederate white veterans eased their rapprochement as well.
Amputations today are far more successful than a century and a half ago, but they're no less life-changing. Soldiers in America's more recent wars in Iraq and Afghanistan have come back with arms and legs lost to improvised explosive devices (IEDs) as well as accidents and battles. But these injuries can be harder to see: a sophisticated prosthesis might take the place of a wooden crutch, and the amputated limb might not even register in a passing glance. This is progress.
But what can the arm in the family graveyard still teach us?
The visibility of amputations and the empathy they engendered in the post-Civil War public is exemplified by the celebrated story of General Dan Sickles, who lost his leg to a cannon ball at the battle of Gettysburg. For years, Sickles visited his amputated leg at the Army Medical Museum on the anniversary of its loss, blending his personal memorializing with a public commitment to veterans' affairs. Sickles's leg and the cannonball that hit it have remained on display, now at the new home for the National Museum of Health and Medicine in Silver Spring, Maryland.
In the years after the Civil War, the enormous numbers of lives lost and bodies maimed made grappling with the war and its lessons unavoidable. In today's wars, the number of affected is far fewer, and these injuries are far easier to ignore. But we all suffer when they are hidden.
For those wounded, for those who have lost loved ones, the arm in the graveyard is a call to see how the part fits within a new, transfigured whole. Sickles could bring his family to see his amputated leg, and to think again about what his war experience meant; visitors continue to stare out at Jackson's arm, and to consider what it meant for the Confederate cause.
Today's soldiers do not have access to these morbid but compelling relics; they are shattered in explosions, or thrown out, in keeping with our time, as "medical waste." Even the places where soldiers lose their limbs are hard to revisit. U.S. soldiers do not fight at home, amidst a whole society torn by war; they fight a world away, their struggles often forgotten in everyday conversation. Compared with the post-Civil War era, when nearly every American had a veteran in the family, even our most moving tributes to today's veterans feel distant and abstract.
Like an arm in the family graveyard, we could use more reminders of those sacrifices. As we commemorate the Civil War sesquicentennial, we should be thinking of ways to help our own wounded mourn, rebuild, and thrive. And just as our nation did 150 years ago, we must integrate that which we have lost to war into the stories of our lives.