Sheriff Joe Arpaio Allegedly Not Only Harrassed Latinos But Ignored Crime
A new civil rights complaint, filed by the Justice Department, reveals just how badly the Arizona lawman abused his power. It should be required reading at the Supreme Court.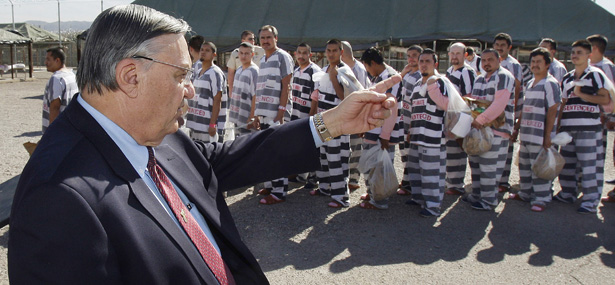 Before the United States Supreme Court issues its ruling in Arizona v. United States, the justices should take a few minutes to read the Justice Department's new civil rights complaint filed Thursday against Maricopa County and its notorious sheriff, Joe Arpaio. In fact, there ought to be a constitutional requirement that the justices do so before they finally tell us what they think about the core provisions of Arizona's anti-immigrant statute, SB 1070.
The allegations in the federal document are appalling -- and it's hard to get through them without at least thinking about what the enforcement of SB 1070 might be like if the Court permits the state to expand its power to arrest its resident Latino population. What is the value of Arizona's in-court assurances that it will respect the constitutional rights of these people when the federal government itself is alleging such risible proof of how bad things are today?
Here, for example, from paragraph 4 of the complaint, is how the feds describe the extent of official prejudice in Maricopa County:
The Defendants' violations of the Constitution and laws of the United States are the product of a culture of disregard in MCSO for Latinos that starts at the top and pervades the organization. MCSO jail employees frequently refer to Latinos as "wetbacks," "Mexican bitches," and "stupid Mexicans." MCSO supervisors involved in immigration enforcement have expressed anti-Latino bias, in one instance widely distributing an email that included a photograph of a Chihuahua dog dressed in swimming gear with the caption "A Rare Photo of a Mexican Navy Seal." MCSO and Arpaio's words and actions set the tone and create a culture of bias that contributes to unlawful actions.
I understand that the (alleged) bad acts of one sheriff in one county shouldn't be held against the rest of Arizona's law enforcement officials. I acknowledge that Maricopa County is the outlier here. Leaving aside the civil rights problem for the moment, during Arpaio's recent reign, the county has spent about $6 million (and counting) in legal fees to defend itself against a stream of allegations of fiscal misconduct. There are, by last count, $177 million in claims filed against it.
But what does SB 1070 do? It gives Sheriff Arpaio, and every other local lawman, more legal authority and the discretion to aggressively pursue Latinos they suspect may be here illegally. Why would anyone believe that Arizona today spends the time and money it needs to educate its local law enforcement officials about how to constitutionally treat the Latino suspects in its custody? The justices in Washington should hold no illusions: SB 1070 sends a message of succor to officials like Sheriff Arpaio.
 
"Attrition Through Enforcement" is Governor Jan Brewer's official battle cry. The idea is that by harassing resident Latinos the state will force its illegal immigrants to return to Mexico. In truth, however,  the state's slogan ought to be: "We Are So Concerned With Illegal Immigration That We Are Blowing Off Enforcement of Violent Crime." Because that's the gravamen of the federal complaint. Here are paragraphs 83-86 of the complaint against Arpaio and company:
83. MCSO has focused its most intensive law enforcement efforts on low-level immigration offenses over more serious crime from approximately 2006 to the present. MCSO's prioritization of immigration enforcement has resulted in a failure to meet its other law enforcement responsibilities, and provides further evidence of the Defendants' intent to discriminate against Latinos.

84. Statistical reports show an increase in violent crime in Maricopa County, and of homicides in particular, during the period of enhanced immigration enforcement.





85. MCSO has failed, for example, to adequately respond to reports of sexual violence, including allegations of rape, sexual assault, and sexual abuse of girls, thus exposing women and girls, who constitute the majority of victims of crimes of sexual violence in Maricopa County, to a disproportionate risk of physical and psychological harm.

86. Faced with such an increase in crime and the risk of harm presented by unaddressed sexual assaults, a law enforcement agency ordinarily would be expected to prioritize more serious offenses, such as crimes of sexual violence, over less serious offenses, such as low-level immigration offenses.
It doesn't get more basic than that, does it? The federal government has just accused Maricopa County of abdicating the most basic function of law enforcement -- protecting people from violent crime. To what extent would the national debate over immigration change if Americans, and women in particular, were to learn about the ramifications of this allegation: did you know that these cops hate illegal immigrants more than they love protecting you from "rape, sexual assault, and sexual abuse of girls?"
Here's how Thomas E. Perez, Assistant Attorney General for the Civil Rights Division, put it Thursday in announcing the filing of the complaint:
The police are supposed to protect and serve our communities, not divide them. At its core, this is an abuse of power case involving a sheriff and sheriff's office that disregarded the Constitution, ignored sound police practices, comprised public safety, and did not hesitate to retaliate against perceived critics. Constitutional policing and effective policing go hand-in-hand. Our complaint alleges that the defendants' actions were neither constitutional nor effective.
But by the time you might have heard Perez's comments, or read down to Paragraphs 83-86 of the complaint against Maricopa County, you already would have passed chilling allegations. For example, here is Paragraph 62 of the complaint against Maricopa County and Sheriff Joe Arpaio:
For example, an MCSO officer stopped a Latina woman - a citizen of the United States and five months pregnant at the time - as she pulled into her driveway. After she exited her car, the officer then insisted that she sit on the hood of the car. When she refused, the officer grabbed her arms, pulled them behind her back, and slammed her, stomach first, into the vehicle three times. He then dragged her to the patrol car and shoved her into the backseat. He left her in the patrol car for approximately 30 minutes without air conditioning. The MCSO officer ultimately issued a citation for failure to provide identification. This citation was later changed to failure to provide proof of insurance. The citation was resolved when the woman provided her proof of insurance to the local court

s.

Can you imagine? Here's just five paragraphs later in the complaint. Paragraph 67:


For example, during a raid of a house suspected of containing human smugglers and their victims, HSU officers went to an adjacent house, which was occupied by a Latino family. The officers entered the adjacent house and searched it, without a warrant and without the residents' knowing consent. Although they found no evidence of criminal activity, after the search was over, the officers zip-tied the residents, a Latino man, a legal permanent resident of the United States, and his 12-year-old Latino son, a citizen of the United States, and required them to sit on the sidewalk for more than one hour, along with approximately 10 persons who had been seized from the target house, before being released.



This is not a defendant talking. This is the Justice Department talking. The complaint is full of such allegations. In April, as settlement talks bogged down between the feds and Maricopa County, Sheriff Arpaio said, "I absolutely refused to surrender my responsibility to the federal government. This will not happen on my watch." On Thursday, as best as I can tell, Sheriff Joe Arpaio said nothing.* This story is not just a political story or a story about states' rights, Justice Anthony Kennedy. It's a story about law and order and how it can be perverted.
* Update. Late Thursday, at a news conference, Arpaio did comment. He said:
I'm not going to burden you with a conspiracy theory but I'm a little should I say dismayed of the conduct of the Department of Justice where I served my country for many, many years in the hills of Turkey, Mexico...I can go on and on and now as the elected Sheriff for twenty years they're going after me. We're just doing our job enforcing the illegal immigration laws. We are not racists . We do not racial profile. There is no systemic proof of that and quite frankly I'm very happy that we are being sued because now we will make them put up on everything that they have been accusing me and my office of.