A new civil rights complaint, filed by the Justice Department, reveals just how badly the Arizona lawman abused his power. It should be required reading at the Supreme Court.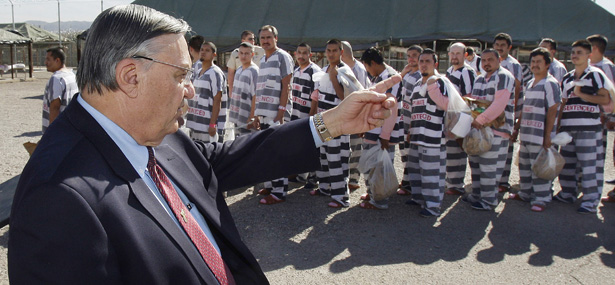 Before the United States Supreme Court issues its ruling in Arizona v. United States, the justices should take a few minutes to read the Justice Department's new civil rights complaint filed Thursday against Maricopa County and its notorious sheriff, Joe Arpaio. In fact, there ought to be a constitutional requirement that the justices do so before they finally tell us what they think about the core provisions of Arizona's anti-immigrant statute, SB 1070.
The allegations in the federal document are appalling -- and it's hard to get through them without at least thinking about what the enforcement of SB 1070 might be like if the Court permits the state to expand its power to arrest its resident Latino population. What is the value of Arizona's in-court assurances that it will respect the constitutional rights of these people when the federal government itself is alleging such risible proof of how bad things are today?