Raising the Bar on the High School Diploma
As the chancellor of New York City's public schools explains, graduating from high school is not necessarily the same as being ready for college.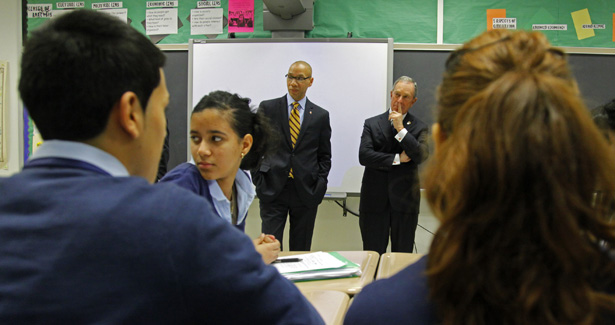 Mayor Michael R. Bloomberg, accompanied by Chancellor Dennis Walcott, visit students in an 11th grade English class / AP.
From one perspective, Tanairy Carbo, 19, represents how far New York City public schools have come over the last ten years.
In high school, Tanairy lived in public housing in the South Bronx; in middle school, her family briefly lived in a shelter. She attended a small public high school, one of several that replaced the former South Bronx High School, where the graduation rate hovered around 45 percent for years. Tanairy, the youngest of eight siblings, became the first in her family to graduate from high school, and 72 percent of her class graduated with her.
And yet Tanairy's story is also an example of how far we -- and schools across the United States -- have to go. When she graduated from high school, Tanairy was not academically ready for Binghamton University, the college where she was headed, and had to enroll in remedial classes.
Solving the nation's most entrenched problems
See full coverage
Nationally, just 25 percent of 2011 graduates who took the ACT college-entrance exam met four college readiness benchmarks; and more than a million college freshmen take remedial classes each year. For decades, preparing students to graduate from high school was sufficient: In 1973, only 28 percent of workers aged 25 to 54 had any post-secondary education, according to the Georgetown Center on Education and the Workforce. But as the economy has demanded better educated workers -- 59 percent of workers had more than a high school degree in 2007, and an estimated 63 percent of New York State jobs will require post-secondary education by 2018 -- public education in the US has not kept pace. Tanairy learned the hard way that graduating from high school is not necessarily the same as being ready for college.
That's why, in New York City, we are raising the bar from high school graduation to college and career readiness. Central to our work is the integration of the new Common Core standards, which spell out what students need to know and be able to do from pre-kindergarten through 12th grade in order to graduate from high school ready for college and careers. More than 40 states, including New York, recognized that No Child Left Behind lacked uniform high standards, and have adopted the Common Core to address this gap. New York City has been a national leader in preparing for its full implementation, set to occur in 2014-15.
Even before New York State formally adopted the Common Core standards in July 2010, New York City was preparing to embark upon a multi-year plan to prepare students, teachers, principals, parents, and school support staff. In 2010-11, as we began to introduce the new standards to all schools, we worked closely with more than 1,000 teachers at 100 schools across the City to explore the implications of the Common Core for curriculum, assessment, and teaching. These teachers created a wealth of instructional resources to share on our online Common Core Library. More than 60,000 users -- from all 50 states and more than 130 countries -- have accessed the Common Core Library since its launch in March 2011.
All of our efforts around strengthening instruction through the Common Core are intended to develop the kind of critical thinking our students will need to compete in the ever-changing global economy. While we are proud of the progress we've made increasing our graduation rate -- each percent increase represents greater opportunities for thousands of students --Tanairy and all of our nation's students deserve more. It is our responsibility to focus the national discussion and the work of every teacher, principal, and school district in the country on how to prepare students for success in college and careers.