Patrick Fitzgerald, Transcendent Federal Prosecutor, Steps Down
An unflappable lawyer, he could be a future attorney general, Supreme Court justice, or director of the FBI. Let's hope he comes back to public service.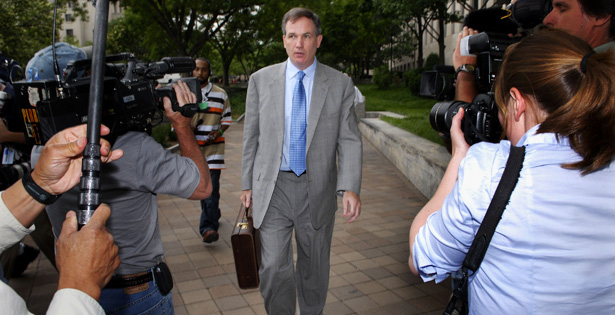 Reuters
U.S. Attorney Patrick Fitzgerald, who announced Wednesday that he will soon leave the Justice Department after 24 years of remarkable service to his country, is a transcendent figure in contemporary American law. He could -- and should -- be the next attorney general of the United States. He could -- and should -- be the next director of the Federal Bureau of Investigation. He could -- and should -- be the next justice of the United States Supreme Court. He would excel in each of these offices. And each, frankly, could use a dose of him right about now.
Fitzgerald leaves his Illinois post with a peerless record as a federal prosecutor. He prosecuted al Qaeda figures in the African Embassy bombing trial -- and won. He prosecuted Omar Abdel Rahman, the blind sheik, for the first World Trade Center bombing -- and won. He prosecuted Lewis "Scooter" Libby in the CIA leak case -- and won. He prosecuted Rod Blagojevich -- and won. Unaffected by the U.S. attorney scandal, unassuming in his private life, he is precisely what we fantasize our federal prosecutors to be: a blend of Elliot Ness, Atticus Finch, and Gregory House.
From a press release announcing Fitzgerald's resignation (effective June 30):
Mr. Fitzgerald has overseen thousands of criminal prosecutions, as well as taking a hands-on role in many significant cases involving public corruption, international terrorism and terrorism financing, corporate fraud, organized crime, and violent crime (including narcotics and gang prosecutions). These cases have included trials of traditional organized crime bosses who were responsible for notorious murders, corporate executives who cheated public shareholders, former Chicago officials who rigged city hiring, and defendants who supported foreign terrorism.
The guy's got stones. Major stones. Think the sunshine patriots in Congress would think twice before telling Attorney General Fitzgerald that America's federal civilian courts can't handle terror trials? Think those odious bank executives would tremble a little more over their bonus checks if they knew that FBI Director Fitzgerald was investigating fraud and greed on Wall Street? Think the Supreme Court -- eight of whose justices never even served as trial judges -- would benefit from Fitzgerald's real-world perspective? After nearly a quarter of a century, he is still a breath of fresh air. And who else in the law can you say that about?
Stones -- and integrity. "Throughout his distinguished career as a prosecutor," Attorney General Eric Holder said Wednesday in a statement, "United States Attorney Patrick Fitzgerald has served the American people and the citizens of Illinois with the utmost integrity and a steadfast commitment to the cause of justice." Not just words in this case. Think of his role in the Libby prosecution -- when he went hard after Dick Cheney's buddy. Think that could have been easy during the height of the Bush era? If you ask me, Patrick Fitzgerald is the Archibald Cox of his generation.
Defense attorneys didn't like him. And neither did many members of the media, especially those he subpoenaed for information. Fitzgerald also earned a great deal of wrath from the left when he was authorized to investigate human rights investigators who were themselves looking into torture allegations relating to the war on terror. His answer, of course, was that he was doing what his bosses in Washington had asked him to do. Indeed, if President Obama had mustered up the courage to create a Torture Commission, you can bet that Fitzgerald would have been one of its first members.
There is no "back story," we are told. Fitzgerald said he has no present plans beyond taking the summer off to contemplate his future. He has two small children to help raise, and perhaps a great deal of money to make in the private sector, but I know I am not alone in hoping that it won't be too long before Fitzgerald is back in public service. He's earned a break, and deserves some down time, but this is not how his story should end. It should end with him giving his country another few decades of hard work putting the bad guys away -- and, more importantly, doing it the right way.