My New Favorite City
Several places to consider as a new home base
It's Tavares, Florida, which has declared itself "America's Seaplane City."
No, wait, maybe it's
Bend, Oregon
-- which in more innocent days I had associated with interesting,
innovative aircraft
(plus very nice inland-Pacific NW scenery.) Now I learn:
While places like Seattle and Denver and Brooklyn and Delaware can claim impressive craft brewing scenes, and a weirdly large number of people nationwide now speak of hop fetishes and beer crushes, Bend is a per capita powerhouse. With 80,000 people surrounded by not much of anything -- with no Interstate, no university, and the closest major city 160 miles away across steep and snowy mountains -- beer has had room to make a difference.
Or maybe again it should be Mills River, North Carolina, based on a news release from the wonderful Sierra Nevada brewing company:

CHICO, Calif. -- Jan. 25, 2012 --Sierra Nevada Brewing Co. is pleased to announce that it has chosen a site in western North Carolina for the future home of an East Coast brewery. The site, approximately 90 acres in the Henderson County Town of Mills River-- along the French Broad River, 12 miles south of Asheville -- will be home to the new production facility, as well as a proposed restaurant and gift shop. "We are thrilled to have found an ideal location in western North Carolina for our second brewery," says Ken Grossman, founder of Sierra Nevada. "The beer culture, water quality and quality of life are excellent. We feel lucky to be a part of this community."

And just to round things off, it is exciting to see that Sierra Nevada
is throwing its weight
behind the "
great beer comes in cans
" movement.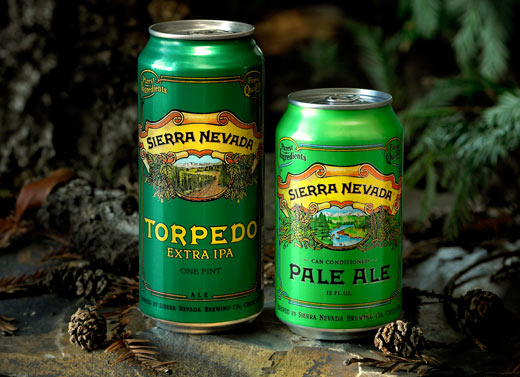 You will recognize the beer that made Sierra Nevada famous on the right, and the "
I can't believe I can buy beer this good
in the local Kwik-E-Mart" Torpedo Extra IPA on the left.
I wonder if I would have my overall optimistic outlook if we still lived in the pre-craft-brew era.
Housekeeping note: tons of messages came in on the cans-v-bottles debate, and nominees for the Beer Mt. Rushmore. I will eventually get to them.