Michigan Teacher Fired for Organizing Trayvon Martin Fundraiser
Educators have to walk a fine line between engaging students in current events and advocating for a specific cause.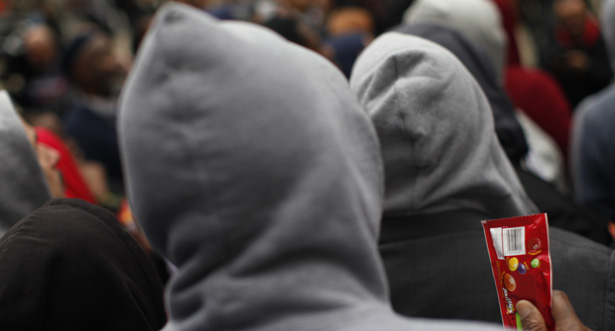 Reuters
Teachers trying to get students to engage in the world around them are expected to pay careful attention to the line between educator and activist. This boundary is invisible, but crossing it can have serious consequences.
Brooke Harris, who taught at a charter school in southeastern Michigan, had been helping her students organize a"Wear-a-Hoodie-to-School Day" as a fundraiser for the family of Trayvon Martin, a Florida teenager who was shot and killed by a Neighborhood Watch volunteer in March. Martin was wearing a hooded sweatshirt at the time he was killed. These efforts reportedly got her fired.
The Southern Poverty Law Center is urging the Pontiac School District in southeastern Michigan to reinstate Harris. More than 225,000 people have also signed an online petition .
One of the difficulties in assessing these sorts of incidents is that school officials routinely refuse comment, citing employee confidentiality. But the larger question of how far teachers should engage their students into activities that could be considered activism is not limited to the circumstances such as those surrounding Harris' firing.
In some cases, the details suggest more overt examples of activism.In Fairfax, Va., an eighth-grade teacher assigned his students to conduct opposition research on the GOP presidential candidates, and then send their findings to President Obama's reelection campaign. The teacher wasn't punished, but agreed to give students a choice of which candidates to research if the assignment is used in future classes, according to the Washington Post.
Joan McRobbie, who was the ethics officer and later chief of staff for the San Diego Unified School District, said she's talked to teachers who say they want to be seen as nonpartisan by their students.
"You want to be fair, and prepare great citizens without encouraging them to be activists," said McRobbie, who contributes to School Administrator's Ethical Educator column. "Critical thinking, persuasion -- those are all things citizens need, and they're not controversial."
While teachers are expected to shape their instruction to the state's standards, the Trayvon Martin case could have been a valuable addition to the day's lesson beyond just organizing a fund-raiser, McRobbie said. "This is a multifaceted issue," McRobbie said. "There's a lot teachers and students could do that would reinforce how to analyze facts, understand the issues, and know how to make strong, reasoned arguments for a point of view."
There is plenty of evidence that students retain more information when they are able to relate their schoolwork to something that's already familiar. In the field of cognitive psychology it's known as "activating prior knowledge," said Gloria Ladson-Billings, professor of curriculum and instruction and educational policy at the University of Wisconsin.
"Why did Travyon strike a nerve with those kids in Michigan?" Ladson-Billings asked. "I bet more than half of them had a story about being misidentified as someone who was up to no good -- if not them personally, then a family member."
Ladson-Billings is also a convener in the Forum for Education and Democracy, a nonprofit organization that promotes public education's role in cultivating active and thoughtful citizenship. She said there are plenty of ways to incorporate current events into daily instruction in an appropriate manner. But some teachers are either afraid to try because they don't want to violate school policy, or they are themselves not participating in the democratic process, Ladson-Billings said.
"You don't give up your citizenship when you become a teacher," she said. "Being a teacher doesn't mean you're not part of the civic process. And just because you vote and don't break the law doesn't really make you an engaged citizen."
This post also appears at The Educated Reporter, an Atlantic partner site.