Congress Should Ban Armed Drones Before Cops in Texas Deploy One
A deputy in the Montgomery County Sheriff's Department says his agency is thinking of adding tear gas or rubber bullets to the aircraft it already owns.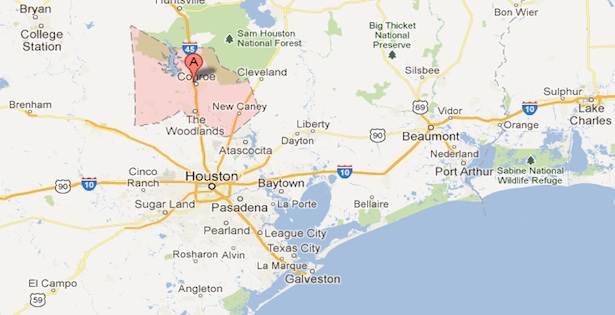 You'd think Montgomery County, Texas, would've learned its lesson. In 2011, when its Sheriff's Office was preparing to become the first police agency in America to
order a drone
that could carry weapons, Chief Deputy Randy McDaniel
said
, "I'm tickled to death," adding, "It's so simple in its design and the objectives, you just wonder why anyone would choose not to have it." That was before the day of the most famous drone test in Texas. It seemed like a perfect photo-op. They'd get out the BearCat armored vehicle they own, which looks like a small military tank, and fly a bad-ass $300,000 drone above it. The
problem
came when the drone operator lost control of the unmanned aircraft, which plummeted earthward, hitting the BearCat on the way down.
The accident got them ridiculed on the Internet. But they never wavered in their commitment to drones. And now, apparently still tickled to death, Chief Deputy McDaniel has been quoted telling the press that tear gas and rubber bullets might be added to the unmanned aerial vehicle. CBS News quotes him
explaining
that "those are things that law enforcement utilizes day in and day out and in certain situations it might be advantageous to have this type of system." That's rather vague, but there's no getting around one thing: the situations would all involve police deliberately shooting rubber bullets or tear gas clouds at civilians from an unmanned drone. 
Do we want to live in a society where police do that?
I say no.
The fact that we possess this technology doesn't mean we have to give it to the men and women charged with protecting and serving us. We can decide we like America better without armed drones in the sky.