Book News: Zocalo, Rand Forum, Chinese Movies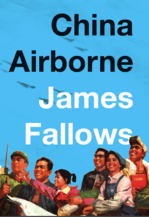 Other people's travel problems are not interesting™, and thus I will go easy on my latest misadventures* at the hands of United Airlines.
I will say, though, that if I see you either at a Zócalo event in Santa Monica this evening, at 7pm, or tomorrow evening at the Revelle Forum at UCSD, also at 7pm -- and I am wearing something other than the blue jeans and blue-checked shirt I am wearing right now, that will mean one of two things.
Either United Airlines has figured out how to give us back the bags (with a week's worth of clothes, notes, supplies, pills, presents, etc) that my wife and I so innocently entrusted to its care around 6:45am yesterday morning at Dulles airport; or I have found a time to re-outfit myself at one of the fine clothing establishments of greater LA. Stay tuned, or look for the blue-checked shirt.
On the substance front: Rob Cain, of the China Film Biz site, has a very interesting post about the pluses and minuses of the proposed acquisition of the AMC theater chain in America by the Chinese Wanda group. To me the most resonant part of the analysis is why China film makers may have trouble moving from simply throwing money at the international film market -- for instance, by buying up AMC -- to their real goal, which is to create a movie-making industry whose products people in the rest of the world willingly watch. Cain also goes into that topic here. This is parallel to the challenge I was discussing in "What Is the Chinese Dream?" and in my new book as a whole: what it will take for China to move from a "hard-power" economic success to a soft-power, sophisticated-product creator. I had thought briefly about the parallels to the movie industry but not as thoroughly as Cain does. Worth reading.
__
* Ah, United. So many millions of miles invested in your "loyalty" program, so little feeling of actual loyalty in the relationship. At the beginning of each flight, passengers see the promo video from the current chairman, Jeff Smisek, saying how excited he is about the new United culture. Most airlines do without CEO-promo as part of the preflight drill; for me these appearances are a regular opportunity to reflect on the difference between the announced exciting new culture and the familiar set-jaw attitude of many (though of course not all) United ground, desk, and cabin crew members. But meanwhile, I have only the highest regard for their baggage crew, in hopes that they get our stuff to us, before we're off to the next place.
On a brighter side thanks to many of my friends involved with Zócalo, including the founding director Gregory Rodriguez; and to Peter Cowhey, my friend and a longtime dean and potentate at UCSD, with whom I'll be talking at the Revelle Forum.