Book News: Pushback, Videos, Lists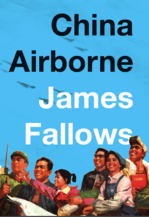 Given that today is Official Publication Day for China Airborne, I am erring on the side of adding some updates. As promised, I will move these items off the "main" site and onto a standalone book-news page once we get that up and running:
1) An enjoyable session last night in at a Zócalo event in Santa Monica. Amazingly quick (and skillful) after-action wrapup provided a few minutes later by an unnamed Zócalo blogger. Find out who this person is, and recruit him or her.
2) Interesting pushback to my excerpt on "What is the Chinese Dream?" from Samuel Crane*  at the Useless Tree blog. Worth reading. *[Previously had name wrong; my apologies.]
3) Conversation with Damien Ma about the indicators to look for, in judging whether China is "changing," and in what direction, on Jennie Rothenberg Gritz's Atlantic video page. For instance: why the sheer bits-per-second difference between internet speed in mainland China versus the rest of Asia is significant in both technical and political terms. (My section on this in the book is called "Did the Brits Ban Steam?")
4) Very nice item by Evan Osnos on his New Yorker "Letter from China" site. I'm honored to be on this list.
5) A quirky list that I'm also honored to be on but which I offer mainly for its inside-baseball anthropological value.
6) And -- thanks for asking -- the bags did eventually arrive from United, 36 hours after we checked them in and about ten minutes before I left for the Zocalo.
Thanks all around; if you're in San Diego/La Jolla this evening, hope to see you at the Revelle Forum.