Why Veterans Celebrate Tax Day
For a former service member, the most dreaded date on the calendar provides an opportunity to say thank you.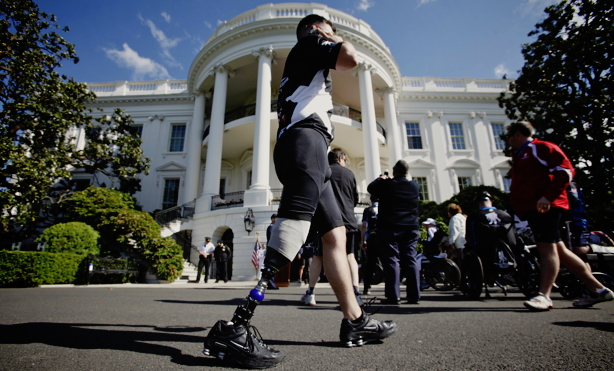 Each Veterans Day, former and current service members receive a flood of thank-yous from civilians across the nation. In the past, these came in the form of letters from friends and family. Today, they arrive via email and Facebook and through grateful displays at parades and ceremonials.
This Sunday is another day of national importance. Unlike Veterans Day, it's a day almost no one celebrates. But while tax day is dreaded by most, it is perhaps the perfect opportunity for America's veterans to return the appreciation of the nation.
Last year, the Department of Veterans Affairs' budget was roughly $120 billion -- all of it taxpayer dollars. Billions more are spent by other government agencies on veterans' programs and retirement pay. When service members are wounded by the enemy or even in simple accidents, taxpayers support their recovery both with medical care and with compensation for their injuries. Even when they leave this world, most veterans are entitled to a burial site, a headstone, and an American flag. These benefits are only possible because the American people make good each year on their obligation to pay their taxes.
And paying taxes is not the only way the American people show their appreciation. As Americans list their charitable deductions this year, many will include donations to hundreds of military focused charities like Pro vs. G.I. Joe (linking professional athletes with service members), Cause and the Wounded Warrior Project (helping wounded vets recover), and the Tower of Hope and VetDogs (helping wounded servicemen and women procure pets who served in combat). These charities and many others like them are funded by the generosity of the American people.
Each day, there are veterans both young and old sitting in VFW bars, discussing their battle scars and complaining that civilians don't appreciate everything they've gone though to defend the American people. It's true that this country is more aware of the actors who win Oscars than the soldiers who are fighting in wars. Americans should certainly devote more attention to the conflicts overseas and the people serving in them -- but that is a discussion for another day. Not today.
The final words an officer in charge of a funeral detail says to a wife or mother of a slain warrior are these: "On behalf of the president of the United States and a grateful nation, please accept this flag as a symbol of our appreciation of your son's or daughter's service to this country." Today, all veterans should lift their glasses to the one who foots the bill: the American tax payer.