The Other Mike Wallace: Philanthropist and Male Nurse
In his later years, the hard-hitting television personality took to helping others in unexpected ways.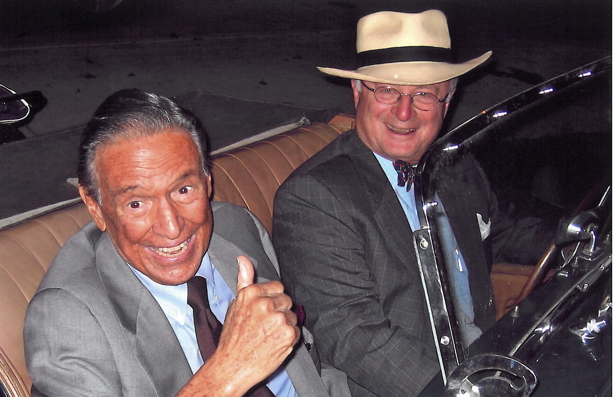 Author's note: In his late 30s, after his elder son, Peter, died in a mountain-climbing accident, Mike Wallace gave up a lucrative run as television pitchman for the riskier business of serious journalism. In his late 60s, he added something just as different: personal philanthropy. In his early 70s, following a bout with suicidal depression, he began crusading for a cure and also took up a lesser-known effort in personal nursing. I watched the latter two at close range.
I met Mike through the Livingston Awards, a "Pulitzer Prize for the young" as he called it, whose purpose is to identify top talent under age 35. Mike was a judge. But I got to know him by being told what an idiot I was about the other program I run at the University of Michigan, the Knight-Wallace Fellowships for Journalists.
A great friend of Mike's had been my best mentor and he critiqued 60 Minutes to Mike every Sunday evening with the precision of the show's famous stopwatch. His name was Dick Clurman and he called one day out of the blue with a typically cryptic message: "Mike's ready." When I asked for what, Dick said something about money (I was supposed to raise millions for the fellowships but hadn't yet found a nickel). Up to that point, Mike had been famous at Michigan for not giving to his alma mater. "Just call him."
Dick of Time and Mike of television shared the thought-compression characteristic of both. "If it's about money you must have been talking with Clurman," Mike said when I got hold of him. Then, "What would you do with it?"
Suddenly, stupidly, I was flat-footed in my first direct "ask" as a fund-raiser, so I guessed at a number and kept things simple: "Half a million to endow a fellowship in your field, investigative reporting." It was a Friday. 60 was in final editing. There would be no discussion. If Mike delayed, it was imperceptible.
"Here's my accountant's number. Tell him half now, half when I die," he said. He was off the phone so fast that I decided to wait until Monday and call Mike back before talking with the accountant. Could so much money change hands in so few seconds? I needed a reality check.
On Monday, Mike said in the tone familiar to millions when the grand interrogator lost patience on-camera, "Charles, you are a pain in the ass. I told you the man to call. I gave you the number. If you can't get the money out of the account by noon I'll tell him to not take it out at all." He was handing me a pound of caviar with orders to chugalug it.
The two conversations together lasted less than two minutes, but they introduced me to the essential professional Mike and forced improvisation of a fund-raising technique that resulted in a $50 million endowment for the fellowships program we worked on together for 25 years.
Another essential Mike appeared later, coming into focus gradually until December 2000, when my whole family somehow survived a plane crash and I realized that this remarkable journalist had insights of equal measure in the unrelated field of counseling. I know of several examples of this, and there were probably dozens, but he never talked about them. One, however, I witnessed.
Mike rarely missed the opportunity to tease me about how little I deserved my wife Julia, and how much better she could have done.
I always argued; Julia never did. It became a riff for three. Since Mike's death, I've been realizing how amazing it was that he sensed that even in her new sick-room setting, the best medicine involved changing nothing.
So in the 18 months during which Julia grew steadily worse, increasingly crippled by 17 fractures and mounting pain until she spent her days alone and barely mobile, delivery of a special kind of therapy began by telephone, always during university business hours.
"Is that you, Julia?" The voice was the famous purr Mike used in the non-inquisitorial interviews with amazing artists and fabulous women. "Julia,'" he would say, "this is Mike. Is Charles home?"
Then, with his perfect timing, "Julia, what are you wearing?"
It became an unprescribed long-term care plan. We have been married 45 years at this writing and Julia fully recovered from the crash a decade ago. As for me, however, I will never get over the tone in Julia's voice that she reserved for those calls from Mike Wallace.
As she puts it, "He made me feel beautiful."