'The Jews Are in Trouble': A 1936 Warning
Seeing growing hostility toward Jews in Europe -- and ignorance of their plight in America -- an Atlantic author makes the case for zionism.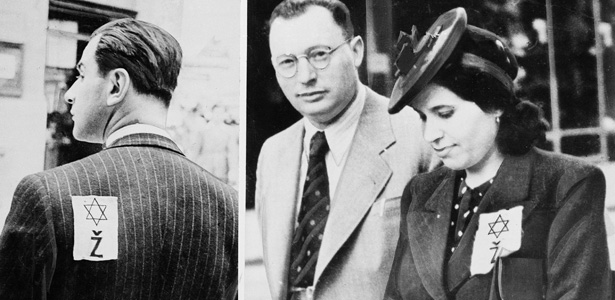 AP
Although his gentile friends were blind to the radicalizing anti-semitism in Europe, Ludwig Lewisohn saw the truth: European Jews were in grave danger. And it wasn't a matter assimilation could solve -- with each year, they were increasingly targeted and discriminated against, regardless of how they felt about their home nations.
In a January 1936 Atlantic piece, succinctly titled "Jews in Trouble," Lewisohn outlined the status of the diaspora. In short, it wasn't good. More than ever before, Jews were being rejected from the societies of Europe. "They are isolated as savages isolate things or persons accursed or sacred, so that in many cities they suffer hunger because no one will sell them food," he writes.
Lewisohn, an outspoken Zionist, had moved to the United States from Germany early in his life and initially tried to shake his Jewish roots. But as he grew and entered academia, he learned that despite assimilating, he could not escape being labeled a Jew and discriminated against as such. Embracing his identity, he divorced his Christian wife and found a new Jewish one, and he preached Zionism wholeheartedly. To him, saving the Jewish people was a matter of saving the Jewish identity, and he believed that "assimilation as a method of adjustment is totally bankrupt."
"The Jew is damned when he abstains from participation in the majority civilization and equally damned when, heart and soul and mind, he seeks to identify himself with it," he writes.
Prompted by an assertion from a Christian friend who told him "Your people are in trouble" -- in a way that implied that Lewisohn should cut all ties with his ancestors -- he explained why it was impossible to shed Jewish identity and why it was most critical for the Jews to have a homeland:
I pointed out to [my Gentile friend] that the Jewish people was in much greater trouble than any reader of American newspapers and magazines could possibly suspect. The half million men and women and children who are left trapped among the sixty million Germans have been rendered taboo, within the strict meaning of the term. They are isolated as savages isolate things or persons accursed or sacred, so that in many cities they suffer hunger because no one will sell them food. They spend the greater part of their time in their houses, for the streets are never safe for them. They pray for drenching rains in order to go comparatively unmolested upon the most necessary errands. All that for centuries they have built up or acquired of scientific skill or practical work or property is being crunched into dust under an iron heel. They are pariahs; the great majority are already paupers; to-morrow they will all be.
Thus a small group of American writers ... have recently raised the cry that American Jewry must assimilate. Do they not know that the German Jews were the most assimilated group in all history, and that their penetration into German life and culture, the inevitable result of assimilation, was the immediate occasion, if not the ultimate cause, of their tragic martyrdom?
---