Space Shuttle Flyby: Today's Security Theater Milestone
I am not in DC today, but if I were I'd be outside right now ready to watch something I've never seen: a flyby and low pass by the modified 747 that is the "Shuttle Carrier Aircraft," with the shuttle Discovery mounted on its back en route to its new home with the Smithsonian. Here is the idea: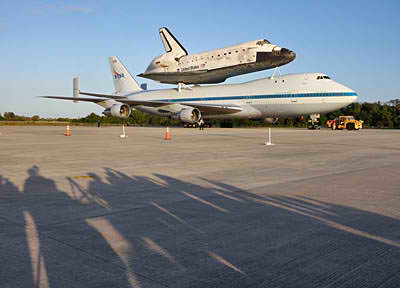 Enthusiasts would normally track flights like this via Flight Aware. For example, it shows the previous leg of the carrier-and-shuttle's migration,
a trip last week
from Edwards Air Force base in California back to the shuttle's original home on the "Space Coast" in Florida. But the feed of real-time data about progress of today's flight has been blocked, apparently for "security" reasons.  (For now I won't go into all the reasons why that is the most likely explanation, but it is. You can read
this comments thread
on Flight Aware.)
An enthusiast who is in DC noted the significance of the blockage, before rushing out to watch from the Gravelly Point site near National Airport. That is where you can stand right below planes as they take off and land:
Could you possibly explain how the flight path of the Shuttle 747 carrier and accompanying jets are possibly secret for "security" reasons?  I mean, even if I was a terrorist with a Stinger missile I couldn't take out a 747.

I'm running down to Gravelly Point to watch this.  I remember being a very nervous 10 year old, in Disneyworld, on April 10, 1981, hoping that I would get to see something of the launch. It was delayed a few days for something called "software problems."  So I'd like to see it once and then have a fulll blown mid life crisis.

Sad to see in 30 years we've just moved from "software problems" to pure security theatre.

Update: from another enthusiast who saw the plane just now, from the Georgetown area on the DC side of the Potomac:

I saw it!  incredible. straight down the river. really loud. and fast. clear sight. no time for pic.

Then a second pass: much slower this time. down the river. Clear view. Huge. Followed by a little chaser jet. Just awesome

Sometime I would like to know who, in NASA or the Smithsonian system, decided on this ceremonial flyby to remind Americans of what we had achieved. I would say: Thanks! "Just awesome." And sometime I would like to know who, exactly, decided to block flight information in a reflex of "security" thinking. I would say: Let's get a grip.
But of course the main theme is: Just awesome.
Updates: Here's a shot from an official Navy photographer of the aircraft passing over Washington.
And a
flickr
stream of photos, by Kit Case, of "the world's biggest biplane" as it came in to its final destination of Dulles airport. These were taken from an office complex right which, as you'll see, is right under the landing path for Dulles.