Sometimes the Life of a Journalist Is Just Too Glamorous
Do you sometimes approach your email inbox with a sense of anxiety or dread? Here's the solution: If you join the exciting world of journalism, you can be uplifted by your incoming messages, as I so reliably am. Today in the "Glamorous Life of a Journalist" saga we have another example. It's a missive from a PR firm, and I start with a  screen shot, in original coloring, to convey the overall excitement: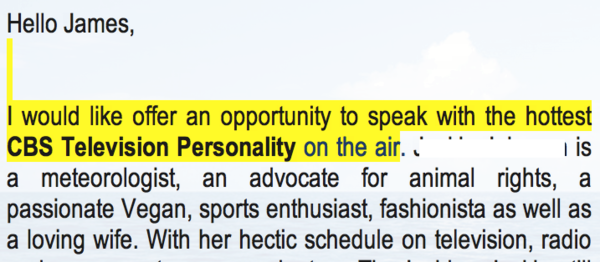 In more sedate but still compelling plain-text form:
Hello James,
 
I would like offer an opportunity to speak with the hottest CBS Television Personality on the air. ___ _____  is a meteorologist, an advocate for animal rights, a passionate Vegan, sports enthusiast, fashionista as well as a loving wife. With her hectic schedule on television, radio and as a guest correspondent on ___, ___  still finds time to maintain a physique that is completely too hot for California.
 
Keeping fit; eating healthy with unique on-air hours as a Vegan and living green with her husband, ___  are vital for ___'s life on and off air.
 
___ can talk about:
 
·       How to maintain a "summer body" physique all year round

·       Ways to incorporate exercise in your corporate setting     

·       Foods to avoid during the 5 o'clock blues

·       How to look your best despite mother nature's mood swings


This story is a perfect match for me, since people so often ask why I ever left my beloved West Coast home-of-origin. The reason is of course that I also have a physique that is completely too hot for California. I will be glad at last to meet someone who understands.