New Research Suggests Federal Education Grants Are Working
At least in California, stimulus money for failing schools appears to be closing the achievement gap. Whether this will amount to long-term growth is yet to be seen.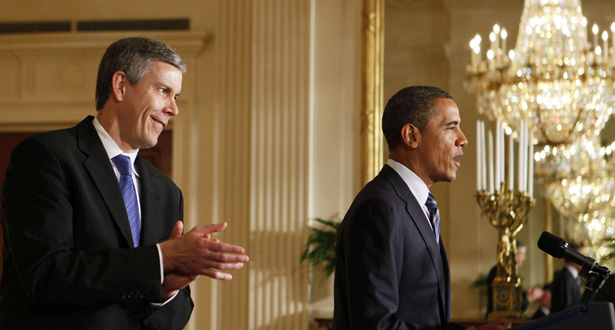 Reuters
A new study found student test scores improved in California's lowest-achieving campuses that implemented aggressive reform measures, suggesting the federal School Improvement Grant program is showing early promise in the Golden State.
The federal SIG dollars -- with more than $4.6 billion awarded nationally since 2009 -- are earmarked for schools ranking in the bottom 5 percent for student achievement in each state. California received over $400 million in SIG funds, the most of any state, and the first-round grant awards went to 82 of its lowest-performing campuses.
Thomas S. Dee, a professor of public policy and economics at the University of Virginia, compared California public schools that were "just eligible" enough to receive the SIG funds with those that were "just ineligible." Both groups shared similar baseline characteristics, including staffing, student demographics and prior achievement. A slim statistical margin separated the campuses that met the eligibility threshold and those that did not make the cut.
For the first year that the state's SIG program was evaluated, a typical low-performing campus closed 23 percent of the achievement gap when it came to meeting the state's performance targets for student test scores, Dee said. The SIG reforms (while by no means an inexpensive approach) also appear to have produced relatively cost-effective improvement, particularly when compared to high-price initiatives such as class size reduction, Dee said.
As was the trend nationally, the majority of California's SIG schools (60 percent) opted for "transformation," the most flexible of the federally approved reform models, which requires significant changes to instructional approaches and professional development. Roughly a third of the state's SIG schools opted for the more aggressive "turnaround" model, which mandates that the principal and at least 50 percent of the staff be replaced. The first-year achievement gains attributed to the SIG-funded reforms were largely concentrated at the "turnaround" campuses, Dee said.
There were significant changes to the schools' learning environments in the wake of receiving the SIG grants. As a result of turnover and new hires, the average level of teacher experience at the SIG schools dropped by two years. The restructuring also meant class sizes also got smaller, with the average ratio dropping by about five students for every one teacher.
Dee said he was surprised to find any measurable effects of the SIG program in its first year.
"My presumption had been that schools sought out this money largely because they were in fiscal crisis," said Dee, who is a research associate with the National Bureau of Economic Research. "I worried that the local buy-in to the required reforms would be poor, and that the implementation would be uneven."
What he found instead "were sizable first-year improvements in school performance as a result of the SIG-funded reforms," Dee said.
Even the SIG program's most ardent supporters, like Education Secretary Arne Duncan, are careful not to give too much weight to results that are based on relatively limited data. Dee recommended similar prudence.
Until there's more information as to whether early gains will turn into long-term growth, as well as how SIG schools are performing nationally, "we have to be cautious about how we judge this historic effort," Dee said. But "the clear inference" is that SIG dollars and whole-school reforms "catalyzed meaningful improvements in California's lowest-achieving schools."
Another factor, as was pointed out by researchers at the Center on Education Policy, is whether states will be able to sustain progress once the federal grants run their course. As Diane Rentner, CEP's deputy director told me in a prior interview, "the fear is the school is going to slide back on any progress that is made. There has to be some thought about how the progress can be sustained. I don't think you can pull out this support all at once and expect the schools to succeed."
Dee made an additional observation worth emphasizing. The SIG program can also be seen as part of a broader debate about whether schools by themselves can reduce inequities in education.
In that context, Dee identified two camps -- the "no excuses" crowd pushing for new leadership and practices, and the "Broader, Bolder" reformers who say a school can't succeed without a comprehensive safety net to address the many socioeconomic challenges that can influence student achievement.
In a sense, Dee said, the SIG schools represent an amalgam of those two central philosophies -- bringing in new leadership and better staff development, as well as funding for wraparound student services.
"That to me is one of the most fascinating aspects to the whole endeavor," he said.
And if that multi-pronged approach turns out to lead to sustainable school improvement in California and beyond, it could end up being a bright point of light in what has been a persistently dark tunnel.
---
This post also appears at The Educated Reporter, an Atlantic partner site.