Matt Damon: 'I Would Kiss George W. Bush on the Mouth' for His AIDS Work
An interview with the actor and co-founder of the nongovernmental organization Water.org on U.S. foreign aid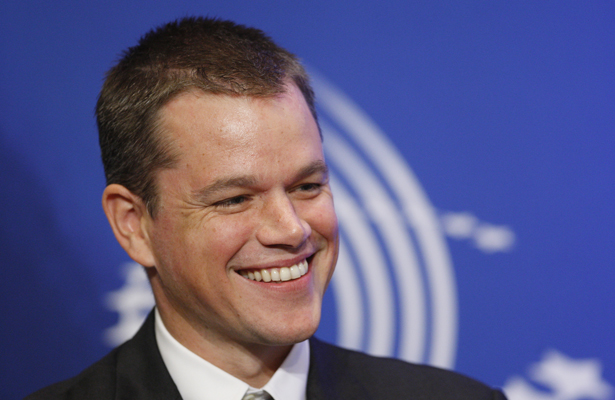 Matt Damon came to The Atlantic last week to have dinner with a few of us (this sort of thing happens all the time) and I had the chance to sit down with him beforehand and talk about the cause that consumes much of his life: the hard-to-sell-but-indispensably-important issue of water -- specifically, ways to get clean, affordable water to hundreds of millions of people across the globe who suffer, and sometimes die, because their water is disease-ridden or prohibitively expense, or both.
Damon is a co-founder, with the visionary water engineer Gary White, of Water.org, a leading NGO fighting for radical new ways to think about what is a solvable problem. (You can read about Water.org, and find some very alarming statistics, at its website, here. One such statistic: 3.5 million people die each year from water-related diseases, which of course is especially atrocious because humankind already knows how to make dirty water clean, and how to deliver water to large numbers of people. Water.org is not focused on digging charity wells, but on implementing market-based strategies to help poor people pool their resources in ways that would make utilities interested in serving their neighborhoods and villages.)
Damon, as many people know, supported President Obama the last time around, but has become a critic for a range of reasons. One of those reasons is what some people might call the Obama administration's incomplete devotion to the cause of poverty- and disease-alleviation in Africa and elsewhere. This was a main topic of our conversation, which was joined by Gary White and Chevanee Reavis, of Water.org, as well as The Atlantic's editor, James Bennet. Here is an edited transcript of our conversation:
Jeffrey Goldberg: Why is it so difficult to get more U.S. funding for this issue?
Matt Damon: First of all, the foreign aid budget is what it is. Second, only a small part of that small budget goes to water. And yet water is this enormous problem that literally underpins all of these other issues -- disease, poverty, women's rights. All of them. Six years ago, when I was starting to learn this issue, that was one of my big takeaways,  how interconnected it all was, the giant role that water and sanitation played in all of this. Of the $42 billion we give in foreign aid, 315 million bucks is for water. But people aren't up in arms about that. The first hurdle we have to clear in America is to explain to people that this is a problem. It's difficult, because this is a problem none of us can relate to.
 
JG: The upcoming election is 90 percent about the economy and unemployment. These are very serious issues, but the question to you and Gary is, are we becoming too insular, that we're neglecting our responsibilities not only on water, but on a whole world of issues?
MD: Yes. I think it's everybody's fault. The issue today is what you can message and how fast you can message it. Did you watch all the Republican debates?
JG: Yes, masochistically.
MD: You've got these guys saying the three things they're going to say and they just keep saying them and that's the way it is now. I talked to a political consultant in New York who is getting out of the business, and he said it was so fun when he was a kid, trying to hone messages and find the nuance and what was really going to connect to people.  And he said then they just figured out that if they just threw shit at each other it didn't matter if it was true. In terms of substantive issues, you don't get a lot of substance in political campaigns.
 
JG: Do you think there's tolerance in America for more foreign aid spending?
 
MD: If you could get people to understand, yes. If you go to a mom in Ohio and say "Every 20 seconds a child dies because of lack of access to clean water and sanitation," they'd say "Get the fuck out of here, that is unconscionable." Any American would react with revulsion to that idea. And Any American would be react with revulsion to that idea if you could get them to see this not in a Sally Struthers way, especially. Bono's group (the One Campaign) has done a lot of work trying to figure out how to message these issues, and what people respond to is things that work. They don't want to hear people are dying. People say, "I know, but I have my own life, I don't have a job, the economy, we're living in a tough world," and I get that. But once they go, "Wait a minute, there are solutions to these problems out there that really work, they're practical and they makes sense to me," people will pony up for that.
Gary White: By definition, people have a higher threshold for foreign aid, because they already believe we give about 10 times more than we actually do.
JG: Bush showed that you could increase aid budgets, I think. He did PEPFAR (a U.S. funded-program -- the President's Emergency Plan for AIDS Relief -- that has brought anti-retroviral drugs (ARVs) to more than a million AIDs patients in Africa).
MD: I would kiss George W. Bush on the mouth for what he did on PEPFAR.
 
JG: How long would you kiss him?
MD: Three seconds. No tongue.
 
You know, PEPFAR is an incredible thing just in terms of how many lives it saved. These ARVs have a Lazarus effect on people. You see a picture of them before and then you see them vibrant, alive, working. Their whole family has been dragged down by the illness and now this. I went on a trip in 2006 (to Africa) and I just had a sense of national pride going around, talking to these people, and they were so happy, they would say, "America," and I was saying, "Yeah, our president did that, and it's terrific." It's such an obvious connected thing. People aren't going to hate you when you're saving their lives.
JG: Do you think the current administration should be doing more on this than a Republican administration did?
MD:  We were just having a jaded chuckle about this in the car. You would have expected that Obama, with his reputation as a pragmatist, would look at PEPFAR, looked at how effective it is, and thought that he should make similar investments in other issues, definitely water and sanitation. Water and sanitation need their own PEPFAR.
GW: The administration has not been out front on development assistance.
JG: Matt, is that what you were getting angry about last year?
MD. All I said last year was that I was disappointed. Love that Jobs Act, though. (Laughs.) Last year, teachers were doing a rally here (in Washington), public school teachers, and my mom is a professor of early childhood education, and I came with her just to try to draw some attention to what's going on. I take issue with a few of the directions Obama has gone in. When you run on something as vague as hope and change, I think a lot of people put their own shit on you.
JG: And you expected more in the area you're most concerned about?
MD: Yes. Or at least some engagement.
GW: The PEPFAR for water is nonexistent.
JG: Why do you think they didn't do something dramatic like George W. Bush?
MD: It's a different world now than it was when Bush was president. It's a harder sell. People are totally preoccupied with things here. He's got a lot of other water to carry, pardon the pun, and his political opponents would make a lot of hay if he were giving a bunch of money to Africa. I'm sure they would try to score political points.
GW: Could a Democrat have done the rapprochement with China? It's the opposite effect. If Obama went to Kenya, people would say he's playing to stereotypes by focusing on Africa. When George Bush did it, it worked. I don't think Obama would have avoided doing more for water and for Africa had he not been dealt such a lousy hand domestically. And certainly the election cycle right now is all about the economy, and it's hard to plan a big foreign policy objective in the middle of your campaign. That's the answer to "Why?" But is that a worthy explanation? I don't think so.
MD: I'm still on hope and change. I'm saying it all comes through in the second term.
JG: Are you back on the hope-and-change team?
MD: I'm not back, but I love the game, and it's my responsibility to vote and I can't -- well, the other team, even with an Etch-a-Sketch move, that's still a lot of shaking you have to do.
 
JG: How much money are we talking about for a dramatic program to make clean water more accessible for poor people?
GW: It's a billion dollars a year. A billion dollars, we could dramatically change the face of this issue. Right now, it's at about $315 million a year, that's across the foreign assistance budget.
JG: How many countries is that spread around?
GW: It's probably about 30 in in sub-Saharan Africa and a dozen or so in the rest of the world. And by the way, getting it back up to $315 million was a Herculean effort. It was down below $100 million. In fact, all of sub-Saharan Africa was getting $20 million. It was ridiculous.
JG: What does a billion do?
GW: It would help us move away from strict charity and help us activate the markets. We have to help poor people get access to capital and credit so that they can create their own water solutions. There is actually a huge market for people who will pay for a connection to a water utility, but we have to create the structures for this to happen. If you look at what the poor are paying in terms of time collecting water for themselves and their families, if you only value their time at 10 cents an hour, if you look at what they're paying these water mafias (small cartels in major developing-world cities who sell water at exorbitant prices) and to these informal vendors, it far exceeds $20 billion, and across the world, we have a total of about $20 billion being invested each year by the aid programs of governments, aid agencies, and the countries themselves.
 
JG: So, back to the question of how you get Americans to want to increase the aid budget for a very difficult issue to understand.
MD: When you have an earthquake or a tsunami it's a simple message: People see suffering on a very large scale. And people respond. Those things are, in communications terms, really easy to message. American people are generous, and I believe that that is going to save the day.
JG: How did George W. Bush manage to sell the American people on spending money for AIDS in sub-Saharan Africa?
GW: AIDS touches people in this country. There was much more of an ability to tie yourself to the AIDS epidemic worldwide. You knew somebody in your family or your community who was dying of AIDS.
MD: Americans don't know people who die from diarrhea.
 
JG: What must be frustrating about this issue is that it's solvable. I mean, we're talking about diarrhea.
MD: Gary said this a few years ago, and it stuck with me: imagine if we had a cure for AIDS and millions of people were still dying from it. Just think about that. That's the situation with water and sanitation..