The co-founder of the Knowledge Is Power Program explains how charter schools may solve bureaucratic red tape in the American school system.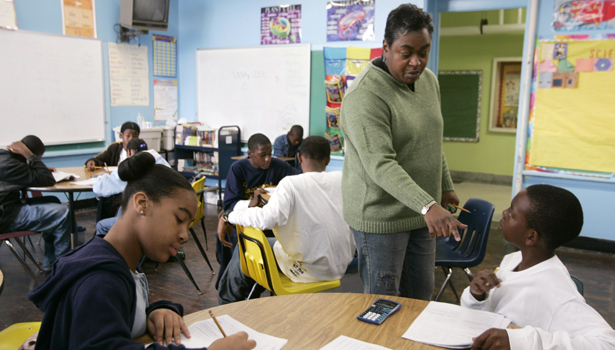 While education reformers in America may have different approaches and philosophies, they all share the same goal -- opening doors of opportunity for students, especially those from underserved communities. After 20 years of teaching and leading in public schools, I've seen firsthand what happens when you free up teachers to teach and principals to lead. In my experience, giving educators the freedom to innovate is the key to setting up underserved students for success in college and in life.
As the co-founder of KIPP -- a program that started in a district classroom and has grown into the nation's largest public charter school network -- I learned how frustrating it is when teachers' and administrators' hands are tied. My co-founder, Dave Levin, and I started out as public school teachers, teaching fifth grade in Houston's impoverished Northside community through the Teach For America program. Although we often struggled as first-year teachers, we worked hard to improve, seeking out veteran teachers as mentors -- including the dynamic Harriett Ball, who taught students math by creating memorable chants to the beat of their favorite songs.
Over time, Dave and I became better teachers and our students began to experience success. Once they left our class, though, the students struggled through a bewildering and under-resourced school system that just couldn't meet their needs.
During our second year of teaching, Dave and I came up with an idea to create a fifth-grade program called the Knowledge Is Power Program, or KIPP. Fifth-graders would get prepared for college by attending school from 7:30 am to 5:00 pm, half days on Saturdays, and three weeks in the summer. Teachers would be available for homework help after school hours, while setting high expectations in the classroom. Parents, students, and teachers would all sign a pledge, called the Commitment to Excellence, which outlined the hard work needed for our students to reach their potential.
But when we tried to convince the Houston Independent School District to let us try our idea, we ran into the brick wall of a bureaucracy that had absolutely no idea what to do with us. In our initial meeting, we pledged to foster student learning gains using the existing curriculum. The conversation went something like this:
Solving the nation's most entrenched problems
See full coverage
"So what new curriculum will you be using?"
"There isn't going to be a new curriculum. We're just making sure the kids are learning the existing curriculum."
"Well, if there is no new curriculum, then how is this education reform?"
"Well, we'll have kids come to school at 7:30 am."
"Okay, we understand. This is a before-school program."
"No, we'll have them stay until 5 pm."
"Oh...so it's an after-school program."
We were talking in circles. It wasn't the administrators' fault; they were stuck within the confines of a rigid framework, and our idea didn't fit in the narrow parameters of that system.
In the end, we got lucky. Some members of the Houston Independent School District were intrigued and believed enough to bend the rules and give us a space to start KIPP if we could recruit enough kids. In the summer of 1994, we started KIPP at Garcia Elementary School with 48 fifth graders. By the end of the school year, we went from having half our students scoring proficient in reading to over 90 percent scoring proficient on the same exam.
In subsequent years, Dave and I began to hire more teachers and extend KIPP one grade at a time. We soon realized that if our educators were really going to have the freedom to adopt the practices we thought were essential to school success, like an extended school day and year, we would do better with a charter-school model. KIPP has since expanded from two schools in 2000 to 109 public schools today serving 33,000 students -- 85 percent of who are from low income-families.
The central tenet of charter schools is freedom in exchange for accountability. At KIPP, one of our founding principles is "Power to Lead" -- giving principals the autonomy to adapt and innovate within their own schools. They are also able to recruit and hire teachers on their own, and to give those teachers the leeway to teach the way they see fit. In exchange, they have to demonstrate that their approach is producing results for students -- through a combination of standards-based testing and other measures -- or risk having their charter revoked.
Freeing teachers and principals to do what they do best is a big step. It takes enormous dedication to students and a clear commitment to accountability in order to work. But when all these elements are combined -- a clear goal and achievable standards, authority at the school level, and flexibility in the classroom -- the results are powerful and transformative. A 2010 independent report by Mathematica found that the vast majority of KIPP schools produced academic gains in math and reading that are significant and substantial.
At KIPP, we are trying not just to build a system of great charter schools but also to demonstrate what is possible in public education overall. The Houston Independent School District -- the same district that, 20 years ago, struggled to give KIPP a classroom -- is now in the process of infusing flexibility and accountability into their schools. Through the Apollo 20 program, leaders of chronically under-performing district schools are being given the same leeway to innovate and adapt on which charter school leaders rely. It's a huge change from when Dave and I started as teachers, and it's proof that districts can shake off the restrictions and limitations of the traditional bureaucracy.
In the end, all public schools, district and charter, have the same mandate: prepare students to succeed in a knowledge-based economy, not simply to pass an annual basic skills exam. If we are to see that mandate fulfilled on the large scale, school systems will have to return much of the decision-making power to where it needs to be: inside the school walls.