Hey, Capitol Hill People Love Spaceships Too!
‪(Please see update below.) After the space shuttle Discovery made its bittersweet flyby over Washington last week, I quoted one onlooker who said that people throughout the region seemed to be caught up in the unashamed childlike wonder of the moment -- except people on Capitol Hill. All sorts of inferences about the insulated/ odd/ hypercautious nature of life on "the Hill" naturally ensued.
A hearteningly large number of readers who work at the Capitol have written back to say: No fair! We were excited too! For instance:

I was standing on the west lawn of the Capitol and can testify that there were hundreds of people there watching.  But don't take my word for it, here's a random shot I found on Flickr from a photographer who must have been at the Grant memorial looking east:‬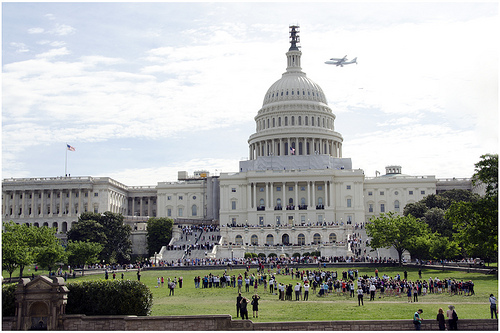 This person continues:

I don't want to get into the politics of government funding but I did want to set the record straight that there were plenty of staffers and visitors who were as proud, excited, and sad as any other American watching Discovery fly one last time.

Similarly:

‪Contrary to the surmise of one of your readers, there was a healthy number of people outside the Capitol watching the space shuttle fly-by, staffers, tourists, and Capitol Police. 

‪A co-worker and I biked to the Capitol from a few blocks away only to figure out later that we would have had a great view if we had stayed put in our office.  But, it was nice to see the enthusiasm as people had come outside for blocks and blocks around the Mall to view the fly-by.‬

And:

Interesting reader speculation ...  about whether people at the Capitol were interested in the Discovery fly-by, or allowed to watch it. This is a partial answer -- I can't speak to any broader trends about security theater, nor do I know whether all Hill offices were equally excited - but I can say with confidence that we [in this staffer's Congressional office] were fascinated and took plenty of pictures, and we weren't alone.

Here are some more of the links that Hill-based readers sent, showing Capitol-area enthusiasm -- from Facebook, Politico, and one below from the WaPo.
This last photo says something about the demolished line between "experiencing" events, and photographing them, in our modern age -- but that only underscores the connection of Capitol culture to the rest of life, rather than its separation. I find it touching that so many people wrote in to say that, in fact, they had been thrilled and had put aside routine chores. Thanks to all.
Update.
Several people wrote in to ask, "But what about the politicians themselves?" An aide to one House member says:
‪Those who responded to you were right - lots of people on the Hill paused to watch the shuttle fly by, including my boss, who is passionate about aviation. Rep. [Todd] Rokita has had his pilot's license since he was 17, and often flies himself to DC from the Hoosier state and volunteers to fly wounded warriors and other folks around Indiana for medical treatment.‬

‪The aide, Josh Britton, includes a picture of Rep. Rokita watching the flyby from inside the Cannon Office Building. Now we know!