Why Are Teachers Dissatisfied With Their Jobs?
It's not a simple matter of burnout. Kids who come to school hungry -- and parents who don't care -- also weigh heavily on educators.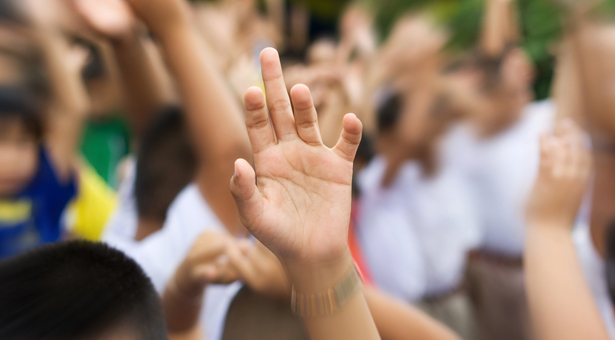 The fact that there's been a record decline in the percentage of teachers who say they are satisfied with their jobs is worrisome -- but perhaps not surprising.
The new MetLife Survey of the American Teacher -- the result of telephone interviews with over a thousand teachers across the country -- found just 44 percent of them were satisfied with their jobs, compared with 59 percent in 2009. That 15-percentage slide represents a record drop and takes teacher satisfaction to its lowest level in 20 years.
At the same time, the percentage of teachers who said they were likely to leave their jobs in the next five years jumped to 29 percent from 17 percent just two years ago.
The survey offers a profile of the American public school teacher, as well as how parents and students feel about educators and schools.
The findings are also a reminder not to make assumptions about who are the unhappiest educators. It's not necessarily the burned-out veteran, or those working with the most challenging student populations. In reality, when comparing teachers with higher and lower job satisfaction, the survey shows no real difference in their years of experience, the grades they taught or the proportions of their students from low-income households.
However, there were real differences in the day-to-day experiences of the less satisified and the more satisified teachers. The unhappier teachers were more likely to have had increase in average class sizes, and to have experienced layoffs in their district. They also had more students coming to class hungry, and had more families needing help with basic social services. There was also a marked gap among the teachers when it came to how much they believed they were viewed as professionals by their peers. Among the unsatisfied teachers that rate was 68 percent, compared with nearly 90 percent of the satisfied teachers.
The survey also found a connection between the satisfied teachers and their relationships with their students' families. Happier teachers work at schools where they say there's a better plan in place for engaging parents in their children's learning.
This year's results represent a significant setback on teacher satisfaction, which had been on a stable positive trend, said Dana Markow, vice president of youth and education research at Harris Interactive, which conducted the survey. Markow, who has been working on the survey since 1999, said she was most surprised by just how steep the drop actually was. She had expected a dip, but nothing as severe at what was reported.
To be sure, the survey's results make it clear that public education has been significantly affected by the recession. More than a third of the surveyed teachers reported cuts to fine arts, language and/or physical education programs. For 60 percent of the teachers, the average class sizes had increased at their campus.
There's another indicator of the effect of the economic downtown on teachers, said Markow. In 2006, just 8 percent of teachers said they didn't feel their jobs were secure. On this year's survey, that percentage had jumped more than four-fold to 34 percent.
Need more evidence of a public school system in crisis? Consider this: The majority of the surveyed teachers said they had more students and families that needed social support services, including health care. Supporting that contention are the survey results for the other two groups. Close to three-quarters of parents and two-thirds of students say they are worried about having enough money to meet basic needs.
"I don't think people will necessarily be surprised that the survey results confirm there have been deep cuts within education budgets," Markow said. "But when you see how many teachers and schools have been affected, when you hear it in the context at the local level -- whether they're having layoffs or discussions with their unions about changes to their salaries and benefits -- you start to build a national picture."
However, there's more to the teacher satisfaction formula than just the state of the economy.
In 2006, the MetLife survey dug deeper into the question and looked for predictors of teacher job satisfaction. The teachers who were happiest with their jobs also reported they were assigned to classes they felt qualified to teach, had enough time to prepare for their classes, and felt like there were opportunities to be involved in team building and problem solving.
The survey also included parents and students (over a thousand individual telephone interviews were conducted nationally for each group) and found some interesting trends. Parents who said there was a high level of engagement at their school were more likely to be optimistic that student achievement will improve over the next five years -- 73 percent compared with 43 percent. There was also some good news when it came to family involvement. Of the students surveyed, 64 percent said they talked to parents about school on a daily basis, compared with 40 percent in 1988.
Given the tidal wave of reform enveloping public education, it will be interesting to see what happens to the teacher job satisfaction numbers in the coming years. There's a national conversation underway about teacher tenure, and nearly half the states and the District of Columbia are already overhauling their teacher evaluation processes so that they are tied more directly to student testing data. Those changes aren't likely to boost the percentage of teachers who say they feel secure about their jobs.
"We're in the midst of a real culture shift in the teaching profession as we move to emphasize teacher effectiveness," said Sandi Jacobs, vice president of the National Council on Teacher Quality, a nonpartisan advocacy organization. "Change is hard, and it can really make teachers uncomfortable."
She suggested future MetLife educator surveys include questions about current reform measures, such as district and state-level changes to evaluation models and policies. To not go there next, Jacobs said, "would really seem like a missed opportunity."
---
This post also appears at The Educated Reporter, an Atlantic partner site.