Toasting the Columbia Journalism Review at 50
Looking back at a half century of conversation and criticism at a publication that believes journalism matters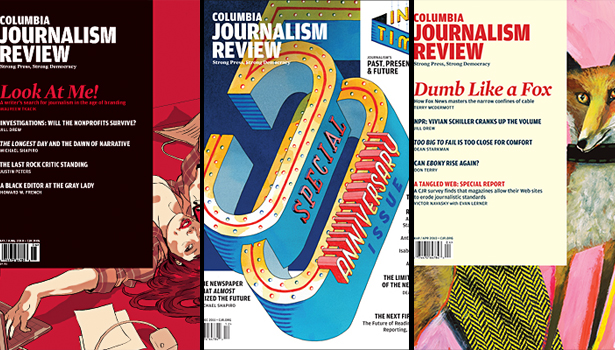 Columbia Journalism Review
The Columbia Journalism Review is in the midst of its 50th anniversary year, a considerable achievement. As a graduate of the school of journalism (1965), I have been a long-time reader of the magazine, and for the past five years I have been called vice-chairman, a title that is significantly grander, to be honest, than my actual role offering opinions on a variety of matters, when asked, and performing services such as this one:
Please subscribe to the Columbia Journalism Review in print, digital, or Kindle versions. Details are on the website, where you can also sample the lively output of CJR.org, which features an assortment of blogs on topics such as politics (Campaign Desk), science (The Observatory), business (The Audit), and news innovation (News Frontier).
The chairman and guiding spirit of the enterprise is Victor Navasky, George T. Delacorte Professor at the journalism school and publisher emeritus of The Nation. For more than a decade, the ranking editor has been Mike Hoyt, who arrived as a junior editor at CJR as the magazine was closing in on its 25th anniversary issue. For this momentous occasion so many years later, Mike and his small, dedicated staff put together a splendid November-December 2011 magazine choc-a-bloc with substantive articles (more about that in a moment) and extensive congratulatory advertising, providing a welcome financial boost for CJR's perennially needy coffers. Credit on this score goes to Christie Hefner, former CEO of Playboy, Inc., who is serving as chair of the 50th anniversary. There is also a board of overseers, led by Neil Barsky, a former Wall Street Journal reporter who had a successful run with a hedge fund he started and is now devoted to CJR with admirable support and spirited critiques.
For the balance of the year, there will be star-studded panels in New York and Washington (now in preparation) and a continued focus by the magazine and website on "journalism's past, present, and future" as succinctly promised on the cover of the special issue. Hoyt will continue as executive editor, now reporting to Cyndi Stivers, who was named editor-in-chief in the fall, arriving with a formidable leadership resume across multiple platforms and a stint as president of the American Society of Magazine Editors.
If you have already consumed the November-December issue, then you know how much there is to read and how thoughtfully crafted it all was. I have been reluctant to pile on the compliments, recognizing that there is inevitably a conflict of interest in my doing so. But I keep coming back to the magazine because there is so much worth reading and thinking about in this time of tumultuous change for journalism. So, think of this effusive piece as a less expensive version of those regular fund-raisers for public radio and PBS, and by all means, send a donation to augment your subscription. If you need persuasion, among the letters of praise assembled, here are a few excerpts I particularly liked:
Gail Collins: "I'm proud to say I was a reader back when CJR was a tyke moderating debates on whether it was possible to pound out a story on an electric typewriter. Perhaps you guys knew that we'd eventually wind up covering wars via Twitter, but I never had a clue and I'm grateful you were around to help get us through all the drama. Now I'm looking forward to reading the CJR take on news transmission by telepathy."
Seymour Hersh: "Is there anyone more thin-skinned than a reporter whose career revolves around flaying others (for only the best of reasons, of course) but who treats the most constructive (and accurate) criticism as a personal affront? . . . You guys at CJR have a most thankless job -- to tell the truth to the journalistic powers that be. I sure hope you have a dog to kick at night."
Bill Moyers: "I began reading the Columbia Journalism Review almost with its first edition. . . . I'd rather miss a meal than an edition. CJR is the journalism about journalism that has inspired my own journalism over many years now. And it just keeps getting better, stronger and more essential."
In an essay looking back at his time at the helm, Hoyt sounded some of the key themes of today's challenges: "All of us connected to CJR -- staff and readers, friends and enemies --seem to know that we are part of a conversation that matters. Journalism matters. This is something we know even more deeply now that it seems to be a resource we can no longer take for granted, like the air. . . . Journalism is not all that difficult, really, but journalism of value is difficult indeed. CJR is that voice saying it is worth the effort."
Reprinting an editorial by James Boylan, CJR's founding editor who is still a contributor to the magazine, Hoyt writes that the launch of the magazine was intended to provide for journalism a match "for the complications of the age. Our age is most complicated. It requires a level of journalism to match it. CJR can help with that. Let's go."
There can be no greater proof of what journalism represents than an interview in the issue with Anthony Shadid, described as "the most honored foreign correspondent of his generation," who died of an asthma attack as he was leaving Syria in February. Shadid told his interviewer from CJR: "Often editors will say no story is worth risking your life for. I don't believe that. The way these wars have been happening in the region (the Middle East) for so long, it produces a certain dehumanization. Such a remarkable amount of violence has been deployed in these places, so I think it is incumbent upon us as journalists to kind of recapture some of that humanity, those stories of individuals, of lives. . . . I think that's the frustration with journalism, the stories never match your ambition, what you want to write and say." Shadid's courage, modesty, and conviction delivered journalism at its best.
At its core, CJR at 50 is a journal of rigorous but fair-minded criticism, self-criticism, and provocative ideas. A trade that can give us Anthony Shadid and those like him is essential to our society. Maintaining those standards will be CJR's mission as it begins its next half century.