Sullivan, J Street, TSA, Fallows, Rahm, Islam, Passover, Etc.
I'm going to be traveling and away from the Internet for the next week to 10 days or so, but I thought I would leave a reading list, in case anyone cares. Plus, some other business:
 
1) I've decided that Andrew Sullivan is right, that I should provide Goldblog readers with the specific examples of where I think he has been so unfair to Israel and to Jews (and Christians, and everyone else) who support it. This requires me, for starters, to re-read, at many long sittings, everything he's written on the subject. I will devote the time to this when I'm reconnected to the Web, but my answer to Andrew may not appear until after Passover, or possibly by Tisha b'Av.
2) Michael C.Moynihan has a brilliant piece on Tablet about the unwillingness by some people to call the Toulouse murders of three Jewish children and a rabbi what they were: An ant-Semitic hate crime. Also, Anshel Pfeffer writes on how Jews can protect themselves from Islamist murderers.
3) This seems like important news - -a plot by Iran to bomb Israeli ships in the Suez Canal. The Suez Canal, of course, is historically-speaking, a great place to instigate a war. Here's Avi Issacaroff on the subject..
4) Jim Fallows and I have continued our dialogue on Iran and Israel. You can read it on Jim's page. I want to thank him for what I think is an interesting and useful exchange.
5) Jonathan Alter has written a great profile of Rahm Emanuel for The Atlantic, here.
6) Omri Ceren has a piece about an odd evangelical speaker who has appeared at J Street conventions. And here's my interview with J Street's founder, Jeremy Ben-Ami.
7) This is a very long, exceedingly interesting, interview with Amos Oz at the Haaretz website. This quote struck me -- Oz on Israel's current leaders:

"Instead of moving ahead to an agreement with the Palestinian Authority, they are whipping themselves into a frenzy ahead of an attack on Iran. An attack on Iran will not be of much use, because you cannot bomb knowledge and you cannot bomb motivation, and the Iranians have both the knowledge and the motivation to make nuclear weapons. Even if an attack on Iran postpones the manufacture of nuclear weapons for a year or two, it will immeasurably heighten the motivation to use the weapons."

8) Here's David Rohde on Wegman's, the anti-Walmart. It's a great piece.
9) Aaron David Miller takes a close look at the myth that Jerusalem runs Washington, here.
10) Sam Harris's essay on Islam and liberalism,which is worth reading in full, contains this observation, which has its merits:

Consider the position of Israel, which is so regularly vilified by the Left. As a secularist and a nonbeliever--and as a Jew--I find the idea of a Jewish state obnoxious. But if ever a state organized around a religion was justified, it is the Jewish state of Israel, given the world's propensity for genocidal anti-Semitism. And if ever criticism of a religious state was unjustified, it is the criticism of Israel that ceaselessly flows from every corner of the Muslim world, given the genocidal aspirations so many Muslims freely confess regarding the Jews. Those who see moral parity between the two sides of Israeli-Palestinian conflict are ignoring rather obvious differences in intent.

11) And here's something that Sam Harris probably doesn't want: a brand-new Haggadah, in time for Passover. This is a very kind review of the Jonathan Safran Foer-edited New American Haggadah, to which I contributed. I think it captures the project nicely.
12) And finally, I leave you with this advice, from the Transportation Security Administration. Words to live by, in our security-conscious age: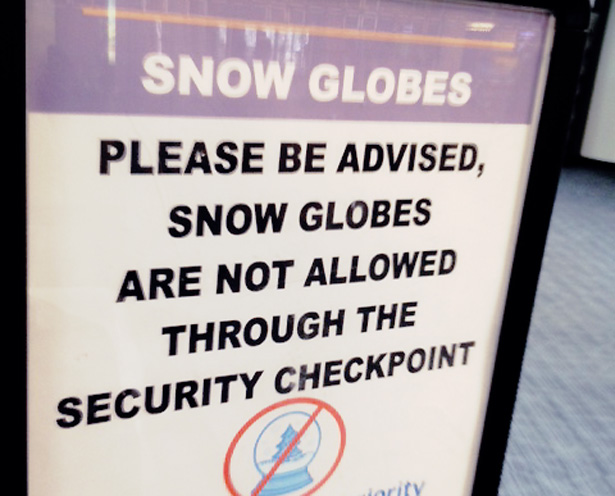 t