Without True Education Reform, Waivers Will Have to Suffice
Ten states are now exempt from many No Child Left Behind requirements. But this temporary fix may distract Congress from creating long-term solutions.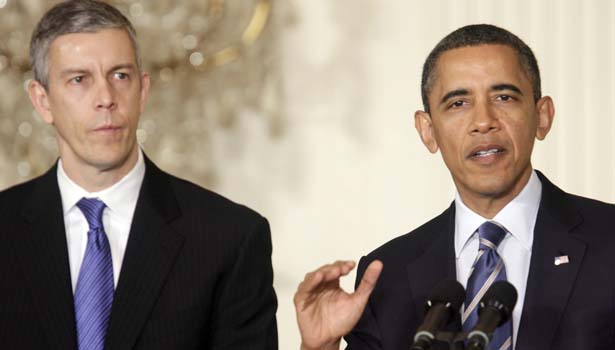 Reuters
President Obama announced Thursday that 10 states will receive waivers from some of the tougher provisions of No Child Left Behind -- including the requirement that all students demonstrate proficiency in reading and math by 2014 -- in exchange for implementing specific accountability reforms.
The states receiving the waivers are Colorado, Florida, Georgia, Indiana, Kentucky, Massachusetts, Minnesota, New Jersey, Oklahoma, and Tennessee. In exchange for being released from some of the law's requirements, the states had to agree to use student testing data as a factor in evaluating teacher job performance, and to focus their efforts on reforming the lowest-performing campuses.
Janet Barresi, Oklahoma's schools superintendent and an elected Republican, told Education Week that "I almost hate to use the word 'waiver' because it sounds like we are relaxing things, when in fact it will allow us new flexibility to refocus and be proactive... I think this will be a game-changer in Oklahoma."
The reauthorization of the Elementary and Secondary Education Act is more than four years overdue. Given the fiercely partisan mood on the Hill and the looming election cycle, there is little optimism for a speedy resolution. In the meantime, the provisions of NCLB, including the threat of sanctions for districts and states that consistently fail to meet achievement benchmarks, remain in place for the vast majority of the nation's public schools.
"After waiting far too long for Congress to reform No Child Left Behind, my administration is giving states the opportunity to set higher, more honest standards in exchange for more flexibility," said President Obama at Thursday's press conference. "We're giving 10 states the green light to continue making reforms that are best for them."
(New Mexico, it seems, got an orange light -- the state has to tweak its plans for compliance before the feds will sign off on its waiver.)
When Education Secretary Arne Duncan first floated the idea of waivers, Republican lawmakers questioned his authority to do so -- including Rep. John Kline of Minnesota, who chairs the House Committee on Education and the Workforce. Duncan defended his authority, pointing out that prior education secretaries (including those serving under Republican administrations) had issued waivers during their tenures.
In a statement following the White House announcement, Kline said that "the administration's waiver scheme provides just enough temporary relief to quiet the demand for lasting reform. Rest assured, my colleagues and I on the House Education and the Workforce Committee haven't lost our sense of urgency. We must move forward and advance long-term solutions to the challenges facing the nation's schools."
To that end, the committee's Republicans are introducing two bills (The Student Success Act and the Encouraging Innovation and Effective Teachers Act) intended to replace what Kline called the "broken accountability provisions" of NCLB.
I asked Eugene Hickok, deputy secretary of education under President George W. Bush, and a key architect of No Child Left Behind, what he thought about the waivers. Hickok told me he never doubted that the education secretary had the full statutory authority to issue them. But that's not quite what has happened, Hickok said.
"It's one thing to issue a waiver, it's another thing to issue what I would call conditional waiver," Hickok said.
States were only granted waivers after agreeing to the administration's demands, Hickok said.
"To me, that is not in the law," said Hickok, who is now a senior policy director for Dutko Worldwide, a public affairs and lobbying organization. "The (education) secretary is exercising policy-making powers that are reserved for the legislative branch."
---
This post also appears at The Educated Reporter, an Atlantic partner site.