Will Raising School Attendance Age Lower the Dropout Rate?
The real problem isn't getting teenagers to stay in school. It's giving them a reason to show up in the first place.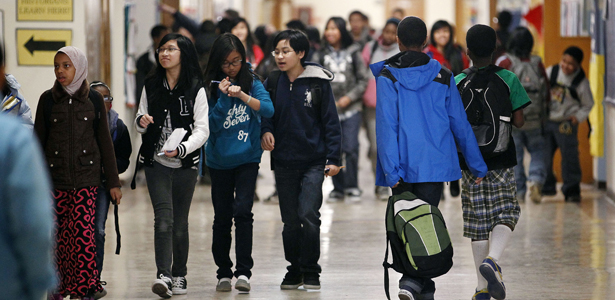 AP Images
Even as President Obama urges states to raise the minimum attendance age to 18, public schools nationwide are struggling to get the students who are already required to be there to show up.
In Detroit last year, the average high school student missed at least 28 days of school, according to an eye-opening story by NPR's Larry Abramson. There are plenty of reasons why families struggle to get their kids to class on time, as Abramson reports. Some of the situations reflect obvious hardship -- some families are ashamed to send their children to school in threadbare clothing. (Detroit, like many districts, does offer families with vouchers to help with such situations.) In other cases, parents don't seem to realize the seriousness of their child's truancy, or even know just how many days of school they have missed.
In Lewiston, Maine, 121 seniors failed to graduate on time last year, having missed an average of 82 days, the equivalent of half of their academic year, reported  the Bangor Daily News.  Gus LeBlanc, the principal of Lewiston High School and a former truancy officer, told the Daily News that "Parents have the greatest influence over whether kids attend or not. We really need to get parents on board to get their kids to attend school."
By the time students drop out, their poor attendance habits are well ingrained, according to recent research. In a study of Baltimore's public schools, researchers found that "increasing ninth grade attendance and course passing rates is the most important lever for increasing the graduation rate," reported Attendance Works, a nonprofit advocacy group based in San Francisco.
Not surprisingly, the better a ninth grader's attendance rate, the more likely that student was to graduate. "More than eight in 10 who attended school at least 95 percent of the time in ninth grade went on to graduate," according to the study by the Baltimore Education Research Consortium's April 2011 policy brief. "By contrast, the graduation rate was lower than 20 percent for those ninth graders who attended less than 70 percent of the time."
Some states have responded to the truancy crisis by passing legislation with stiffer consequences. In at least 27 states, skipping school will cost you your driver's license. In some school districts, parents of habitual truants can face stiff fines and jail time. The jury is still out on whether such measures will have a long-term positive effect on student learning.
In Baltimore, at least, threatening to send parents to jail when their kids skip school had some impact. Alfred Barbour, the school district's court liaison,  told the  Baltimore Sun    that "usually when the school system files charges against parents, 14 percent of cases improve, and after parents show up for their first court appearance, about 43 percent improve their attendance."
There are 18 states where students are compelled to be in school only until they turn 16, according to the  Education Commission of the States. In 11 states, the compulsory school attendance age is 17. In the other 21 states and the District of Columbia, students are already required to stay in school until they turn 18.
As Education Week's Lesli Maxwell points out, experts say measures such as raising the minimum attendance age are  unlikely to have a significant impact on the dropout rate . The underlying issue -- how to make students see school as a relevant, and meaningful experience that they willingness want to engage in -- still has to be solved.
"The president is saying that we shouldn't give up on kids as soon as they turn 16, and that we should all see it as our responsibility that they graduate," Hedy Chang, the director of the San Francisco-based Attendance Works, told Education Week. "But it's not enough to just say, 'Do as I say.' Schools have to answer the question of why it matters for these students to be there."